Against the Current, No. 204, January/February 2020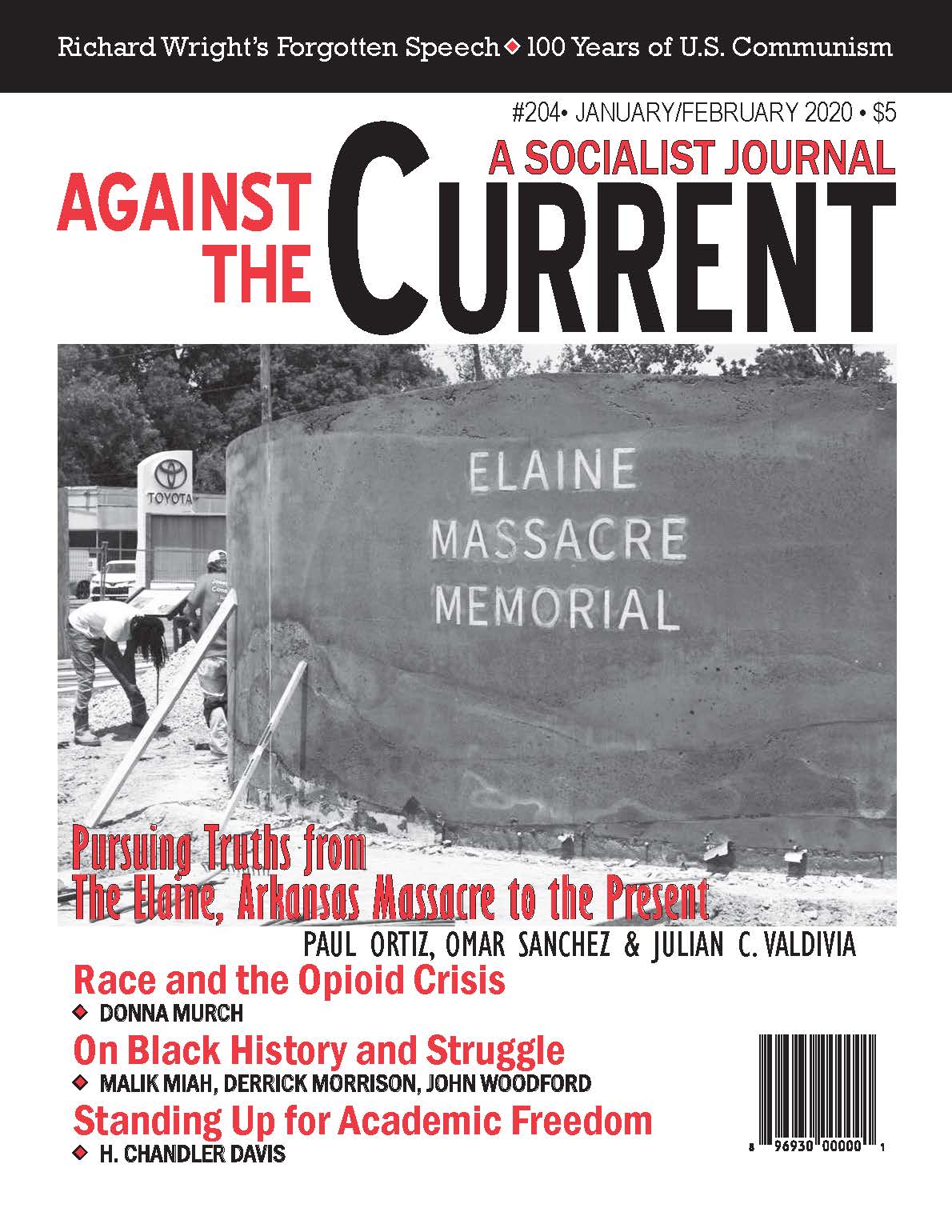 LED BY PRIME Minister Justin Trudeau, Canada's governing Liberals were re-elected in a national (federal) election October 21, but reduced from majority to minority status. This means that issue by issue, they will need to seek alliances with one or more of the other major parties — Conservative, Bloc Québécois (BQ, a Quebec sovereigntist party), the social-democratic New Democratic Party (NDP), and Green.
Climate, energy and economic policy were major campaign issues. But a pretty good lens through which a non-Canadian audience can understand politics in this country is how two of these parties, the Liberals and NDP, have responded to the coup in Bolivia — ongoing as of this writing.
In the context of the flight of President Evo Morales into exile, the use of deadly force against protesters, and military-led assaults on indigenous neighborhoods, Jeanine Añez emerged to claim the presidency of Bolivia, in complete violation of the country's constitution. Even more alarming was her anti-indigenous racism, including an appalling (and now-deleted) tweet from October of this year, with a caricature of Morales accompanied by her comment "clinging to power, the poor Indian."(1)
In spite of this, Canada's newly-re-elected Liberal Party Government released a statement, saying: "Canada supports an institutional solution that will allow for a temporary caretaker administration to prepare for new elections and avoid a power vacuum,"(2) implying support for Añez. But the Añez regime is not avoiding a power vacuum but rather filling up Bolivian politics with open racists and military thugs.
By contrast, Jagmeet Singh, leader of the NDP, on the morning of November 14 almost came out against the coup, tweeting that: "The gains made by Bolivia under the Morales government, in terms of indigenous peoples' rights, health and development, cannot be lost. The safety of Evo Morales and his colleagues must be ensured."
This carefully worded statement avoided an open condemnation of the coup, avoided pointing the finger for Bolivia's problems at corporate interests in the Global North (including Canada), and implied that the main problems in Bolivia were actions taken by Morales: "Canada must strongly condemn the anti-democratic measures that led to this coup."(3)
By the evening of the same day, however, the fast moving events led Singh to put out a much better, less ambiguous tweet, openly challenging the Liberal position. "The worsening situation in Bolivia is alarming. Instead of supporting the self-proclaimed interim President that has a history of attacking Indigenous people, Canada must condemn the anti-democratic actions that led to this coup and are still getting worse."(4)
As this example shows, the NDP cannot be put in the same camp as the Liberal party. The NDP reflects the pressures of the labor and social movements more than it reflects the pressures of the corporations and the elite.
In the election, the NDP performed far better than was first feared. When the election was called — on September 11 — one poll had the NDP tied in support with the Green Party, both at 11%.(5) Just eight years previous, the NDP captured just over 30% of the vote and was able to claim the mantle of Canada's "official opposition."
However, when the 2019 votes were counted, the Green Party had faded to just under eight percent, NDP support climbing to almost 16%, third most of any major party, enough to elect 24 MPs. (See Table 1.(6))
Table 1 – Results for Five Major Parties, Canada,
Five Elections, 2006-2019
1a – Total Vote
Party
2006
2008
2011
2015
2019
Conservative
5,400,000
5,200,000
5,800,000
5,600,000
6,200,000
NDP
2,600,000
2,500,000
4,500,000
3,500,000
2,800,000
Liberal
4,500,000
3,600,000
2,800,000
6,900,000
5,900,000
BQ
1,600,000
1,400,000
900,000
800,000
1,400,000
Green
700,000
900,000
600,000
600,000
1,200,000
Turnout
14,800,000
13,800,000
14,700,000
17,600,000
17,900,000
1b – Percentage of Vote
| Party | 2006 | 2008 | 2011 | 2015 | 2019 |
| --- | --- | --- | --- | --- | --- |
| Conservative | 36.5% | 37.7% | 39.5% | 31.8% | 34.6% |
| NDP | 17.6% | 18.1% | 30.6% | 19.9% | 15.6% |
| Liberal | 30.4% | 26.1% | 19.0% | 39.2% | 33.0% |
| BQ | 10.8% | 10.1% | 6.1% | 4.5% | 7.8% |
| Green | 4.7% | 6.5% | 4.1% | 3.4% | 6.7% |
1c – Seats in Parliament
| Party | 2006 | 2008 | 2011 | 2015 | 2019 |
| --- | --- | --- | --- | --- | --- |
| Conservative | 124 | 143 | 166 | 99 | 121 |
| NDP | 29 | 37 | 103 | 44 | 24 |
| Liberal | 103 | 77 | 34 | 184 | 157 |
| BQ | 51 | 49 | 4 | 10 | 32 |
| Green | 0 | 0 | 1 | 1 | 3 |
Racially Tinged Politics
Even though fading from their pre-election polling, the Greens did win their most votes ever, electing three MPs. In two provinces, the Greens actually outpolled the NDP. Some will see this as a shift left under the impact of concern about climate change, and that was a factor for some.
However, there is an unsavory side to the story. New Brunswick was one of the two provinces (the other being neighboring Prince Edward Island) where the Greens outpolled the NDP. Jagmeet Singh, leader of the NDP since 2016, is from a Sikh background and habitually wears a turban. One week before the election, several prominent members of the NDP in New Brunswick switched to the Greens, at least in part because of a perception that "a practicing Sikh who wears a turban" would have difficulty winning support, particularly in parts of the province.(7)
Singh had to combat racism elsewhere. In Quebec (the province where French is the principal language), the newly-elected conservative nationalist provincial government had just passed Bill 21, a so-called "secularism" bill, banning certain public sector employees from wearing religious symbols at work.
This bill is, at best, extremely hypocritical. Quebec — where the leading religion is Catholic — has for generations been a place adorned with religious symbols, the Christian crucifix being ubiquitous. The issue of "defending secularism" has only reared its head in the context of Islamophobia and the long decades of "Wars on Terror" in the Middle East and Central Asia.
The anti-Islamic nature of the law was revealed when "Quebec Premier François Legault confirmed the law would forbid Malala Yousafzai, a Nobel Peace Prize laureate and renowned advocate for girls' education, from teaching in the province unless she removed her head scarf."(8) Singh himself — his turban a symbol of his being a practicing Sikh — would be barred from certain public sector jobs, were he to refuse to remove his turban.(9)
Singh's NDP won considerable sympathy in Quebec with his push-back against these and other racist attitudes. At a farmers' market in Montreal, hours before a French-language leaders' debate, "Singh encountered a man who suggested he 'cut his turban off' in order to 'look like a Canadian.'" Singh's brilliant response went viral. "I think Canadians look like all sorts of people."(10)
His skillful response to this and other issues in the debate that evening marked the beginning of a steady, sustained rise in support for Singh and the NDP, in Quebec and throughout Canada.(11) By the end of the campaign — spurred by this and similar gentle yet sharp responses to other expressions of racism and right-wing politics — his net approval rating ("the difference in percentage points between those who approve and disapprove of his job performance") stood at plus 25, compared to negative 14 for Trudeau and an even worse negative 20 for Conservative leader Andrew Scheer.(12)
But while the NDP avoided a wipeout in Quebec (holding onto one seat, and polling almost half a million votes), this was a far cry from their breakthrough year in 2011 where under the leadership of the late Jack Layton, they captured 59 seats, not only their best showing ever in Quebec, but their best showing ever in any part of Canada.
In 2019 the surprise in Quebec came not from the NDP but from the nationalist Bloc Québécois, coming back from four seats in 2011 to 32 this time, almost matching the Liberals' 35 in the province.
But the recovery of the BQ, and the inability of the NDP to hold onto its gains in Quebec, cannot be put down to a turn towards Islamophobia in the province. Singh, while winning sympathy for his response to racism on the campaign trail, would not take off the table the possibility of an NDP government in Ottawa challenging Bill 21 in federal court.
Such a stance — asserting as it does the supremacy of Canadian law over Quebec law — alienated many Quebec voters, for whom the autonomy of Quebec within Canada is a defining aspect of their politics. It is possible to combine anti-racism with support for Quebec's national rights by saying: a) we oppose Bill 21 on the grounds of Islamophobia; but b) this is an issue which will be decided inside Quebec.
However Singh would not stake out such a position, one more moment in the NDP's long history of being unable to understand the national question in Quebec.
Narrow Liberal Victory
All this was part of the mix leading to the very narrow Liberal victory. Just four years previous, Trudeau had swept to office because of disgust with ten years of Tory rule — defeating then incumbent Tory Prime Minister Stephen Harper, through a massive increase in voter turnout — the Liberal vote going up from 2.8 million the previous election to 6.9 million in 2015, an unprecedented surge of over four million.
Trudeau pulled in these new millions through staking out aggressively progressive stances on key policy issues — among them climate change, corruption and Indigenous rights — and much of the surge towards Trudeau in 2015 was his perceived difference on these files from Harper. But on each file, he ended up pursuing policies which repelled many who had voted for him.
To protect the export of climate-destroying tar sands oil from Western Canada, he spent over $4 billion to nationalize a highly controversial pipeline project (when a U.S. company backed out from building it — ed.).
He went to bat for a company — SNC-Lavalin — confronting legal challenges over its corrupt relationship to the former Libyan regime of Muammar al-Gaddafi. When Minister of Justice Jody Wilson-Raybould objected, Trudeau demoted her, leading her ultimately to resign from the Liberal caucus.
Wilson-Raybould is Indigenous — a member of the Kwakwaka' wakw people — and the first ever Indigenous person to hold such a high Cabinet position.
Trudeau's "progressive" mantle was sullied not only by these regressive actions, but by images which surfaced during the campaign of a 20-something Trudeau partying in blackface!
All of this cost him about one million votes, and dozens of seats — including one held by Wilson-Raybould who won re-election standing as an independent. However, revulsion for the Tories, led by the anti-abortion climate-denying Scheer, was enough to allow Trudeau to win the most seats.
One candidate tried to go further right. Prior to the election, Maxime Bernier split from the Tories and formed a new rightwing People's Party of Canada, on an anti-immigrant platform clearly shaped in the model of Donald Trump. Not only did the People's Party poll a risible 1.6% of the vote, Bernier himself lost his own seat in Quebec.
While the Liberals won the most seats, it was the Tories who narrowly won the popular vote — on the back of a significant move to the right in western provinces heavily reliant on resource extraction — tar sands and conventional oil, natural gas and potash. In one, Saskatchewan, the Tories took an astonishing 64% of the vote. In the other, Alberta, they captured almost 70%!
The cohering of a mass base for the Tories on a climate-change denying basis, a backlash politics which pulled in thousands of working people, is a warning about political battles to come in the country. Just how worrying? The rightwing surge in the West has led to a movement which takes inspiration from the New Right in both the United States and Great Britain.
Calling themselves members of "Wexit," 750 of them rallied in Calgary November 16, many adorned with hats saying: "Make Alberta Great Again" and "Rednexit." Leader of this right-wing movement, Peter Downing, stated: "We are going to build our pipeline and Quebec is going to pay for it."(13)
Rising Resistance
Importantly, however, the West is incubating not simply the politics of backlash, but also the politics of resistance. Idle No More is a social movement coming out of Western Canada, led by Indigenous people insisting on pushing back against generations of state-sponsored racism.
Leah Gazan, a leading organizer in Idle No More, stood as an NDP candidate in the Western province of Manitoba, and defeated the incumbent Liberal. Just weeks after the election, Gazan indicated she had every intention of combining her organizing roots with her new elected position.
Addressing a union meeting in Manitoba, Gazan provided us all with a post-election roadmap, condemning the Liberal government for its regressive policies on climate change and its inaction on the issue of racism and violence toward Indigenous people:
"Now is the time to move, to continue to build a movement. We need to move swiftly, we're running out of time. So join me, brothers and sisters, as we move together to fight for a better world."(14)
Notes
January-February 2020, ATC 204