Against the Current, No. 203, November/December 2019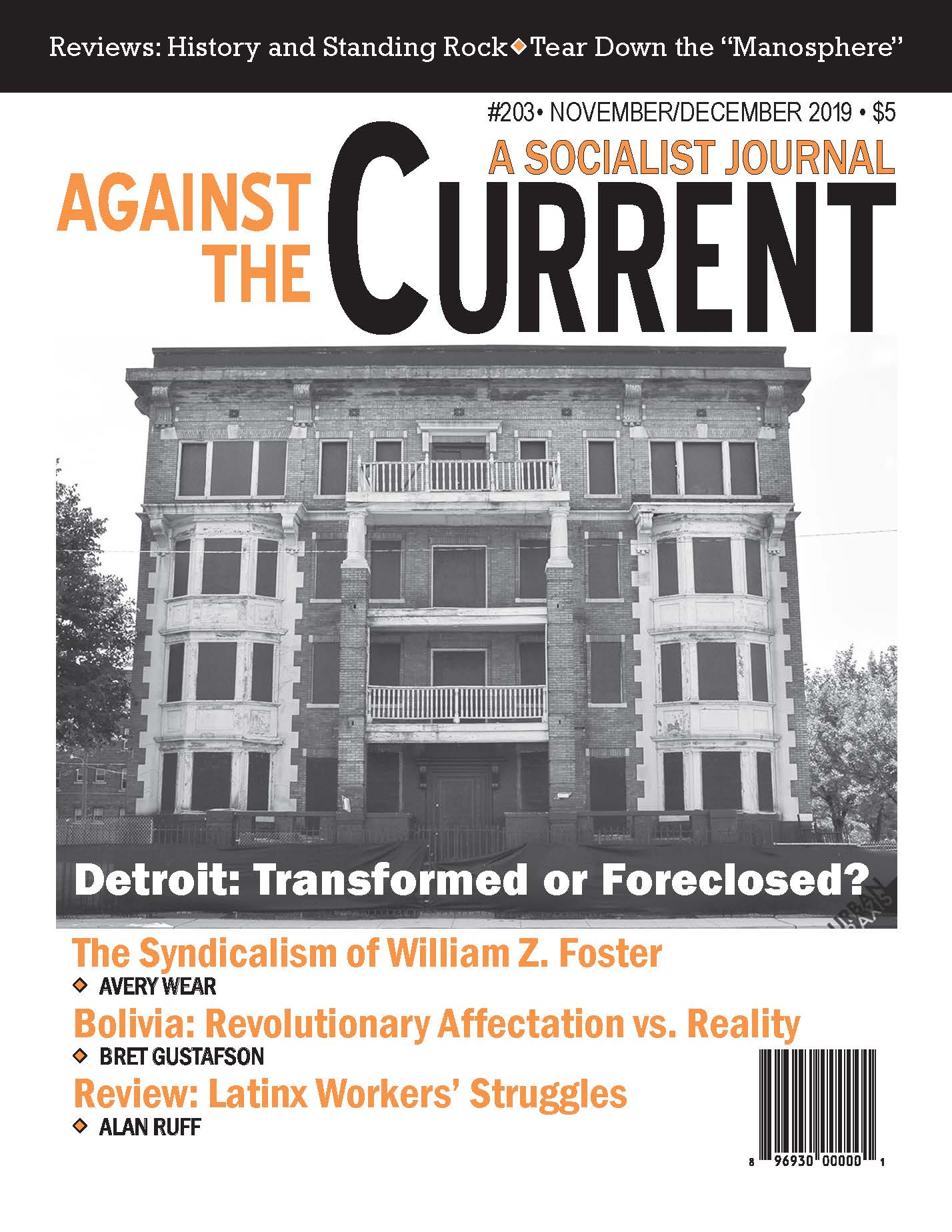 HISHAM AHMED, A longtime Palestinian political resister, distinguished scholar and contributor to Against the Current on the Middle East, died July 7, 2019 at age 56, after a long and difficult struggle with colon cancer. He is survived by his wife Amneh, and school-aged children Noor and Ahmed, his many colleagues, friends and family in California and in Palestine.
His death leaves a deep hole in the lives he touched. He was beloved and respected by his students and fellow professors and the community at large. We have lost a brother, father, friend, teacher, colleague and comrade. Hisham was generous, sweet, funny and positive in outlook, even in the worst of circumstances whether personal or political.
Hisham was a professor of Politics at Saint Mary's College of California, an expert on the Israeli-Palestinian conflict, especially Hamas, and the dynamics of terrorism. His last research project was on the Syrian refugee crisis. His articles in this journal (ATC 132, 140, 156, 157 and 167) touched on political Islam, Hamas, Middle East politics and imperialism.
Hisham was the author of or a contributor to seven books, including Ibrahim Abu-Lughod: Resistance, Exile and Return and From Religious Salvation to Political Transformation: The Rise of Hamas in Palestinian Society, written while on a Fulbright scholarship in Palestine in 1993-94. In addition to teaching at Saint Mary's for 13 years, Hisham taught political science at Birzeit University in Palestine from 1994 to 2006.
I had the good fortune of interviewing Hisham many times on my radio program on KPFK — where he became one of our go-to experts with his depth of knowledge and his clear, analytical and even-handed approach.
From West Bank to the Bay Area
I was chair of our department when Hisham was hired. His application arrived literally as soon as the ad appeared, just after midnight our time, quickly followed by nearly a dozen superlative recommendations. One in particular sticks in my memory, which came from Santa Barbara, where Hisham had gotten his Ph.D.
The professor described Hisham's extraordinary scholarship and skills, but then entered the qualification that Hisham was known to be a little reckless, especially when riding his five-speed bicycle to class, particularly in view of the fact that he was blind — making clear in a wry and understated manner just how special a person Hisham was. After Hisham joined our department, I asked him how he managed to ride a bicycle. In reply, he asked me if I'd like him to drive me to the airport.
Hisham was also brave, and not just in facing his difficult health problems: In an astonishing act of courage and commitment in December 1995, Hisham persuaded the owner of two bulldozers to topple the fenced wall that surrounded Deheisheh, the refugee camp where he was born.
Hisham rode shotgun on one of the bulldozers — and was soon joined by thousands to celebrate the tearing down of the "Berlin Wall of the West Bank."
This was no mean accomplishment, and even more remarkable for a scholar who was blind from birth. For five hours he and the wall destruction crew he commandeered smashed the cement blocks, ripped the barbed wire and destroyed the chain-link fence, which was the oldest security fence in Palestinian territory, put up by the Israelis in 1980.
The old roads leading into the camp reopened and, for a time, the residents no longer lived in a cage; Hisham said he never felt more free.
In Deheisheh
Hisham was born on New Year's Day in 1963 in Deheisheh, a destitute and overcrowded refugee camp just outside Bethlehem. Rain often carried sewage down the hilly alleyways. Hisham was the second of four children who survived. His two sisters were sighted, but both Hisham and his younger brother were born blind.
Hisham's father was a day laborer who had a fourth grade education but made a point to read as many books as he could. His mother, who did not read or write, stayed home to care for the family. Hisham described her as intelligent and wise.
Hisham's father managed to take Hisham to Egypt when he was four to see if his blindness could be cured, but was advised to focus instead on Hisham's education.
That was a tall order in 1967, when the Six Day War brought education and normal life to a halt.
As a result of the war, Hisham and his family were displaced to a more distant and more cruel camp in the Jordanian desert, called Wad Thlail. Their accommodation in Wad Thlail was a flimsy tent in the hot desert, with the nearest source of water six miles away. It made the small, one room house in Desheisheh, with a roof that leaked when it rained and disappeared whenever the wind picked up, seem luxurious by comparison.
One incident from this time introduced Hisham, in his words, to important qualities he would need in life. His father left the tent one day to look for work, and his mother had to leave to get food rations from a UN distribution center three miles away. She took Hisham's one year old brother with her, but entrusted Hisham, age 4, with the care of his older (and sighted) sister, younger brother, and the tent.
Hisham and his sister decided to explore and zippered up and locked the tent. When a terrible desert storm began, they were quickly covered in sand. Hisham tried to return to the tent, but it was locked, and he and his sister could only cry and wait until their mother returned — and they then had to wait for their father to break the lock and let them in. Hisham said they slept without food that night, but he learned a lesson about responsibility.
The family did to get back to Deheisheh, but life there had become terrifying. Soldiers were everywhere, and the camp was surrounded by a fence and checkpoints, making it very difficult to get in and out, especially for a young blind student making his way to the school for the blind in Bethlehem.
Hisham excelled in his studies and got the third highest score in the country on a national exam, allowing him to enter Birzeit University, and then to continue his education in the United States when Birzeit was closed more than open during the Israeli wars in Lebanon of the early 1980s.
Activist Scholarship
In the United States Hisham completed his BA, MA and Ph.D. He spent several years teaching, first at Florida International University, then at the University of North Dakota before returning to his homeland in 1993 as a Fulbright scholar to write about Hamas.
People in Deheisheh were very proud to have a professor come from the camp. After writing his book on Hamas, Hisham got a two-year fellowship from the Institute of World Affairs in Hanover, NH to do a project recording the life histories of ordinary Palestinians. These stories convinced Hisham that he should do more to better the life of his country.
He decided to run in the first Palestinian national election for one of the four seats from Bethlehem in Parliament. He later said the election and possibility of taking part in the Israeli-Palestinian peace negotiations paled in comparison to the tearing down of the wall, taking down "the damn barrier piece by piece."
Hisham took a position at Birzeit University, where he became the leading academic in both the Department of Political Science and the Abu-Lughod Institute of International Relations. A colleague wrote that Hisham's intellectual interventions infused eloquence into the political malaise of the post-Oslo Palestine, and he spoke "truth to power in the deafening silence imposed on Palestinians by the international Arab and even official Palestinian media."
Hisham also challenged the conventional disciplinary divides with his critical approach in an atmosphere where "international relations" had become a field exclusively in the service of the Palestinian political establishment. In so doing, he ruffled many institutional feathers.
When Hisham accepted the job at Saint Mary's, I asked him why he left Birzeit, where he was revered by colleagues and students. He explained that he had lived five minutes from the campus and managed well on his own. Then some 500 new roadblocks were erected as part of the repressive Israeli response to the Intifada, turning his five-minute walk into a dangerous and changing odyssey that took one to two hours, something he had great difficulty navigating alone.
To say that Hisham Ahmed is missed is truly an understatement.
November-December 2019, ATC 203