Against the Current, No. 203, November/December 2019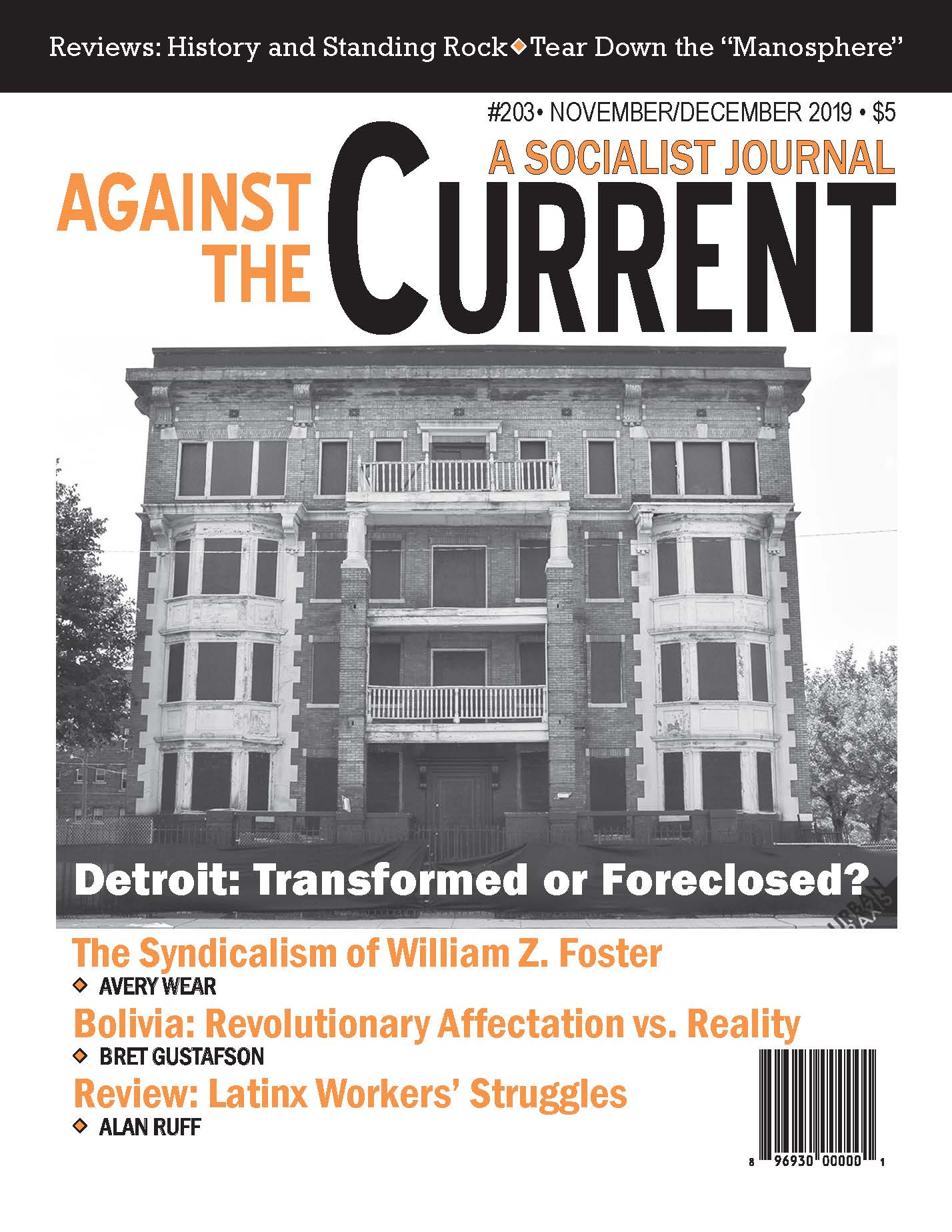 WILLIAM RAYMOND ALEXANDER, always called by the childhood nickname "Buzz," died at the age of 80 in Ann Arbor of complications from frontal temporal degeneration on September 19th. In 1986, he was a founding member of Solidarity and afterwards an occasional contributor to Against the Current.
Buzz was also a committed radical professor whose innovative, path-breaking pedagogy made many of his old-school colleagues blanch. In fact, his entire adult life can be considered a rebuke to the default setting of those who assume that academics live in an ivory tower, happily cut off from the rest of the world to indulge their own privileged pursuits.
Born in Chicago and raised in the affluent suburb of Wilmette, Buzz was the son of a Republican who ran a successful family law firm. A gifted student of literature, he received a BA from Harvard University in 1960, a second one from Cambridge University in 1962 and, after traveling in Europe, returned to Harvard to receive a Ph. D. in 1968.
Subsequently, he was an instructor at Harvard for several years before becoming an assistant professor of English at the University of Michigan (U-M) in 1971.
While a student, Buzz had become a Democrat, supporting John F. Kennedy and organizing for Eugene McCarthy. He also was a founder of Harvard Faculty Against the War in Vietnam.
When he arrived at U-M, however, there was an evolution: He became intrigued by documentary film and started researching a book about the pro-Communist groups of the 1930s. It was published in 1982 as Film on the Left: American Documentary Film from 1931 to 1942 and focused on the Workers Film and Photo League, Nykino, and Frontier Films.
Buzz was motivated by the interviews he had conducted with surviving participants to integrate his political commitments into the way he practiced his academic life. Moreover, at a time when "sage on a stage" lecturing dominated college-level teaching, he experimented with classes where the students collectively studied and sometimes produced documentaries.
Soon he moved to new courses where guerrilla theater about political issues was examined and then performed around the campus, an artistic form that he felt provided a more direct mode of collaboration, provocation and participation. In 1990, he began to offer a course that involved working in prisons around theatrical productions.
A Faculty Activist
Buzz was one of the first two faculty members I met when I arrived at U-M in 1975. Immediately we began collaborating in organizing the Ann Arbor Committee for Human Rights in Latin America. This was notable for a November 1976 "Teach-in on Terror" that drew 3,000 people and had participants from some nine different countries in Latin America — such as the widow of Chile's assassinated president Salvador Allende.
At the same time Buzz was one of the small number of faculty actively supporting the campaign for U-M Divestment from South Africa, and the protest effort against the Political Science Department's denial of tenure to one of its central leaders, Prof. Joel Samoff. Buzz's own tenure would be controversial at the college level, with a negative decision in 1977 overturned following a mass undergraduate mobilization and an appeal by the English Department.
The Ann Arbor Committee for Human Rights was followed by the Latin America Solidarity Committee, and then Faculty for Human Rights in El Salvador and Central America.
After trips to Nicaragua in fall 1986, on March 2, 1987 we published a call to arms in the Michigan Daily with the title, "Two Profs Call for Faculty Action." This was an urgent plea for mass actions to halt Contra aid (given by the United States to counterrevolutionary forces in Nicaragua) and support Ann Arbor's sister city project in Juigalpa, Nicaragua. A year later we collaborated in an unsuccessful effort to get U-M to give an honorary degree to Nicaraguan poet-priest-revolutionary Ernesto Cardenal.
Sometime in the mid-1980s Buzz joined the International Socialists, and we drove together to Chicago to participate in the 1986 fusion of organizations (I was a member of Socialist Unity) that created Solidarity. Then in the late 1980s, Buzz was a founder and supporter of "Concerned Faculty," mostly formed to protest racism but other matters, too.
In 1991, we founded a new group, "Net­work for Cultural Democracy," around defense of affirmative action and meaningful multiculturalism. By this time, however, the arduous year-round demands of his teaching in prisons had taken over most of his time and energy, and his association with Solidarity became more distant if still friendly.
Pioneering Prison Creative Arts
For the last 30 years Buzz was nationally known as the founder and principal organizer of the Prison Creative Arts Program (PCAP) at the University of Michigan, recognized and admired for his hands-on, anti-elitist activism. Buzz was not exactly a fiery orator, but he had charisma to spare when it came to interacting directly with individuals — they knew that he genuinely cared.
Over the decades the lives of thousands of students and inmates were transformed, and the story is recorded in his prize-winning book, Is William Martinez Not Our Brother? (2010).
Prior to his incapacitation in 2016, Buzz supervised volunteers who entered 27 adult correctional facilities, several youth facilities, the Forensic Psychiatric Center and a public housing community each year.
Although the initial focus was writing and performing plays, PCAP's most visible program became the Annual Exhibition of Art by Michigan Prisoners, which he and his collaborator and wife, Janie Paul, created in 1996.
Buzz was tall (6 ft. 4 in.) and athletic looking with untamed hair and an eternally boyish face. But he usually had the temperament of a gentle giant with a soft-spoken pedagogical and political radicalism that allowed him to bridge generation gaps.
The political influences on him were diverse and eclectic. His famous teaching was somewhat affected by the critical pedagogy movement of Brazilian Paulo Freire; rather than present an analysis, he would more often elicit opinions and interactions from the students themselves.
He also felt the need to personalize the political realities of a class-divided society by urging students to consider their own role in maintaining or potentially dismantling this system. The process could be upsetting and emotionally grueling at times.
Throughout the years, Buzz displayed an impressive tenacity that belied his age. Dealing with prison officials, and working continuously to acquire financial support and approval for his projects couldn't have been much fun. But he was fully committed to working for what he called an "engaged agenda" and to advance public scholarship on an institutional level.
In particular, he challenged all of us to recognize the full humanity of prisoners, a commitment that survives him in the now multigenerational and enduring work of PCAP, and the other endeavors Buzz's legacy has encouraged. In addition to Janie, Buzz is survived by his children, Jonathan and Allegra.
November-December 2019, ATC 203