Against the Current, No. 200, May/June 2019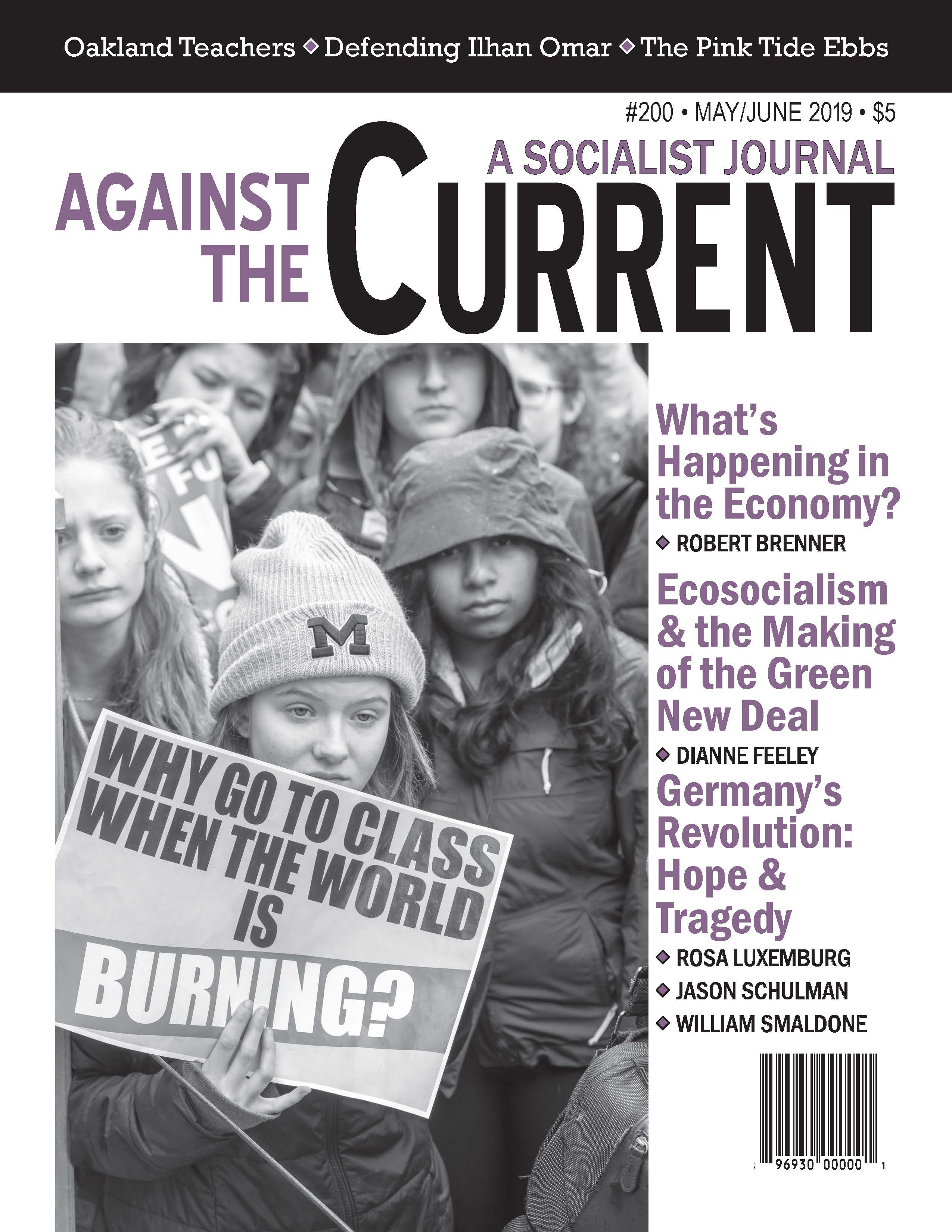 ON OCTOBER 22nd, 2018, the American University of Beirut's Bashar Haidar, a philosophy professor, extended an invitation to Oxford University Professor and visiting Hebrew University advisor Jeff McMahan for a talk, "Rethinking the Ethics of War." In view of McMahan's capacity of service to an Israeli academic institution, the University's leftist, Southern Lebanese and Palestinian student groups staged a protest.
In practice this invitation, which is in violation of the country's academic boycott of Israel, highlighted the dispensation for Israeli discourse even in a country that has had an official ban against Israeli products, goods and services since the Lebanese Israeli Boycott legislation was enacted in June 1955. Indeed, it provides a shining example of how the rhetorical normalization of Zionism routinely finds its way into the discourse of academic institutions.
Why Academic Boycott?
The international call for an academic boycott movement was launched in Ramallah, West Bank in 2004 as part of the greater international Boycott/Divestment/Sanctions (BDS) campaign. In this context the campaign calls for BDS activities against Israeli academic institutions, which provide a great deal of ideological and material support to the occupation and to its legitimization. It also aims to force an isolation of Israel that will prompt it to change its policies against the Palestinians.
The principle of boycott is made more difficult by the economic concessions capitalist society makes towards corporations and large industries. Companies that have a direct hand in the occupation, from Pepsi-Cola and Nestle to Caterpillar and G4S, widely permeate every sector of the global economy, and Lebanon's weak economy prevents both popular and political support for a complete and successful nationwide boycott.
Yet the importance of the academic boycott is crucial, as Israeli academic institutions have not only been the tools to strengthen and solidify racist ideological hegemony in academia, but routinely provide concrete military research and support to the Israeli military (IDF) in its ongoing campaigns to brutalize Palestinians (in particular Gazans), and Lebanese.
The infamous "Dahiyeh Doctrine," an IDF doctrine justifying bombardment of civilian areas, put into practice in Beirut in 2006, was developed in Tel Aviv University.
Hebrew University in particular has been whitewashed of late for its eventual accommodation and cooptation of the U.S. student Lara al-Qasem [who was detained when she entered Israel, because of her previous support for a Students for Justice in Palestine campus group — ed]. This institution gives extra credit to students for going on "settlement tours" with far-right groups.
In view of the Zionist state's continued expansion and settlement building, we don't care about the crocodile tears from neoliberal professors over particularly egregious "actions of the Israeli government," when their legitimization of these institutions every day offers more support, in reality, to a 70-plus-year occupation and over 100-year colonization project.
Capitalism: Boycott's Kryptonite
Lebanon's boycott of Israeli goods and services has ironically and increasingly become a tool of enforcing, rather than challenging, colonial and Zionist political and economic power. In March 2018, Gaza-born Anan Abusereya, a Romanian national of Palestinian descent, was denied entry into Lebanon. She was one of many Palestinians detained at the Lebanese airport for hours without access to a lawyer.
The attendees were on their way to a Palestine solidarity conference, and were ironically receiving treatment at the hands of an Arab neighbor, supposedly an enemy of "the Zionist entity" as it used to be called, no different than what they would have gotten at Tel Aviv.
Meanwhile Israel's business thrives in Lebanon with Nestle, PepsiCo, and Lebanon's strong dependence on Western and Saudi finance capital, all inextricably linked to the occupation.
When an academic currently working in a Zionist institution is allowed to speak in institution in an Arab country while a Palestinian-Romanian cannot enter the country for a Palestinian solidarity conference — as was the case last March for at least a few other Palestinians who were raised abroad — we can see how boycott laws ironically become divorced from their intended objectives to serve, today, very adverse power-serving ones.
Unfortunately, even Lebanese university students are all too accustomed to the discourse of normalization that is routine to American institutions. Earlier in September, the American University of Beirut selected 2016 Chemistry Nobel Laureate Sir Fraser Stoddart, who recently visited and celebrated Israel's Zionist "Independence Day" festivities, to deliver the 2018 Makhlouf Haddadin Lecture.
AUB has had no reservations against advertising job opportunities with Israeli firms. And it came under fire in 2012 when the University awarded an honorary degree to Donna Shalala, possessor of honorary degrees from three Israeli universities and whose 2010 visit to Israel — ironically, to oppose academic boycott and support academic and institutional cooperation with Israel! — resulted in her own humiliating two and a half hour detainment at the Tel Aviv airport.
Adherence to academic boycott is a necessity in Lebanon's present economic and political conditions, which have caused massive street protests and movements such as 2015's YouStink (against the collapse of garbage collection services). Most recently economic protests in January drew nearly 20,000 to the streets of south-central Beirut.
On the other hand, the growing severity of the country's overall economic problems threatens to marginalize the battle against normalization as an increasingly peripheral and overlooked issue — capitalist "kryptonite" for the boycott struggle.
A Common Struggle
The joint statement by the leftist Red Oak Club, the Palestinian Cultural Club, and the Cultural Club of the South against AUB's McMahan invitation received the endorsement of multiple student groups reinforcing their collective stance against academic cooperation.
Just two months later, in the United States the University of California became the first university to condemn implementations of a campus academic boycott of Israel. Students in the United States and in Lebanon are battling the same adversary — global capitalism — on two fronts: against both debilitating austerity and the superstructures of imperialist power. Normalization is an agent of that power.
To date, over 250 universities across the United States have been pushed to reject academic boycott, despite Israel's banning, deporting and detaining numerous academics, including Richard Falk, a Jewish American professor of international law; Frank Romano, a humanities professor detained for trying to block Israeli forces from destroying Palestinian tents in Khan al-Ahmar last September; or Norman Finkelstein and Noam Chomsky, both banned from the country around a decade ago.
American students are also too familiar with the harassment and targeting that befalls them in speaking out against the occupation. Numerous blacklisting outfits, including Canary Mission and Campus Watch, run smear campaigns on students, professors and organizers against the occupation who are specifically active on college campuses.
[Of related interest: See Alan Wald's article on University of Michigan faculty "Punished for Acting with Integrity," ATC 198 — ed.]
"We are the students, we choose who comes to speak in our University," one student at the American University of Beirut protested during the lecture speak-out.
From Lebanon to the USA, the message stays consistent: Zionism is a superstructure that bypasses student agency in order to position itself as the dominant narrative, like whiteness, that American students are indoctrinated to identify with, and to which Lebanese students are increasingly tantalized to aspire.
Normalization
The academic boycott is imperative to rejecting the normalization of Israeli discourse into institutions, and to ensure that the rhetoric and ideology of apartheid, ethnic cleansing and genocide are not given a respectable platform.
Italian philosopher Antonio Gramsci coined the term "hegemony" in his Prison Notebooks while locked up in Mussolini's prisons, to refer to the ideas and dogmas exerted by a ruling class or power. In the Arab world's case this is represented by imperialist and colonialist powers and their agents that rule members of society.
Through the willing consent of the people made possible through control over ideological superstructures, Gramsci suggested, economic and political control can be maintained. By confronting Israeli ideological superstructures, the superstructure of Israel's brute assumption and dominion of power in the Middle East, we defend our sovereignty as an a proletarian and liberationist intellectual community.
We resist the language, ideas, logic and notions that justify the occupation and threaten our own ideological integrity. There are a few who think that defending the legitimization and normalization of the Zionist Israeli state — whether through institutions, in the adoption of its discourse, or in any way accepting its myriad twisted narratives — somehow empowers or enriches them as academics. In Arabic, the root word for "to make peace with" (Aslam) matches the same word as "to surrender" (Istislamu).
For those committed to maintaining respect for Palestinian and Lebanese resistance, material action must be taken to ensure that a commitment to the Palestinian cause goes beyond empty rhetoric and that we, as the Palestinian Arab brothers and sisters also affected by the problems of imperialism and colonization, affirm our commitment to this ideological resistance and do not cede to Israeli violence.
In Lebanon in particular, students are no strangers to the occupier's brutality. In the United States, students and academics are all too accustomed to its hegemony. Israeli ideas infringing upon Lebanese academic space are parallel to the routine military infringements upon Palestinian and Lebanese air, ground and water spaces.
As their allies and pupils in peace, U.S. students are increasingly acting upon their sense of accountability to this fight from within the belly of the beast. Internationally, students as agents of intellectual and scholarly inquiry must be stewards of education that is truly anti-colonial and liberationist, accountable to the good of the national and international proletariat, against the discourses of colonization and power.
May-June 2019, ATC 200