Against the Current, No. 199, March/April 2019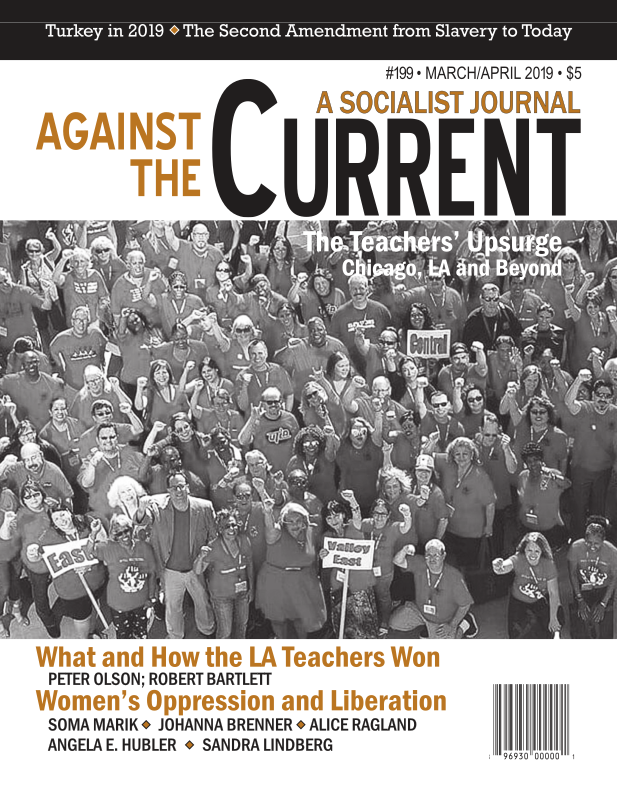 Why Women Will Save the Planet, 2nd Edition
By Friends of the Earth and C40 Cities
London: Zed Books, 2018, $14.95 paperback.
FRIENDS OF THE Earth, an environmental activist organization claiming two million supporters and five thousand member groups, offers its second edition of Why Women Will Save the Planet.
This edition, focused on cities, includes contributions by C40 Cities, a network of 96 cities working to address climate change. C40 Cities self-reports that it represents "650+ million people and one-quarter of the global economy."
The two organizations have jointly pro­duced a book with statements from "pioneering" female elected representatives, activists and academics. Learn here, the editors proclaim, that "women's empowerment and gender equality are as important to saving the world as the widespread use of solar panels or electric bikes/cars and other green technologies."
You would think with all this women power that the messages in the book would reflect huge shifts in business as usual. Un­fortunately, with a handful of exceptions, the essays in the book are a bit like a nest of well-dressed mice nibbling around the edges of a world map.
The collection of essays begins with promise. From page one, lead editor and mayor of Paris Anne Hidalgo insists that "(t)he severity of climate impacts is inextricably linked to economics, public health, inequality and gender." In every essay that follows similar opinions are expressed.
Yet each time the connection among an oppressive economic system, women's subjugation and looming planetary catastrophe appear, the next step — outright criticism of capitalism — fails to manifest, with only three exceptions.
Vandana Shiva, Maria Mies and Cellia Aldridge seem to have crept into this anthology almost against the prevailing mindset of the remaining writers. These three are not afraid to describe in detail how capitalism tears at the planet and subjugates women's lives.
Environmental activist and scientist Vandana Shiva's "Hand in Hand: Women's Empowerment and Sustainability" hits hard from the first page. Describing her work in the Punjab, she writes, "I saw that women had disappeared from the farms of Punjab; they had been replaced by chemicals and tractors. In a society where women are made disposable in the economy, they are then made disposable in their lives." (130)
Activist and philosopher Maria Mies goes further, describing a matrifocal culture from 30,000-10,000 BC replaced by a patriarchal warrior culture, "[T]he main target of 'Father War' is not just human enemies but 'Mother Nature' herself… and his latest son or avatar is capitalism… [which acts like it] can overcome the limits of space, time and the limits of our planet Earth… The only way to save life on Earth is to stop the war on nature and create a totally new civilization." (159-160)
Mies has written since the 1960s about the devastating connections between capitalism and patriarchy. She is a German scholar and the author of The Lacemakers of Narsapur and Patriarchy and Accumulation on a World Scale: Women in the International Division of Labor.
Cellia Aldridge, activist with World March of Women, announces her revolutionary viewpoint in her essay's title, " How the Defense of the Commons and Territories Has Become a Core Part of Feminist, Anti-capitalist Struggles." She insists: "Urban and rural women in all countries — especially working-class women, women of colour and indigenous women, lesbian, bisexual and transsexual women and women living with disabilities — experience the exploitative impacts of transnational and national corporate control." (152)
Falling Short of Anticapitalism
These three are not afraid to demand system change and an end to capitalism. The remaining authors, whether politicians, activists or scholars, still operate based on the assumption, or hope, that capitalism will grant women an equal share of its spoils. They remain supplicants at capitalism's table, hoping for crumbs of cheese.
Such inexplicably narrow views fill pages and pages. Anne Hidalgo, Mayor of Paris and Chair of C40 Cities, attempts to prove the effectiveness of her work by describing her successes with the latest Paris Climate Change Agreement, though countless scientists recognize that the document will not be enough to stave off climate disasters even if nations voluntarily abide by it.
Alexandra Palt, Chief Corporate Responsibility Officer at L'Oreal, when asked about efforts to stamp out abusive forms of labor in supply chains, admits: "A big weakness in the Modern Slavery Act of 2015 is that there's no official body to monitor implementation of [the part of the act focused on labor abuse]. " (50)
Caroline Lucas, Member of Parliament for the Green Party in the UK, while ex­tolling the importance of hope, also acknowledges:
"But the culture, vested interests and workaday rules of Westminster, are rigged against women — against anyone, in fact, trying to do things a bit differently.
"Politically independent community leaders are disadvantaged because we don't have a proportional voting system… Westminster has always dragged its feet. We need to keep fighting for reform, challenge the establishment and make the system fairer, more balanced." (115)
In spite of these women's admissions about the inequality of the systems in which they do their work, all continue to believe that capitalism can somehow be transformed.
The book contains 27 essays and descriptions of the contributors' efforts and organizations. The global scope of the contributions that come from the UK, Europe, Africa, Asia, the United States and Canada suggests that the viewpoints should be diverse and stimulating.
Instead, the willingness of all but three writers to avoid use of the term capitalism, let alone socialism, suggests these authors may have been very carefully selected.
One wonders if more critical sisters were avoided in an effort to present a book focused on a can-do, work within the system attitude. While many women in this book work very hard to improve the lives of women around the globe, the underlying problem that stymies them all — capitalism — remains unexpressed in most of their visions of how to improve women's situations or the fate of the planet.
March-April 2019, ATC 199