Against the Current, No. 199, March/April 2019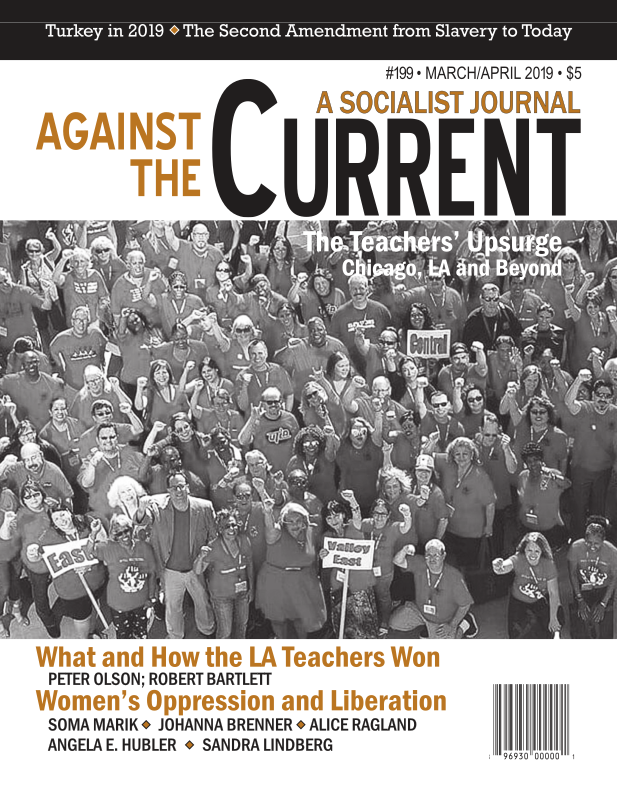 ¡Los maestros unidos jamás serán vencidos!
¡Los estudiantes unidos jamás serán vencidos!
¡Los padres unidos jamás serán vencidos!
¡El pueblo unido jamás será vencido!
The teachers united will never be defeated!
The students united will never be defeated!
The parents united will never be defeated!
The people united will never be defeated!
IT'S 1:30 PM in Los Angeles and our crew of teachers, students and parents has gathered for some much-needed rest before our afternoon picket. We're back in Boyle Heights, one of the oldest barrios in LA, after marching, chanting, drumming and whistling our way through a rally of over 50,000 people downtown.
Our band teacher has been sharing her talents with the crowds as part of the Red for Ed Marching Band and the director of our acclaimed Mariachi Jaguares group has been hitting the streets with other skilled musicians in our union.
Although we are energized, Angelenos aren't used to weather and we're definitely not used to being outside in the rain for eight hours straight. We're running low on ponchos and have done our best to assemble outfits that we hope might be water resistant. At this moment, it feels good to peel off our outer layers and step into the warmth of Señora Perez's living room.
Sra. Perez has become something of a collective mother to us all during the strike and lives directly across the street. She has two sons who recently graduated from our school, a daughter who is now a teacher there and having lived through the civil war in El Salvador, knows more than most about the struggle. Today she is feeding us chicken and beans from giant pots simmering on her stove.
We take our plates back to a long table set with stacks of warm corn tortillas and homemade salsas. There we sit and eat and talk about the movement we are building together with many thousands of others across our city.
A Community Strike
When the 34,000 members of United Teachers Los Angeles (UTLA) went on strike January 14, we knew we couldn't do it alone and we knew that it had to be about way more than a contract. We knew it couldn't just be a teacher's strike — it had to be a community strike.
That's why, at our school, we started our daily morning picket line meetings by passing the megaphone to the students and parents who had joined us to speak about their own reasons for participating.
Since the strike ended on January 22, much has been written about what happened in Los Angeles and its significance. There were also a number of pieces written before the strike that capture the issues quite well. Valuable coverage and analyses include Sarah Jaffe's work in The Nation, Eric Blanc and Lois Weiner's articles and bargaining team lead Arlene Inouye's interview in Jacobin, Alia Wong's coverage in The Atlantic, fellow Eastside teacher Gillian Russom's reporting in Socialist Worker and interview in The Progressive and Barry Eidlin's piece in the Washington Post.
These commentaries converge around one central insight — that the strike was a decisive victory in an ongoing nationwide movement for the future of public education — a movement that must continue if its promise is to be fulfilled.
Whose schools?
Our schools!
Whose schools?
Our Schools!
What kind of schools?
Public Schools!
What kind of schools?
Public schools!
Los Angeles Unified School District (LAUSD), the second largest public school district in the nation, has around 600,000 K-12 students plus another 100,000 in early and adult education. Our schools are home to 90% students of color, 82% of whom are low income as measured by the criteria for free and reduced-price lunch.(1)
Hence, the question of what kind of education LAUSD students receive is indisputably a matter of racial and economic justice. Inspired by the slogan of the Chicago Teachers Union and its movement allies, the LA strike comes out of years of preparation under the banner of "The Schools LA Students Deserve."
Our current elected leadership, which ran as the Union Power slate, emerged from at least two decades of rank-and-file organizing within UTLA. In contrast to previous leadership teams, Union Power has pursued a strategy of visioning and alliance building with parents and community through direct school-based organizing and also through the Reclaim Our Schools Los Angeles (ROSLA) coalition.(2)
UTLA has also connected with the grassroots, student-led group Students Deserve, which has been organizing alongside Black Lives Matter Los Angeles on several high school campuses against LAUSD's racist policy of daily searches of students and other issues. During the strike, student members marched on district headquarters, demanding to meet with school board members to present their demands only to be met by police officers denying them entry.
Describing the need for a broad-based, visionary education justice movement, Students Deserve writes:
"Youth, families, educators and community members are coming together to build a new vision of education and society. We are working together because we know our communities have the power to transform our schools and our society. Our voices matter and they need to be heard. We want students in LA to attain skills, literacy in all subjects and become self-motivated, critical thinkers and participants in their schools and communities. Students need to be able to build skills in a nourishing environment and be prepared for their lives when they leave school.
"Unfortunately, we see that schools have historically not done this and that the current trends in education are still moving our schools in the wrong direction. We need an immediate end to "reforms" that focus on testing, school closures, reconstitutions, pushing out more students, corporate charter companies running more schools, and cuts to vitals areas like arts, music, ethnic studies, libraries, counseling services, adult education, and early childhood education.
"We need to change the culture and practices of our schools so that they truly support every young person. We need to end racism, classism, sexism, homophobia, and transphobia. We don't want to see the branding some students as "good kids" and others as "bad kids." We don't want students to be pushed out of schools because they are low on credits, are gang-affiliated, have Special Education needs, and/or have recently immigrated."(3)
By unambiguously aligning itself with students, parents and community, UTLA entered contract negotiations with LAUSD with a broad orientation to "bargain for the common good" rather than a narrow set of teacher-focused demands.
Our bargaining team continuously pushed up against the boundaries of what was considered bargainable, even bringing representatives from community organizations with them into bargaining sessions, much to the chagrin of the district. After more than a year of LAUSD stall tactics, UTLA members In August 2018 voted 98% to authorize a strike.(4)
As the months progressed, it became clear to the public and to our own members that this would not be a strike primarily about teacher pay, but rather one focused on school funding and the conditions of teaching and learning.
In fact, salary was one of the very few areas in which LAUSD had moved significantly in many months of negotiations. In contrast, the district was openly hostile to the union's repeated insistence on bargaining non-salary issues, especially class size.
The Class Size and Staffing Crisis
Class size is one of the clearest indicators of whether adequate funding is in place to meet student needs. One does not need a doctorate degree in education policy to figure out that students receive more individualized support and attention in a class of 25 than they do in a class of 45.
Anyone who has spent time in a classroom at any grade level knows that class size has a dramatic impact on students' relationships with their teachers, classmates and schools as a whole.
Although our previous contract contained class size caps (albeit shockingly high ones), they were unenforceable. A nasty piece of contract language allowed LAUSD to override contractual class size caps in any given school year when they declared that it was a financial necessity — which, of course, they did every year.
Getting rid of this regressive section of our contract was one of the central demands and ultimately one of the most tangible victories of this strike. It was also the demand that LAUSD fought most vociferously against.
District management's resistance reflected not only the fact that class size reduction carries a much larger price tag than other items (such as salary increases), but also their strong desire to retain unilateral power and total control in this area — which they did not relinquish until the final day of the strike, after being hammered by six days of mass rallies and pickets with deep community support.
Another core demand highlighted the critical role that out-of-classroom staff such as nurses and librarians play in the overall well-being of school communities. The status quo in LAUSD has been that over 80% of schools do not have a fulltime nurse, leading to lots of jokes along the lines of "If you have to get sick or injured, just make sure it's on a Tuesday or Thursday."
While the strike did secure funding to ensure a nurse at every school and a librarian at every secondary school, the political importance of the demand goes far beyond these measurable outcomes. The call for fully-staffed support services at schools is a step in the direction of the community schools model, which includes "wrap-around" services, among other elements, outlined by the Alliance to Reclaim Our Schools (AROS), an "alliance of parent, youth, community and labor organizations."(5)
A nurse in every school does not equate to the level of services being described here, but it is a baseline from which to fight for more. AROS outlines the following elements of a community school:
• Curriculum that is engaging, culturally relevant and challenging. It includes a broad selection of classes and after-school programs in the arts, languages, and ethnic studies, as well as AP and honors courses, services for English Language Learners, special education, GED preparation and job training.
• High quality teaching, not high stakes testing, is emphasized. Appropriate assessments are used to help teachers meet the needs of students and educators have a real voice in professional development.
• Wrap-around supports such as healthcare, eye care and social and emotional services are offered to assist learning. They are available before, during and after school and are provided year-round to the full community. Providers are accountable and culturally competent.
• Positive discipline practices such as restorative justice and social and emotional learning supports are stressed so students grow and contribute to the school community and beyond. Suspensions and harsh punishments are eliminated or greatly reduced.
• Transformational parent and community engagement is promoted so the full community actively participates in planning and decision-making. This process recognizes the link between the success of the school and the development of the community as a whole.
AROS argues that "Sustainable Com­munity Schools are the solution to the opportunity gaps in our schools and will help reverse the growing inequality in our society. The corporate model of school reform promotes closing schools rather than improving them. Instead of expanding supports for students in neighborhood schools, it diverts resources to charter schools without holding them accountable. It is increasing, not fixing, the inequities in our schools."
This vision of fully resourced, fully public community schools is a proactive rather than defensive response to the privatization threat that currently has momentum with massive financial and political backing in school districts throughout the country, including Los Angeles, where one in five students now attends an unregulated, unaccountable charter school.
The Privatizing Plague
Privatizers, take a hike!
Education is a right!
Efforts to privatize public education are not new — they're a core aspect of the neoliberal agenda. And they are certainly not limited to the United States.
Some of the most inspiring fightbacks against school privatization can be found in Latin America — from recent resistance to "disaster capitalism" in Puerto Rico, to the Chilean student uprising of 2011-2013 or the many decades of teacher organizing against neoliberal policies in Mexico.
In the United States, the privatization campaign has been a bipartisan affair. While Trump's Secretary of Education, Betsy DeVos, has been a particularly brazen attacker of public schools, in terms of policy there is significant continuity with the pro-charter orientation of Arne Duncan and the Obama administration.
In this sense, it is significant that after the 2018 teacher-led "red state revolt" in West Virginia, Oklahoma, Kentucky and Arizona, the strike wave has landed in California, a Democratic Party stronghold.
LAUSD's current superintendent, Austin Beutner, is a billionaire investment banker with no background in education. Like Eli Broad and other billionaires intent on shaping education policy in Los Angeles, Beutner has close ties with the Democratic Party establishment. By taking the privatization agenda head-on in Los Angeles, UTLA is putting intense pressure on state Democrats from the mayor up to the governor to intervene on the side of increased resourcing of public education.
When adjusted for inflation, California ranks 43rd out of 50 in per pupil funding, and the already underfunded LAUSD loses an additional $600 million a year to the growing sector of unregulated, unaccountable charter schools, some of which have "co-located" on LAUSD campuses alongside traditional public schools.(6)
Beutner's proposal to break LAUSD into 32 "networks" is in line with the so-called portfolio model, the latest in the ever-evolving effort to brand corporate ed reform for public consumption. As Clare Lemlich explains in Socialist Worker:
"On Wall Street, having a "portfolio" of holdings allows investors to profit off the share prices of different stocks, rather than investing in a single company and being tied to its ups and downs…. investors can then buy stocks in companies they think will make the most money and get rid of the ones they think will fail.
"Transferred to the education system, the portfolio model means school boards would treat each school as if it were a stock. Rather than invest in a central public education system, the portfolio is "diversified" to include more options — meaning more charters and private schools, all competing against each other for resources….
"The portfolio model is the latest corporate school "reform" proposal for applying the logic of capitalist markets to the public education system…. (S)chools are businesses, school districts are marketplaces, students and parents are consumers, and knowledge is a product to be bought and sold.
The school district ceases to be a central, public planning authority overseeing school policy — and instead becomes the ax-wielder for underperforming schools."
In this moment of fake reform, a key task for teachers' unions is to offer our own vision for educational change. Simply defending the status quo of underfunded, beleaguered public schools is a losing strategy and violates the reasons we became educators in the first place. An emphasis on the community schools model, the vision of fully resourced, fully public schools responsive and democratically accountable to the communities they serve, is a powerful and transformative way for our unions to frame a wide range of demands.
Victory and the Future
¡El maestro luchando, también está enseñando!
After six days on strike, UTLA and LAUSD reached agreement that included the ability to begin to enforce class size caps for the first time ever; a six percent salary increase which will help our members cope with the soaring cost of living in Los Angeles; a nurse in every school and a librarian at every high school; an improved cap on student-to-counselor ratios; and increased teacher voice in the charter co-location process.
Beyond the contract itself, the strike won commitments from the district to expand green space, eliminate traumatic and racist "random" searches for 25,000 students across 28 schools, launch a pilot cohort of 30 community schools, move towards a 50% reduction in district-mandated standardized testing, set up an immigrant defense center with a dedicated attorney and even force the Superintendent and pro-charter School Board majority to call for a state moratorium on new charter schools in Los Angeles.
But the more far-reaching gains of the strike cannot be found in the written agreement. This strike is part of a seismic shift in the national narrative about teachers, public schools and privatization. The conversation today looks and sounds radically different than it did five years ago, one year ago or even a month ago.
The massive public backing that was mobilized in support of demands that directly benefit our students is a wakeup call to privatizers that it will not be as easy as they thought to dismantle the public sector and teachers' unions in particular.
In 2019, teachers are the largest unionized workforce in the country and we are a force to be reckoned with. Despite attacks such as the recent Janus decision in the Supreme Court, we are not going anywhere anytime soon.(7)
On the last day of the strike, members received copies of the Tentative Agreement around noon, and by 6 PM that same day 81% had voted to approve it. While UTLA had planned to organize a longer and more participatory process for discussing and voting on the agreement, part of the deal brokered by Mayor Eric Garcetti that morning included a pledge to return to work the following day.
As a result, many members understandably felt rushed to vote without having a full understanding of what had been gained. Some teachers, having experienced the transformative power of mass collective action, felt that we could win more by extending the strike.
In a press conference on the evening of the vote, UTLA president Alex Caputo-Pearl had this to say in response to a reporter who asked about the vigorous discussion on social media about whether the agreement was the best we could do:
Our members' expectations were fundamentally raised by this struggle. Teachers in Los Angeles, and every other urban district in the United States, have been beat down for years. With class sizes in the 40s, nobody giving them pencils and pens, having to buy this, that, and the other thing out of their own pocket, having to be at schools where they've got rain coming through the roof — teachers have been beat down. And one of the things that we're most proud of is that this campaign for the Schools LA Students Deserve, that ultimately culminated in a strike and a victory, raised our members expectations, actually had our members saying, 'I deserve better.' I actually deserve to have supplies in my classroom. I actually deserve to have a class that's small enough that I can walk down the middle of the classroom without having to plow over kids in their desks. And sometimes when expectations get raised, and then you make an agreement, sometimes people feel a little bit raw about it because they want to keep on pushing. And I don't begrudge that of any of our members. In fact, I'm happy that our members have their expectations raised — because the next struggle is right around the corner.(8)
And so it is. From here, each successive round of contract negotiations must include demands to lower class size caps further and further until we have the conditions that we know our students need to thrive.
We must put our efforts into electing a school board, seat by seat, that is not funded by the privatization lobby and that truly represents interests of public schools.
We must organize a statewide campaign to pass the Schools and Communities First ballot initiative in 2020, which would close California's commercial property tax loophole and bring $11 billion back to schools, community colleges and other critical neighborhood services.(9)
We must continue to dismantle the school-to-prison pipeline and work alongside the Reform L.A. Jails coalition which argues that "instead of investing $3.5 billion into building more jails, we should be investing in youth programs, quality public education, and affordable housing to keep people out of jail."(10)
Most importantly, throughout these efforts we must build on the grassroots power that this strike unleashed in LA streets, in our workplaces and in our communities.
As I write, teachers in Oakland, Denver and other cities are gearing up for their own strikes and we stand with them. Los Angeles just saw the first charter school teacher strike in California history and the second (after Chicago) in the nation — raising the confidence of charter school educators to bravely organize in what are often hostile, anti-union conditions.
Let's keep building on this momentum — there is much work left ahead of us.
Notes
March-April 2019, ATC 199