Against the Current, No. 199, March/April 2019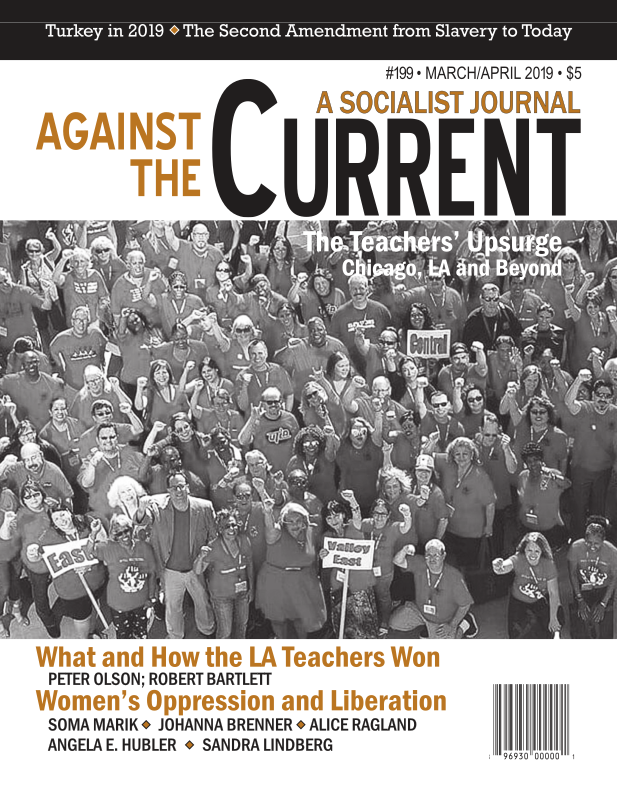 AS PACIFIC GAS & Electric (PG&E) goes into bankruptcy court, TURN (The Utility Reform Network) is demanding a voice for customers. It is joined by AARP, Public Advocates, the Farm Bureau Federation, Sierra Club and Greenlining Institute, who are campaigning for stricter oversight and for "policymakers to prioritize protecting Californians from this criminal company."
Otherwise the court, which has sole jurisdiction, might put the "rights" of PG&E creditors over those of ratepayers. This would enable creditors to sell off PG&E assets and ignore the public needs. Creditors include megabanks with ties to Wall Street.
California's inundation with huge storms — causing devastating floods, mudslides, and trees being uprooted and falling across highways as well as in rural areas and beaches — has already caused hundreds of accidents and for thousands to be without power.
All this is compounded by PG&E's still unresolved history of neglect. PG&E's latest projection is that it will take more than 10 years just to clear vegetation which is causing further danger!
Governor Newsom should give a tour of all the devastation to climate deniers from Trump to Congress to evangelicals. PG&E is definitely a poster-child for corporations under capitalism, putting profits before lives of people and the earth.
March-April 2019, ATC 199