Against the Current, No. 199, March/April 2019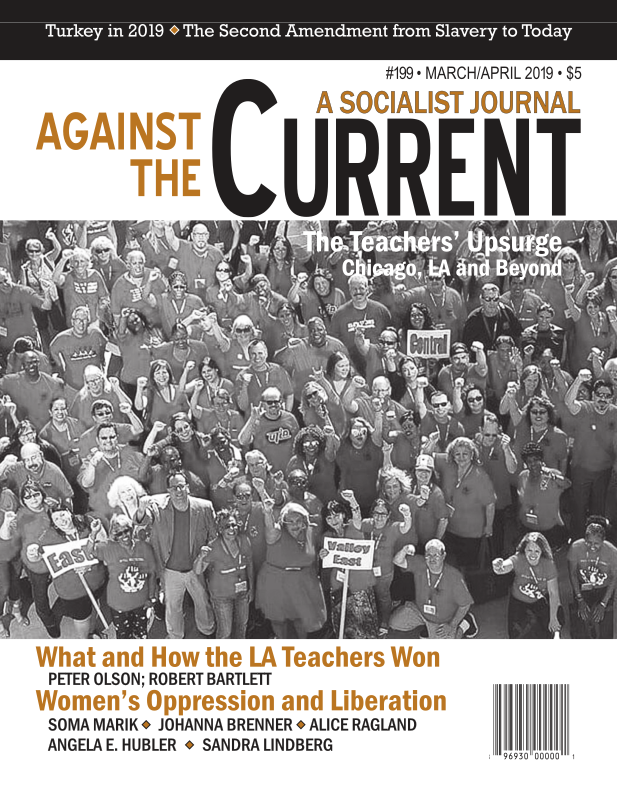 PACIFIC GAS & ELECTRIC filed for Chapter 11 bankruptcy at the end of January 2019. PG&E stock plunged 64% after the 2018 Camp Fire destroyed the entire city of Paradise in northern California, killing 86 people.
California is now known for being on fire — and having the deadliest wildfire in the United States in a century. In southern California there were also those at Woolsey and Hill fires. Altogether the fires destroyed more than 20,000 structures, double the 2017 totals.
More than 28,000 insurance claims are at $9 billion and expected to increase. To clear the debris will take $3 billion more, according to state and federal authorities.
In 2017 there were $10 billion in losses in the northern California wine country. The state insurance commissioner has said that California should rethink the practice of rebuilding in fire-prone areas, but most people want to rebuild their communities.
PG&E's negligence in maintenance of pipelines and electrical wires has been a cause of multiple tragedies. Regulators accused PG&E, one of the nation's largest utility companies, of "falsifying safety documents" for natural gas pipelines for years following its criminal conviction and multimillion-dollar fine for a September 2010 pipeline explosion that killed eight people in San Bruno, near San Francisco.
The oversight agency, California Public Utilities Commission (CPUC), found after an investigation that PG&E lacked enough employees to find and mark natural gas pipelines. This led the staff to falsify data from 2012 to 2017 — and PG&E supervisors were aware of the falsified data, which is a serious violation of the law.
In the San Bruno case, PG&E was fined $3 million by a U.S. Judge when it was convicted of six felony charges for failing to maintain that pipeline. Regulators added $1.6 billion in fines for the eight fatalities, other injuries and property damage.
CPUC's investigative report said it expected "that after such a tragedy, caused by multiple proven violations of law, PG&E would have sought to vigorously enhance and increase its effectiveness in all aspects of its gas safety."
PG&E is also being investigated regarding its equipment's role in igniting wildfires. Cal Fire (California Department of Forestry and Fire Protection) determined that PG&E equipment ignited 17 fires in 2017. There are 11 cases considered for possible criminal prosecution, and PG&E admitted that its power equipment malfunctioned in two instances.
Corporate Criminality, Public Cost
PG&E Corporation is a Fortune 500 energy-based holding company, with headquarters in San Francisco. It's the parent company of PG&E, which serves 16 million Californians over 70,000 square miles in northern and central California.
PG&E's CEO Geisha Williams "stepped down" recently on January 13. She served as the "public face of the utility." The first woman CEO of PG&E and the first Latina CEO of a Fortune 500 company, she left with a multimillion Golden handshake! She departed when the company said it would file for bankruptcy due to the financial toll after two seasons of devastating wildfires.
Williams had seemed intent to stay longer, said Tom Dalzell, Business Manager of IBEW Local 1245 which represents 12,000 workers at PG&E, State Senator Jerry Hill (D-San Mateo), a longtime critic of PG&E commented, "The real issue is that it has taken them so long to realize that the problem is at the top and that a change is necessary."
The costs for PG&E could be $30 billion, far more than the $11.4 billion that its insurance covers. Newly elected Governor Gavin Newsom stated that it is unacceptable that PG&E misleads the public and he is setting up a liaison between the state and PG&E. He stated that "everyone's immediate focus is, rightfully, on assuring Californians have continuous, reliable and safe electric and gas service."
PG&E sees bankruptcy protection as "the only option." It previously went bankrupt in 2001, which after three years cost each customer from $1300 to $1700 in above-market prices. Others could be affected: wildfire victims, PG&E retirees and renewable energy producers.
Bankruptcy can allow companies to modify labor agreements, including altering pensions. Steeper interest rates could cause manufacturing companies to move out of service areas or out of state. More could be financed with bonds that customers pay off over time.
After lobbying, state investor-owned utilities won a legislative shield from bearing the cost of the 2017 fires — another bailout!
With bankruptcy, service would continue and employees continue to work and be paid. Bondholders and shareholders would lose, as would the wildfire victims. IBEW 1245 would fight to preserve retirement plans as they protected benefits in 2001.
Demanding Change
Senator Bill Dodd (D-Napa) calls for "systemic change" in PG&E's leadership, and pointed out that the shakeup shouldn't stop with Williams' departure. San Francisco Chronicle editors called for the breakup of PG&E, noting that Senator Jerry Hill had called for legislation to break up the state's investor-owned utilities.
A breakup could allow PG&E to sell off gas assets and start a fund to help pay for wildfire costs. Regulators are considering whether PG&E should be broken up into smaller regional entities and whether it should be publicly owned. Otherwise investments in clean technologies could be curtailed, such as building a network of electric-car charging stations.
Mark Cooper, a senior research analyst at the Institute for Energy and Environment at Vermont Law School asked whether utilities "should even be allowed to recover all the cost, if they were guilty of imprudent behavior?"
Another issue concerns the Nuclear Power Plant at Diablo Canyon in San Luis Obispo County. The operating licenses expire in 2025 and there are no plans to close or sell it early. PG&E would need $1.6 billion to decommission Diablo Canyon, meaning a 2% increase in customers' bills.
The total cost would be $4.8 billion which would include dismantling buildings, transporting leftover materials, removing radioactive materials that meet federal standards, dismantling the site's breakwater and marina and retaining the current employees.
Some organizations like The Action Network are campaigning for "No PG&E bailout!" "The state hasn't provided respirator masks, shelter, or relief for thousands of homeless and vulnerable folks but now wants to bail out a bloated investor-owned utility that has spent millions to defeat efforts that would usher in safer, renewable energy."
They call for "decentralizing and democratizing our power, leveraging the progress that has been make by the 19 Community Choice energy programs throughout the state and creating a public distribution utility that works closely with these programs to advance California's climate goals."
The Action Network's demands:
• Hold PG&E and other utilities accountable for their failure to properly maintain equipment, which has cost lives, livelihoods and ecosystems.
• Make PG&E and other utility companies found liable for starting fires pay in full for their impact.
• Let PG&E and/or other liable private utilities go bankrupt. The state can then buy it for pennies on the dollar and transition the infrastructure to decentralized and democratized public power and community choice aggregation programs. (This is possible, all while ensuring that unionized utilities workers retain jobs at the same pay benefits rates at the new public agency or agencies.)
• No bailout of negligent investor-owned corporations, rescind the ability for them to shift costs to customers (enabled by Senate Bill 901), and refuse to add "cleanup legislation" to extend SB 901 bailout tactics to 2018 or any future fires.
• Support legislative efforts to break up the energy monopolies and replace them with decentralized, locally controlled public utilities, followed with plans to hasten the transition to cleaner energy.
The California Public Utilities Commission has been complicit in PG&E's destruction by backing bailouts and stalling on moves to efficiently bring in cleaner, safer, public utilities. We need local commissioners invested in local, safe, clean energy systems. CPUC President Michael Picker has signaled that the commission is likely going to recommend a bailout, which is against public interest, health, and consent.
Another group, "Popular Resistance" demands: "Don't just stop by breaking up PG&E. The public should take it over."
Tim Wu, who just wrote a book called The Curse of Bigness, calls for us to break the monopolies' capacity to control the future by influencing policies that lead to authoritarianism and fascism.
POWER TO THE PEOPLE!!!
March-April 2019, ATC 199