Against the Current, No. 196, September/October 2018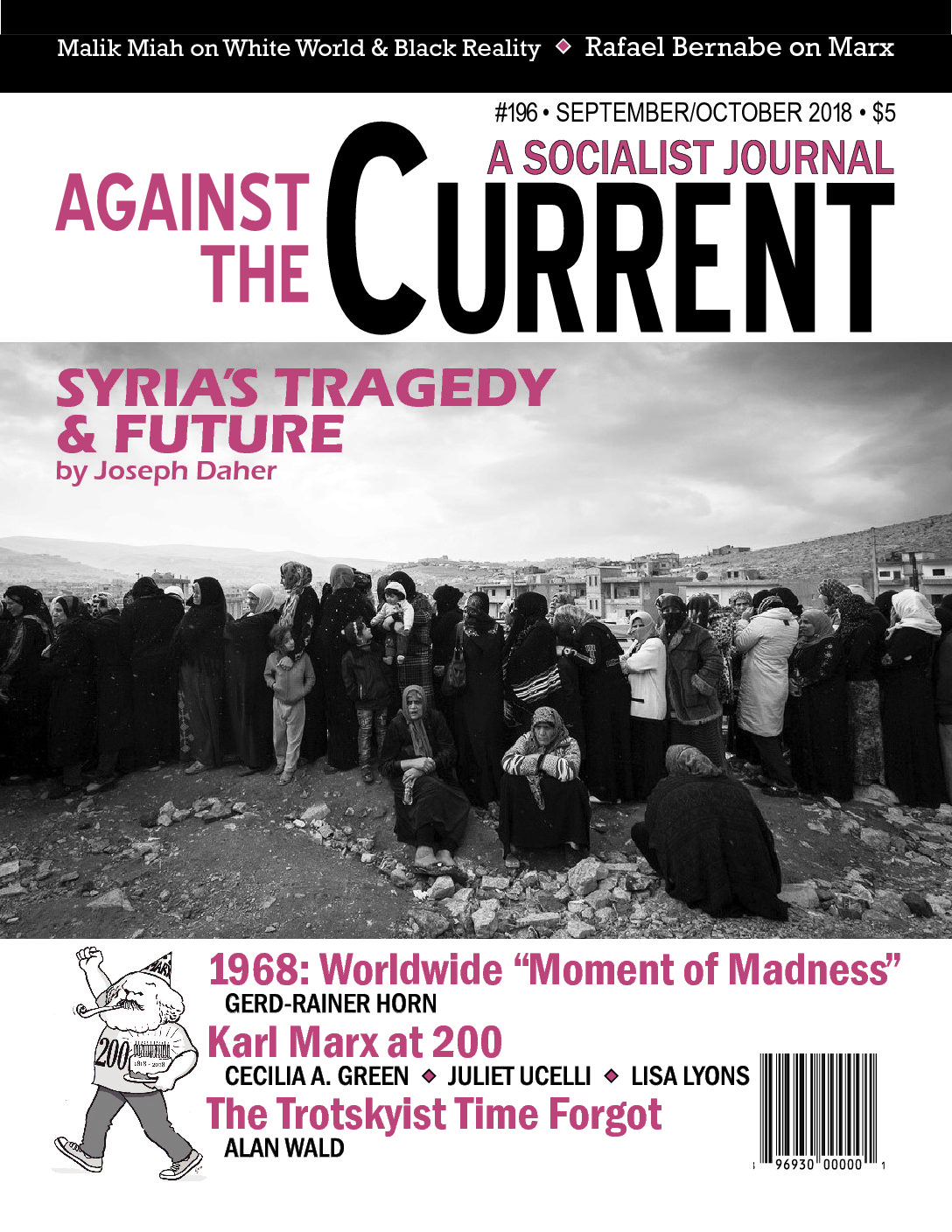 Chasing the Harvest:
Migrant Workers in California Agriculture
By Gabriel Thompson
Verso, 2017, 320 pages, $24.95 paperback.
"The dark side, the horrible side of working in the fields, is the abuse. To be afraid of the person who has power, the person who insults us, who threatens us, who can fire us whenever they want. I want to share what happened to me to help find a solution, to prevent this from happening again."
— produce truck driver Maricruz Ladino
"Most days it was just me and the animals out there together. There were a lot of restrictions, and the bosses didn't want workers socializing much. In those days, we weren't even allowed to have a television, radio, or newspapers and magazines. If the bosses found any of these things they'd say we were distracted and wasting time." — former sheepherder Heraclio Astete
"A cop was in the lettuce fields, hitting some of our female coworkers with his baton. I got really angry. I didn't even think about it: I just wanted the police to listen to me. I was carrying a flag with the union's logo on it, and I started hitting the police officer. Two other cops grabbed me to stop me, and I started hitting them with the flag as well."
— retired farmworker and labor leader Rosario Pelayo
THESE ARE THE voices of just three of the 17 people whom journalist Gabriel Thompson showcases in his fascinating book, Chasing the Harvest: Migrant Workers in California Agriculture. The others (in order of their appearance) are Oscar Ramos, Roberto Valdez, Fausto Sanchez, Jose Salvidar, Maria Ayala Arroyo, Pedro Ayala Hernandez, Guadalupe Ayala Arroyo, Ismael Moreno, Silvia Correra, Harold McClarty, Maria Elena Durazo, Rafael Gonzalez Meraz, Jim Cochran, and Beatriz Machiche.
All are veterans of California's fields, and the majority are migrant farmworkers. Thompson allows the workers' own narratives to shape the trajectory of the book, understanding a scholar's summary of the facts to be necessary but insufficient. The nuance and diversity he captures reminds us of the ways in which history is not always coherent and rational, but rather is comprised of a constellation of intricate and singular lives, full of contradictions that exceed the limits of linear accounts and the possibilities of most scholarly treatises.
I was awed by the rich texture of the oral histories the volume contains. They are presented as first person narratives rather than interviews, and in alignment with other volumes in the fabulous Voice of Witness (voiceofwitness.org/), the series to which this book belongs, they provide the narrators' life histories from birth through the present.
Each captures a unique authorial voice, and I could not put the volume down. The cadence of each oral history and the attention to details in the narrators' lives were captivating. They testified to the resilience and dignity of the workers, but also to the complexity of human experience and human subjectivity. We hear in these oral histories the workers' own interpretations and evaluations of their life trajectories.
Farmworkers are currently among the most marginalized and exploited workers in U.S. society. Nearly one-third of the nation's farmworkers labor in California alone. Almost half are undocumented. Farmworkers' median income is $14,000.
While they have among the highest rates of workplace injury (including pesticide exposure), almost two-thirds lack health insurance. (15) Employees within the Agriculture, Forestry, Fishing and Hunting sector "died at a rate more than seven times that of all combined industries and nearly twice as often as miners and oil and gas extractors," and "young farmworkers face a workplace fatality rate four times that of children in other industries." (163)
Federal law allows children to labor in the fields at age 12 and engage in "hazardous jobs" at 16 — two years younger, respectively, than in other industries. (163) Much about the conditions farm laborers face in the United States is horrific, and Thompson's compelling and accessible review of the litany of abuses farmworkers face is another of the volume's myriad strengths.
The footnotes throughout the book are impressive in defining terms, elaborating geography, and providing other necessary context. They make the book accessible to a general audience. Thompson has a knack for knowing just what additional information to provide.
Illuminating History
Thompson's compelling introduction also makes plain the book's political impetus. Exploring the United Farm Workers' (UFW) history, including building "the most successful consumer boycott in U.S. history" with seventeen million Americans boycotting grapes, Thompson concentrates on the UFW's strategy for confronting consumer ignorance. He explains how "the UFW sent striking farmworkers into the cities, where they told their stories. What they revealed was a hidden crisis of labor abuse, unfair wages, and unsafe working conditions." (13)
The oral histories Thompson provides do similar work. Storytelling operates as a means of generating public knowledge and, ideally, action. The stories he includes are disproportionally from individuals who have themselves spoken up about abuses, such as Maricruz Ladin o who was fired and deported to Mexico after reporting her rape; Roberto Valdez who testified to the California state legislature about his son's heat stroke and his supervisor's inadequate response; and Heraclio Astete who organized a sheepherders' union in response to the abhorrent and isolating working conditions that he and other guest workers faced.
The evidence of experience contained in these life stories relay more than abuse and hardship. They also convey workers' deep love of their families, especially their children, their pride in their jobs, and the everyday joys in which they partake.
Heraclio Astete explains, "Thank God my children have been able to understand and value the sacrifices I have made." (100) Of his daughter Guadalupe, Pedro Arroyo Hernandez states, "For me, it was important that she knew what work in the fields was like. More than anything, I advised her to study and that if she kept studying, she'd have a better life than we had." (160)
Beatriz Machiche recalls, most fondly of all interviewed, "I always liked work in the fields. You're free, it's sunny, filling up onion boxes, chilies, grape boxes. You bring your radio and you sing." (266) Seventeen-year-old Ismael Moreno explains, "But when I'm not working I like hanging out with my friends. Going to the movies." (175)
The broad range of experiences that Thompson's narrators bring to the book is a strength. The oral histories contain the words of farmworkers, growers, an elementary school teacher, a head start manager, and a mayordomo (crew leader). The farmworkers include a produce truck driver, a sheepherder, a pesticide applicator, and harvesters of various crops.
Of the people interviewed, seven are women. The histories of one family, mother, father and daughter, are presented as an intertwined unit. Thompson addresses the position of indigenous farmworkers, who often speak indigenous languages and not Spanish. These indigenous farmworkers face unique barriers and prejudices and are often among the most vulnerable in the fields.
While issues of domestic violence and workplace sexual assault are also recurring themes, queer sexualities and gender variation do not come up in Thompson's oral histories. There are many possible explanations for their absence, and I do not find this to be a deficiency of the author or book. However, in the context of such recent scholarship as historian Mireya Loza's Defiant Braceros, which specifically addresses sexuality and alternative kinships as central vectors of migrant worker resistance, it is worth noting that such stories do not appear.
Scholarship and Journalism
Both Loza's and Thompson's works belong to a long history of scholarly and journalistic excellence in writing about the struggles of migrant farmworkers, from books in the 1930s and 1940s by economist Paul Taylor and lawyer/journalist Carey McWilliams to the critical analyses of the UFW emerging recently from historian Matthew Garcia, journalist Miriam Pawel and former UFW participants Marshall Ganz and Frank Bardacke, among others. Medical anthropologist Seth Holmes and veteran photographer-journalist David Bacon have recorded the abhorrent contemporary conditions of agricultural labor.
To create a complete list of the scholars and journalists who have successfully examined the power dynamics of agriculture — from Laura Pulido's pathbreaking environmental justice analysis, to Sarah Bronwen Horton's striking work on heat stroke and the systematic causes of farmworker health vulnerabilities, to Lori Flores's impressive history of farmworker resistance in the Salinas Valley — would constitute the majority of the review.
Indeed, Gabriel Thompson himself deserves inclusion in such a list for his own journalism and recent (and engaging) biography of Community Service Organization (CSO) founder Fred Ross, whom Thompson terms "America's Social Arsonist."
While farmworkers' contributions re­main largely invisible to the broader public, there has been no dearth of scholarly attention to them. Yet Thompson has created a unique contribution to such a crowded yet brilliant scholarly field with Chasing the Harvest.
Inasmuch as the complexity of historical consciousness requires a rehabilitation of the subjective dimensions of experience, I would situate his achievement not only alongside scholarly works, but also among the achievements of creative writers such as Carlos Bulosan, Sanora Babb and Helena María Viramontes.
This book, in prioritizing and contextualizing the life experiences of farmworkers, is a forceful witness for the necessity of including farmworker voices alongside the litany of statistics detailing migrant worker exploitation, oppression and poverty. Moreover, the interpretations and analyses that these migrant workers offer of their own lives, albeit in this curated fashion, are as deserving of attention as the most compelling scholarly tome.
Works Cited
Babb, Sanora. Whose Names Are Unknown. University of Oklahoma Press, 2014.
Bacon, David. In the Fields of the North/En Los Campos Del Norte. University of California Press, 2017.
Bardacke, Frank. Tramping Out the Vintage: Cesar Chavez and the Two Souls of the United Farm Workers. Verso, 2012.
Bulosan, Carlos. America Is in the Heart: A Personal History. University of Washington Press, 1991.
Flores, Lori. Grounds for Dreaming: Mexican Americans, Mexican Immigrants, and the California Farmworker Movement. Yale University Press, 2018.
Ganz, Marshall. Why David Sometimes Wins: Leadership, Organization, and Strategy in the California Farm Worker Movement. Oxford University Press, 2010.
Garcia, Matthew. From the Jaws of Victory: The Triumph and Tragedy of Cesar Chavez and the Farm Workers' Movement. University of California Press, 2012.
Holmes, Seth. Fresh Fruit, Broken Bones: Migrant Farmworkers in the United States. University of California Press, 2013.
Horton, Sarah Bronwen. They Leave Their Kidneys in the Fields: Illness, Injury, and Illegality Among U.S. Farmworkers. University of California Press, 2016.
Loza, Mireya. Defiant Braceros: How Migrant Workers Fought for Racial, Sexual, and Political Freedom. University of North Carolina, 2016.
McWilliams, Carey. Factories in the Field: The Story of Migratory Farm Labor in California. Little, Brown, 1939.
——. Ill Fares the Land: Migrants and Migratory Labor in the United States. Little, Brown, 1942.
Pawel, Miriam. The Union of Their Dreams: Power, Hope, and Struggle in Cesar Chavez's Farmworkers' Movement. Bloomsbury Press, 2010.
Pulido, Laura. Environmentalism and Economic Justice: Two Chicano Struggles in the Southwest. University of Arizona Press, 1996.
Taylor, Paul. On the Ground in the Thirties. GM Smith, 1983.
Thompson, Gabriel. America's Social Arsonist: Fred Ross and Grassroots Organizing in the Twentieth Century. University of California Press, 2016.
Viramontes, Helena María. Under the Feet of Jesus. Plume, 1996.
September-October 2018, ATC 196