Against the Current, No. 194, May/June 2018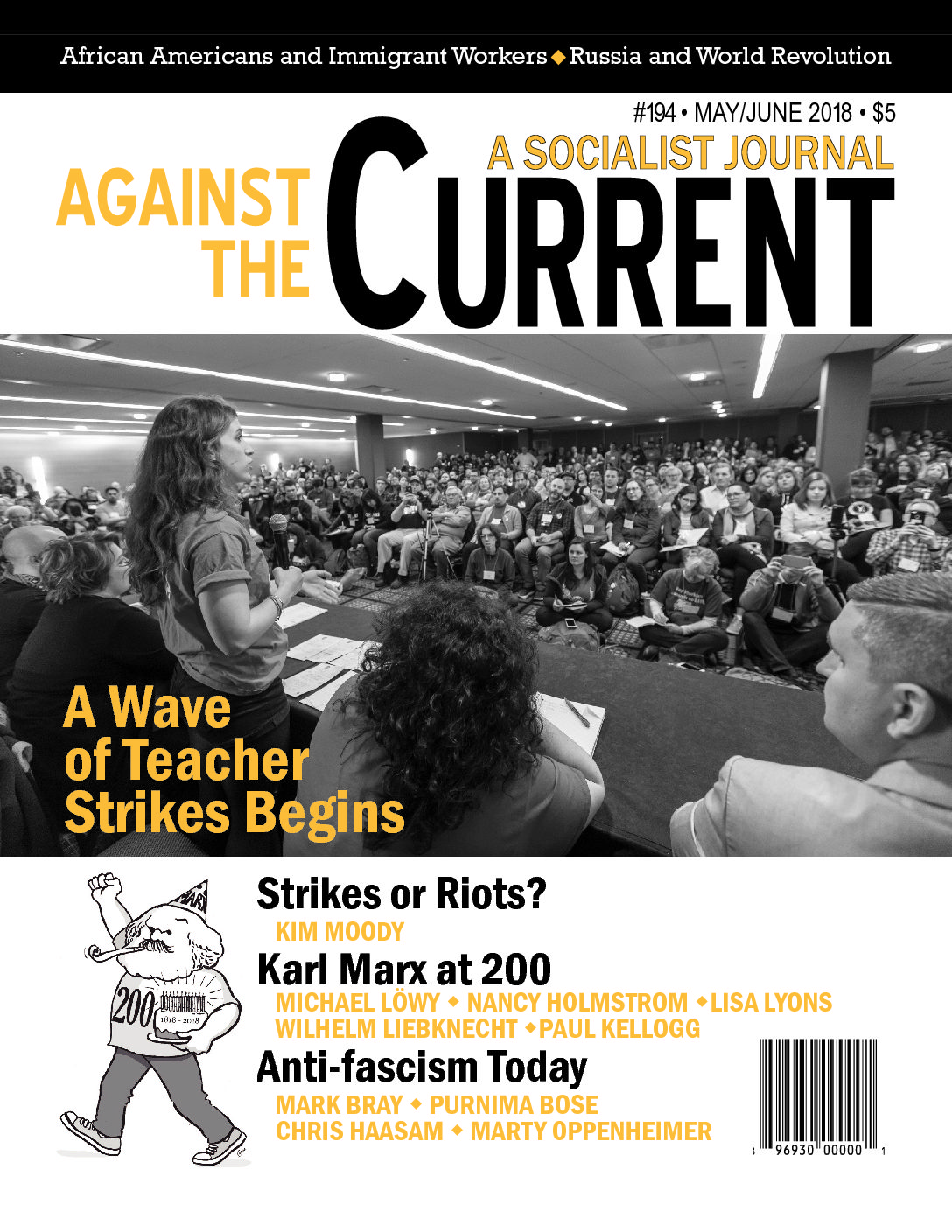 Pioneering Cartoonists of Color
By Tim Jackson
University Press of Mississippi, 2016,
128 pages with 170 black and white illustrations, $35 paperback.
AFRICAN-AMERICAN CARTOON­ISTS at one time were the most visible artists illustrating the tragedy and humor of Black life in America. A new book, Pioneering Cartoonists of Color, is the first comprehensive study of a little-known page in Black history, written by Tim Jackson, himself an African-American cartoonist.
Even Jackson admits that early in his career he was uninformed about those who had come before him. Reference books on cartoon history simply did not include African Americans. With this book, he recovers the forgotten names and lost art works by cartoonists of color.
Many will remember the recent comic strip The Boondocks by African-American cartoonist Aaron McGruder, featuring Huey Freeman, a Black youth transported from the inner city to the sleepy suburbs. It was nationally syndicated in some 200 newspapers, and later became a TV show on the Cartoon Network.
But decades before The Boondocks, cartoons were a common feature of Black popular culture. During the Great Migration, Black cartoonists gave voice to the contradictions of racist America. Newspapers like the Chicago Defender, Amsterdam News and Pittsburgh Courier were widely read by the masses of ordinary Black folk.
The largest Black newspapers had a circulation of a quarter million copies. Smaller newspapers were published in just about every major city with a sizable Black population. Often published weekly, the newspapers were passed around to be read by several in a household or at a business.
In the heyday of the Black press, a full page was dedicated to cartoons like Bungleton Green by Leslie Rogers, Sunny Boy Sam by Wilbert Holloway, Patty Jo 'n' Ginger by Jackie Ormes, Dark Laughter by Ollie Harrington, and others. In barbershops and beauty salons, in living rooms and bar rooms, these cartoons were a frequent source of commentary and laughter.
In the early days, Black cartoonists worked to counter crudely drawn and stereotypical images. Throughout the 20th century, Black cartoonists documented the changing times.
During the Depression, they captured the political and economic upheavals. They depicted the contradictions during World War II when the Black press argued for "double victory" — victory over fascism abroad, and over racism at home. Southern Dixiecrats who upheld Jim Crow racism were frequently lampooned. Cartoonists skillfully combined subtle social criticism with side-splitting humor.
This history of Black cartoonists blurs the lines between high and low culture. The Harlem Renaissance is today core curriculum in literature classes, and the Chicago Renaissance that followed has received recent attention from scholars. "In keeping with these renaissances," writes Jackson, this period "saw a newspaper comic strip renaissance in America's Black press."
Yet rarely, if ever, are Black cartoonists discussed in historical accounts of this era. Many were talented artists, but could not make a career in the segregated art world, so instead they created cartoons. Some were able to sustain themselves for decades by publishing in the Black press.
Bungleton Green was one of the longest running cartoons by a Black cartoonist featuring a Black lead character. Published in the Chicago Defender, it spanned from the 1920s to the 1960s, a testament to the cartoon's appeal. Following its creation by Leslie Rogers, there were several others who later worked on the strip, including Jay Jackson who worked on it for three decades, and Chester Commodore who took over the strip in the 1960s.
"Bung" was often depicted in a comical situation as a victim to one of the many traps of city life. Sonny Boy Sam by Wilbert Holloway ran for nearly as long in the Pittsburgh Courier. Jackson's book reprints examples of these and other cartoons in black and white as they first appeared.
Extensive Research
This book was some 20 years in the making. Jackson scrolled through newspapers on microfilm in the years before they were digitalized. He spent many hours in the archives at the Vivian G. Harsh Collection in Chicago, one of the best resources on the topic.
"The comics I found," Jackson writes, "provided an invaluable perspective on America's history through the lens of the Black press and filtered through the life experiences of the artists' externalization of the daily indignities imposed by a nation brutally divided on racial lines."
One of the most useful sections is Jackson's index of cartoonists he compiled from archival research. There is more background on cartoonists like Jay Jackson, a versatile artist from Oberlin, Ohio who illustrated several different cartoons as staff for the Chicago Defender.
E. Simms Campbell, who studied at the Art Institute of Chicago, was the first major Black cartoonists to cross over in the 1930s, working as illustrator for Esquire magazine, and having his cartoons nationally syndicated. Sam Milai illustrated educational cartoons written by J.A. Rogers, the popular Black historian.
The now famous African-American artist Romare Bearden published cartoons early in his career. Others like Ollie Harrington studied painting at Yale, but could not make a living as an artist, and turned to cartoons, creating the lovable Bootsie featured in his series Dark Laughter.
In what was an otherwise male-dominated field, Jackson includes mention of three pioneering women cartoonists: Daisy Scott, Gloria Eversley, and Jackie Ormes, the subject of a 2008 biography by Nancy Goldstein (see Brian Dolinar's review.
As Jackson recounts, the prospects for Black cartoonists changed in 1968 after Martin Luther King, Jr.'s assassination. Many doors were opened for them in mainstream white publications. Subsequently the circulation of the Black press declined with integration.
Charles Schulz introduced a Black character, Franklin, in his popular comic strip Peanuts. Morrie Turner, a Black cartoonist mentored by Schulz, created Wee Pals in 1965, and after King's death, the demand for his comic strip "exploded." Two others became nationally syndicated in the mainstream press soon after — Brumsic Brandon, Jr., who got an early start in Muhammad Speaks, created the strip Luther, and Ted Shearer, who became known for his strip Quincy.
This paved the way for a "new breed" of Black cartoonists in the 1970s and 1980s. Several made careers by selling their cartoons to national cartoon syndicates, including Ray Billingsley, William Seitu Hayden, Turtel Onli, Robb Armstrong, Stephen Bentley, Yaounde Olu and Barbara Brandon, daughter of Brumsic Brandon, Jr. They were succeeded by a group of "millennial" cartoonists like Aaron McGruder, as well as Darrin Bell, Steve Watkins, Cory Thomas and Keith Knight.
Tim Jackson came up among a group of cartoonists who, against the trend of waning circulation, distributed cartoons "in an alliance with the Black Press." After discovering the history of African-American cartoonists, Jackson created a website in 1997 called "A Salute to Pioneering Cartoonists of Color," with biographical sketches and selected cartoons. It became the basis for his book, published by the University Press of Mississippi.
As comprehensive a collection as Jackson's book is, it also suggests a need for deeper biographical research on Black cartoonists.
Many travelled the world and lived fascinating lives. Why did they draw cartoons? Who were their influences? What happened to them? Were their original drawings preserved? There are many other stories to tell about these unsung heroes of the Black press.
May-June 2018, ATC 194