Against the Current, No. 191, November/December 2017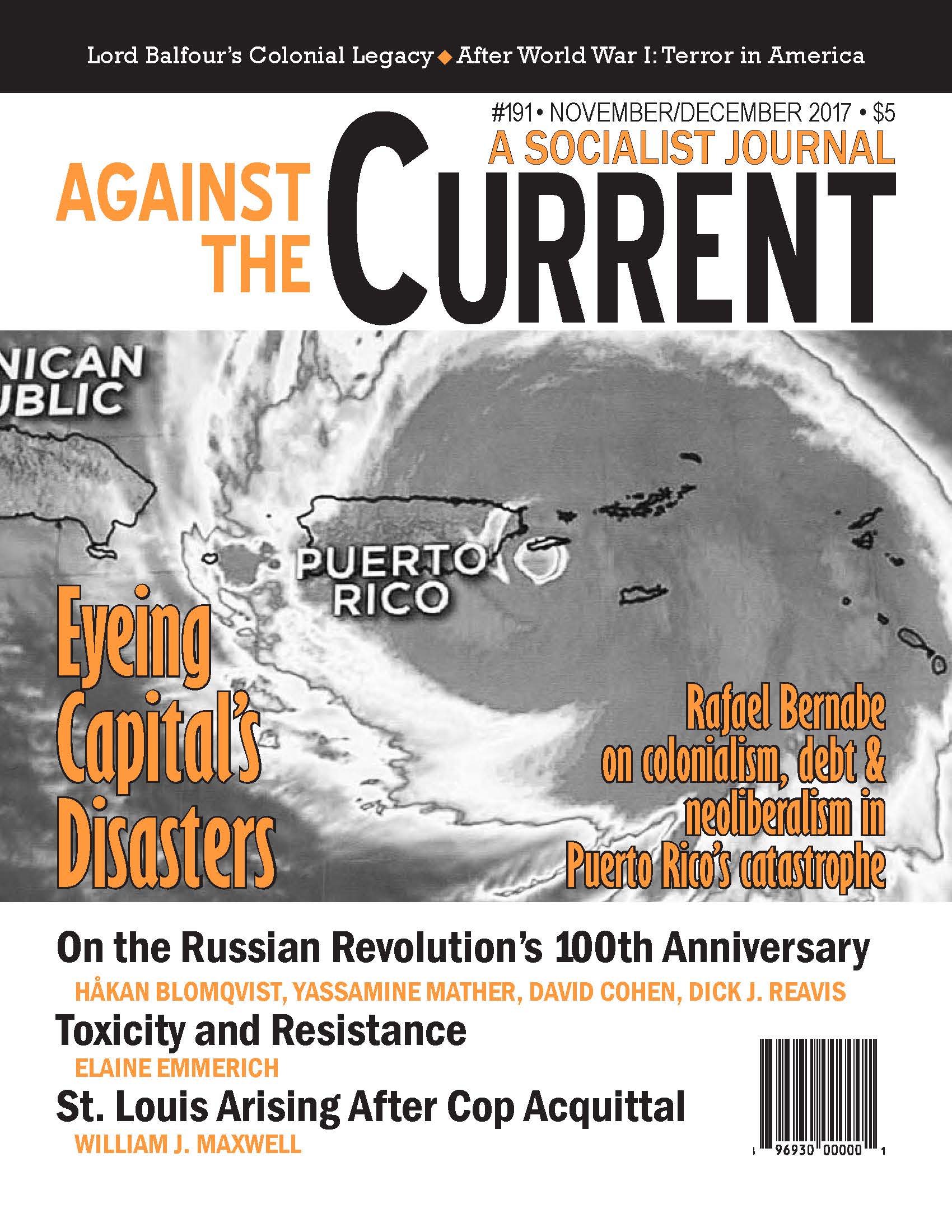 [THE FOLLOWING LETTER was submitted to Detroit Jewish News following its publication of a piece from the Anti-Defamation League attacking Jewish Voice for Peace, which appears on the ADL website (https://www.adl.org/blog/jewish-voice-for-peace-increasing-anti-israel-radicalism). This response has not been published.]
THE ANTI-DEFAMATION LEAGUE statement published in Detroit Jewish News (July 24, 2017, "Jewish Voice for Peace Increases Anti-Israel Radicalism") contains numerous distortions, which can't all be addressed in detail in the limited space available to us here. To learn about JVP's real views, we suggest that interested readers visit the organization's website www.jewishvoiceforpeace.org as well as an important book On Antisemitism (Haymarket Books, 2017), a collection of essays compiled by JVP discussing many aspects of anti-semitism historically and today, its use and misuse, the diversity of Jewish identity, solidarity with Palestinian rights and related issues.
We will respond here to a few of the ADL's clams, beginning with the charge that JVP's tactic "has been to allege that Israel's proud record of support for LGBTQ rights is merely a way of directing attention away from its mistreatment of Palestinians."
It is simply a matter of fact that Israeli rebranding propaganda ("Hasbara") for many years has employed what's called "pinkwashing" to demonstrate its superiority over alleged Islamic homophobia. On this subject, information is available at http://www.pinkwatchingisrael.com/ and Sarah Schulman's thoughtful New York Times op-ed statement at http://nyti.ms/2yoJmDF.
To be sure, popular support for LGBTQ rights in Israel is very real. That's because much of the Israeli public, across the political spectrum, despises the Orthodox rabbinate that exercises so much power in Israeli civic life — including marriage, conversion, etc. — whose hatred of lesbian and gay people is well known. (Notoriously, condemning Jerusalem's Pride parade is one of the few things where Orthodox rabbis and Muslim clerics in the city come together.)
Closer to home, the ADL cites the alleged "expulsion of the Jewish group, A Wider Bridge, from the Chicago Dyke March on the grounds that they carried rainbow flags that resembled Israeli flags." Reports of this purported act of censorship have been widely circulated, but they're far from accurate. An often neglected detail is that "the Jewish group" A Wider Bridge is in fact an Israeli-linked organization and that its staffperson Laurel Grauer apparently showed up as a provocation in full knowledge that the 2017 Chicago Dyke March was explicitly opposed to Zionism.
A statement by the Chicago Dyke March Collective is posted at http://bit.ly/2tULa24. An independent journalistic account can be found at http://bit.ly/2kmrxPF.
Rasmea Odeh and Marwan Barghouti
A partially accurate statement by ADL is that JVP very proudly featured Palestinian community leader Rasmea Odeh at our 2017 National Membership Meeting in Chicago. However, when ADL proclaims that "Odeh was sentenced to life in prison by an Israeli military court in 1970 for her membership in an illegal organization and for planting the explosives used in two 1969 Jerusalem bombings," it omits the detail that her "confession" was extorted through brutal physical and sexual torture and threats to torture her father as well, treatment that has caused her permanent suffering from post-traumatic stress.
Rasmea Odeh, who moved to the United States in 1994 and obtained U.S. citizenship in 2004, has been stripped of her citizenship and forced to accept deportation, following conviction in an unfair federal trial for "unlawful procurement of naturalization," because her successful appeal of that conviction would not shield her from ICE detention and removal proceedings. (Details of this atrocious selective prosecution by the U.S. government can be found at justice4rasmea.org.)
ADL criticizes JVP for its support of the imprisoned Palestinian leader Marwan Barghouti, the organizer of the recent hunger strike against brutal conditions in Israeli prisons. Barghouti, widely regarded as a Palestinian Nelson Mandela who supports a negotiated settlement, was tried in 2002 in an Israeli court where conviction rates of Palestinians are close to 99%. Not only JVP but eight Nobel Peace Prize Laureates, parliaments, and numerous countries around the world, Including France, have called for his release.
Regarding JVP's "efforts to break longstanding programs that allow members of the U.S. and Israeli police and defense communities to train together," we urge JN readers and ADL supporters to consult https://deadlyexchange.org/.
Indeed the Anti-Defamation League, as a civil rights organization, should be concerning itself with the kind of tactics that police in Ferguson, Missouri and other militarized U.S. police forces have learned from "Israeli counterparts."
ADL's claim that JVP's practice is to shut down dialogue of the Israeli-Palestinian conflict is unfounded and hypocritical. JVP has strongly supported the "Open Hillel" movement whose goal is to open up discourse on Israel. The ADL on the other hand, opposes this movement, has supported the Anti-Semitism Awareness Act to suppress criticism of Israel on college campuses, and supported the suspension of Bernie Sanders' outreach director Simone Zimmerman for criticizing Israel's 2014 war on Gaza.
The contention that JVP has placed itself outside some purported "big tent" of U.S. Jewish community views on "legitimate criticism of Israel" is belied by JVP's rapid growth, the attendance of over 1000 activists at the National Membership Meeting, and the growing alienation of American Jewish young people from the long-assumed unquestioned consensus that Israel can do no wrong.
As for the headline of the ADL statement, we're not sure what "Anti-Israel Radicalism" exactly means.
If it refers to advancing a critical examination of the theory and actual practice behind Israel's claim to be "the Jewish and democratic state," then we proudly plead guilty. We do so with all appropriate modesty, realizing that any contributions JVP makes to unveiling those realities are dwarfed by the Netanyahu government's own actions.
November-December 2017, ATC 191