Against the Current, No. 190, September/October 2017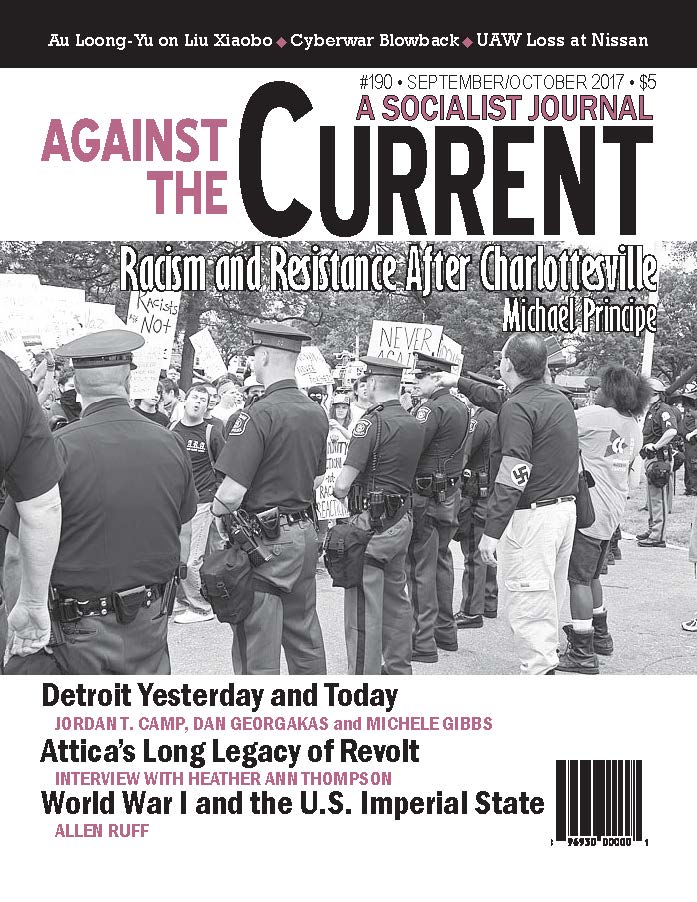 [THE FOLLOWING IS a brief excerpt from an extensive account written by student activist Saliem Shehadeh online at http://mondoweiss.net/2017/07/struggling-francisco-university/, which we urge our readers to check out in detail, regarding smear tactics by a consortium of Zionist organizations. We also note that San Francisco State University Professor Rabab Abdulhadi is a longtime target of anti-Palestinian campaigns and threats to her job and her physical safety.
In view of the historic importance of the struggle for Third World Studies at the university, veterans of the late '60s student movement and strike have launched a support letter calling on the campus administration to stand up for her. Other statements and articles on her case can be found on the websites of Electronic Intifada, Palestine Legal, Jewish Voice for Peace and Black for Palestine. — The ATC editors]
STUDENTS, STAFF AND faculty at San Francisco State University are under investigation by the university on trumped up charges of anti-Semitism brought forth by San Francisco Hillel. This is the latest in a long history of accusations made against Palestinians and Palestinian advocates at SFSU by the pro-Israel organization.
Most recently, pro-Israel legal organizations have brought a civil rights based lawsuit alleging the institutionalization of anti-Semitism on SFSU campus and blaming a slew of defendants including top-level SFSU administrators, staff, and Dr. Rabab Abdulhadi, founding director of the Arab and Muslim Ethnicities and Diasporas Studies program and the longtime advisor to the General Union of Palestine Students on campus.
U.S. District Judge Richard Seeborg dismissed the lawsuit as its accusations presented no coherent or plausible argument. (https://electronicintifada.net/content/judge-dismisses-claims-anti-semitic-climate-uc-berkeley/10780)
The latest allegations of anti-Semitism by Hillel were made in reaction to the organization not receiving a table at a "Know Your Rights" (KYR) Fair held in February of 2017 at SFSU. The purpose of the Fair was consistent from its inception: to outreach to groups vulnerable in the new political climate, with a focus on Arab and Muslim, LGTBQ, and Undocumented communities.
Participation at the fair included Palestine Legal, La Raza Centro Legal and ACLU. It featured one-on-one interface among Fair participants, self-defense training led by Girl Army, and legal advice panels to educate students on community efforts combating Trump's Executive Orders. Jewish Voice for Peace participated in the Fair, among the over 20 participating organizations, where they reached out to Jewish students (some of whom were members of Hillel) in the potential makings of a JVP chapter at SFSU.
Despite this reality, Hillel continues to allege that Jews were excluded and that Fair organizers not making room for Hillel at the already over-booked event was an act of religious discrimination.
Instead, Hillel has fabricated a storyline in which the Fair organizers changed the description of the Fair to the exclusion of pro-Israel and Zionist organizations. Anti-Zionism is not Anti-Semitism. I reject Hillel's or any other definition that equates criticism of Israel with anti-Jewish hatred.
Disrespect
From the beginning, the university has treated us with the utmost disrespect by violating our due process and through the consistent oddities in the manner the university has carried out the investigation.
The allegations against the KYR committee were not made formally in writing, rather, members from SF Hillel's paid staff met with Vice President Luoluo Hong, who issued formal allegations against the Fair organizers on March 10, 2017, two weeks after the Fair took place. We were not made aware of the evidence and the specificities of the allegations against us until Monday, June 26, 2017, over four months after we received notice from VP Hong on March 10 to appear for interrogation.
The umbrella organization that SF Hillel is a chapter of, Hillel International, has a long record of targeting and discriminating against Palestinians and those who stand with them. The International Guidelines of Hillel, that all Hillel chapters including SF Hillel must abide by, codifies their exclusionary and discriminatory policies.
Hillel is not the only Jewish organization in the Bay Area, on college campuses or in the world. And it must be remembered that there has never been a Jewish consensus on Israel or on Zionism. Jewish communities are not a monolithic unit.
Yet Hillel continues to seek partnership with communities of color and LGBT organizations who are politically aligned with Israeli supremacy. Such groups include the Hindu right, Christian Zionists, Greek (Sororities and Fraternities) student organizations and Queer organizations that partner with Israel and its "Pink Washing" propaganda.
Despite this history, Hillel misrepresented itself as LGBTQ and as an immigrant rights organization. As James Baldwin said, "I can't believe what you say because I see what you do."
The evidence points to the conclusion that Hillel's baseless complaint, in this case, is intended to wash out the grievances that the Arab, Muslim and Palestinian community have made to SFSU. And the university's misconduct of this investigation affirms that the university is not able to make an objective decision based on the facts.
The last university official who conducted an investigation against Palestinian students, Mr. Osvaldo Del Valle, was promptly "let go" after his investigation cleared members of the General Union of Palestine Students of charges of anti-Semitism and other trumped up charges after they protested a visit by the mayor of occupied Jerusalem, Nir Barkat. This experience casts doubt on the ability of any employee at SFSU whose career and employment at SFSU is on the line to fairly investigate grievances or charges against or by Palestinians.
Already, the university appears to be investigating allegations of which we have not been notified until the last week of the four-month long investigation. Apparently, because there is no evidence of anti-Semitism on the part of the Fair organizing committee in words or deeds, the university has expanded the scope of the investigation.
All this underscores our experience of a systemic and consistent disparate treatment. Instead of protecting Palestinians on campus, SFSU seeks to penalize us on trumped up and false charges; this cannot be allowed to continue.
September-October 2017, ATC 190