Against the Current, No. 188, May/June 2017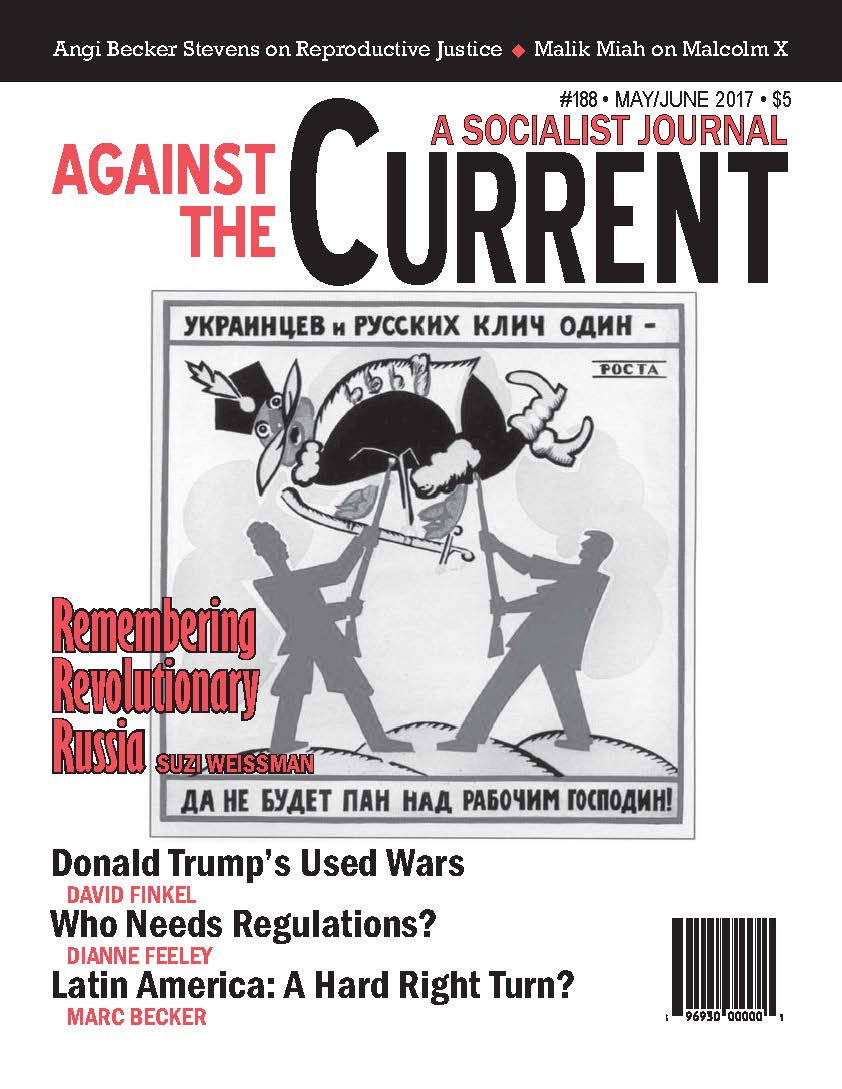 YOU ARE ALL here today because you realize what a vital time this is for building a feminist resistance. It is also a crucial time to build the type of truly intersectional feminist movement we need, one that speaks for the rights of all women and not just a few. And one essential way to build that movement is by moving beyond pro-choice politics which center on abortion and contraception, to a more complete picture of what full reproductive justice means.
Reproductive justice is a framework conceived of by women of color, defined by the core belief that every woman has the right to decide if and when she will have a baby, to decide if she will not have a baby, and to parent the children she already has in a safe environment and healthy community, without the threat of either interpersonal or state violence.
Reproductive justice means not only that abortion remains legal, but that all women — including poor women, who are disproportionately likely to also be women of color — actually have access to it. That means free abortion, available close to home and without barriers like mandatory waiting periods, invasive ultrasounds, or required parental consent.
Reproductive justice means having full control over all aspects of our sexual and reproductive lives, which means an end to all sexual violence.
Reproductive justice means that trans men and women, as well as non-binary and gender non-conforming people, have access to quality reproductive, sexual, and gender-confirming healthcare without shame or stigma.
Reproductive justice means access to quality nutrition and maternity care for all pregnant women. Reproductive justice means empowering all women to make truly informed choices about their reproductive healthcare, from contraception to childbirth.
Reproductive justice means the right of queer people to have children and form families with the support of their communities, without fear of violence.
Reproductive justice means supporting pregnant women regardless of their age, race, immigration status, or economic status.
Reproductive justice means the right of women to mother their children. Reproductive justice means no longer removing children from the care of parents whose only crime is being poor. Reproductive justice means no more shaming of Black women as "welfare queens."
Reproductive justice means food security and clean drinking water. Reproductive justice means that instead of telling people who are living in poverty not to have children, we end the capitalist system which forces people into poverty in the first place.
Reproductive justice means guaranteed paid maternity leave. Reproductive justice means providing for women who are doing the currently un-waged labor of childcare at home, and providing free, quality childcare for those working outside of the home.
Reproductive justice means treatment instead of criminalization of drug use during pregnancy, and an end to the entire racist prison system that tears families apart. Reproductive justice means quality healthcare and other services for pregnant women behind bars, and programs to help them mother their children after their release.
Reproductive justice means an end to police violence. It means that Black mothers should never have to bury their children because they were wearing hoodies or playing in a park.
Reproductive justice means environmental justice, and an end to environmental racism. It means that pregnant women and babies and children should never have to breathe air that's been poisoned by incinerators or drink water that's been poisoned by lead.
Reproductive justice means that no women or children should have to live in fear of violence in their own homes, and that victims of intimate partner violence have access to resources which allow them to escape abuse.
Reproductive justice means no more imperialist wars killing children and their parents around the globe. It means welcoming refugees who seek only a safe place to exist.
Reproductive justice means no more parents separated from their children by deportations, detentions, or incarceration.
We must organize and fight back against the attacks on reproductive rights from this current administration. But we must also recognize that full reproductive justice for all is impossible under any president from either major party within the context of our current system. We cannot achieve full reproductive justice without dismantling the capitalist, imperialist, white-supremacist hetero-patriarchy. And I believe it's time to build a feminist movement that will settle for nothing less.
May-June 2017, ATC 188