Against the Current, No. 187, March/April 2017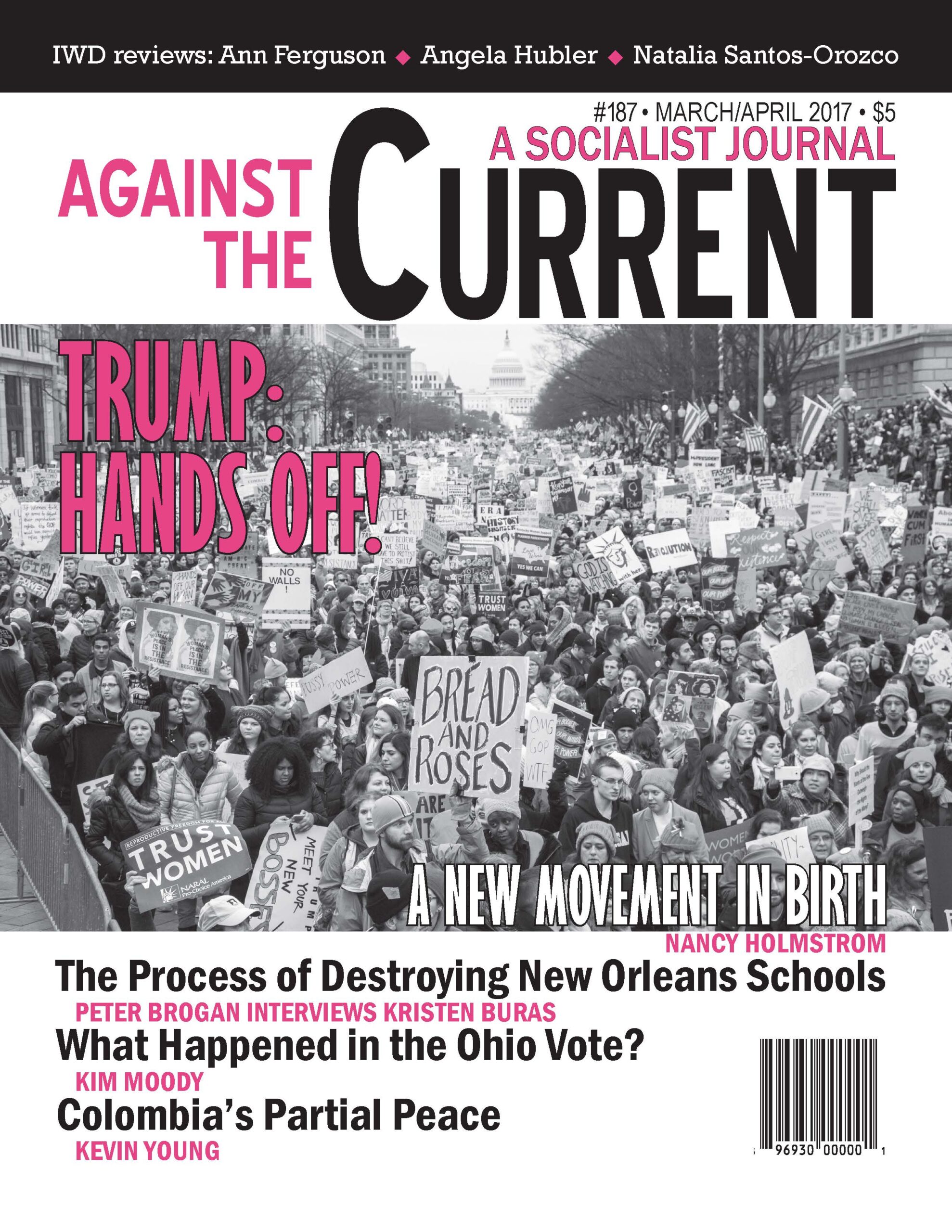 Kim Moody's article "Who Put Trump in the White House?" appeared in our previous issue, ATC 186 (online at www.solidarity-us.org/node/4859). We are publishing here a segment on the vote in four Ohio counties. It bears out the analysis that working-class votes in 2016 declined more than they swung to Trump — which space didn't permit us to include in that issue. The author's conclusion there bears repeating: the Democratic Party's neoliberalism "will not significantly or permanently increased voter turnout for working-class people, especially African-American and Latino voters…
"Nor will the centrist liberalism, much less neoliberalism, of Democratic incumbents and most likely candidates win back those white working-clas people or those in union households who have been voting Republican for decades, much less the recent angry Trump converts.
"Politics as usual have failed! Who put Trump in the White House? The Democrats."
DONALD TRUMP WON Ohio because the total Democratic vote declined more than the drop in the total two-party vote, and significantly more than the Republican increase. Furthermore, the 2016 Ohio electorate saw an increase in the proportion of higher-income voters. The Ohio electorate saw those earning $50,000 or more go from 59% in 2012 to 63% in 2016, while those earning $100,000 more increased from 28% to 30%. Trump got 57% of voters in the $100,000 plus income level compared to 39% for Clinton.(1) This certainly smells like a petty bourgeois-middle class movement.
To examine the Ohio vote a little more deeply, we will look at four of Ohio's Rust Belt counties along Lake Erie stretching from Cleveland to Toledo, both of which, like most cities, went Democratic in both 2012 and 2016.
These four counties, Lorain, Erie, Sandusky and Ottawa, all went for Obama in 2012 by a total of 124,330 to 98,564. In 2016 this vote was somewhat reversed, with Trump getting 113,081 votes to Clinton's 98,789.(2) Again, the two-party vote dropped by 11,024, while the loss of 25,541 from the Democratic column was larger than the shift of 14,517 to Trump and larger than his margin of victory in these four counties.
Presumably the story is similar in other blue collar counties such as those in northeast Ohio, home to Youngstown and the legendary GM Lordstown plants. What seems clear about these deindustrialized blue collar counties is that disillusioned Democrats and demoralized labor leaders forced to "sell" Clinton, the establishment neoliberal, could not prevent either the drop in Democratic voters or the shift to Trump, even though the latter was relatively small.
A look at Lorain County, the largest of the four, will tell us more. Lorain County's population of just over 300,000 is 80% white. It includes the small upper-income Cleveland suburb of Amherst, the small liberal college community of Oberlin, a number of small farming communities and townships, as well as larger working-class Lorain City and Elyria City.
The county's workforce is still 42% Blue Collar. While it still has many employed industrial workers, the local Ford plant has closed and employment at its biggest steel mill went from 15,000 jobs to fewer than 4,000 in 2014. This is famously the county where labor elected three independent candidates on the "Lorain Independent Labor Party" slate in 2014 due to disgust with the local Democrats.(3)
In 2012 Lorain County voters chose Obama by 78,112 to Romney's 58,092, a majority of over 20,000 votes. In the 2016 primaries, Bernie Sanders got almost as many votes in the Democratic primary (16,587) as Trump did in the Republican primary (16,776).(4)
In November 2016 the county went narrowly for Trump by 65,346 to Clinton's 64,958, a margin of just 388 votes. Voter turnout was down by 5900 voters, but the Democratic vote dropped by over 13,000 votes from that in 2012. The fact that Lorain County is 80% white means, then, that a lot of white people voted for Clinton, but a significant number just stopped voting.
Trump won not only the upper-income Cleveland suburb of Amherst, but all the more rural small towns and townships in the county, with the sole exception of the tiny college community of Oberlin.
Trump's slight majority did not come from the two largest and most "proletarian" towns in the county: Lorain City and Elyria City, the two places where the Independent Labor candidates won in 2014. Lorain City is just over two-thirds white, while Elyria City is closer to 78% white. Thus, both have substantial white majorities, but also a significant African American and/or Latino population.(5)
2012 & 2016 General Election: Lorain County, Lorain City, Elyria City
Lorain
Lorain
Elyria
Year
County
City
City
2016
Clinton
64,958
14,502
10,834
Trump
65,346
7,366
8,351
2012
Obama
78,112
19,040
14,505
Romney
58,092
6,211
7,412
Increase in Republican Vote 2012 to 2016 +1,155 +939
Decline in Democratic Vote 2012 to 2106 -4,538 3,671
Source: Lorain County Board of Elections, 2016, 2012, "General Election"; New York Times, 2012, "President 100% reporting," http://elections.nytimes.com/2012/results/states/ohio.
Both towns went for Obama by large margins: three-to-one in Lorain City and two-to-one in Elyria City in 2012, and for Clinton by smaller two-to-one and five-to-four margins respectively in 2016. As the figures in the table show, the turnout in 2016 was down by over 6,000 votes in these two towns, while the increase in the Republican vote for Trump of 2,094 votes was barely one-fourth of the drop in the Democratic vote of 8,209.
In other words, the drop in the Demo­cratic votes surpassed that of the decline in voter turnout and the increase in the Republican vote in these two heavily Blue Collar towns. This is consistent with the larger state-wide drop in the Democratic vote of 433,547 compared to the drop in the total two-party turnout in Ohio of over 250,000.
One can hardly avoid the conclusion that the Democrats lost the 2016 presidential election, and those for state office as well, in these and other similar Rust Belt counties due to the fact that former Democratic voters in Rust Belt states with relatively large, white, blue collar populations failed to turn out for Clinton and other Democrats — but they did not necessarily vote for Trump.
More of them failed to vote at all. While there was a swing among white Blue Collar and union household voters to Trump, it was significantly smaller than the overall drop in Democratic voters.
Notes
"

Lorain County Board of Elections (2016); US Census (2016c) Quick Facts, Lorain City, Ohio, http://www.census.gov/quickfacts/table/PST045215/3944856; US Census (2016d) Quick Facts Elyria City, Ohio, http://www.census.gov/quickfacts/table/PST045215/3925256.
March-April 2017, ATC 187