Against the Current, No. 184, September/October 2016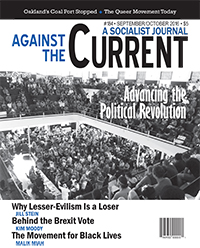 WITH SECRET TRIALS and lengthy prison sentences imposed on human rights lawyers after forced and humiliating "confessions," the abduction of Hong Kong booksellers under circumstances that remain obscure, and new legislation that sharply restricts the work of independent organizations, the climate of repression in China is clearly sharpening.
A number of factors may be at work: tensions arising from China's rapidly slowing growth rate, which may be much lower than official statistics claim; possible conflicts between President Xi Linping and Prime Minister Li Keqiang; growing popular dissatisfaction and waves of labor protests; China's conflicts with neighboring states over its annexationist claims in the South China Sea and disputed islands.
A Human Rights Watch report (https://www.hrw.org/news/2016/04/28/china-new-law-escalates-repression-groups) details one aspect of the crackdown.
A newly adopted law in China gives police unprecedented power to restrict the work of foreign groups in the country, Human Rights Watch said today. The law will also limit domestic groups' ability to obtain foreign and work with foreign organizations.
The National People's Congress passed the draconian Law on the Management of Foreign Non-Government Organizations Activities in China (the NGO Law) on April 28, 2016, and will come into force on January 1, 2017.
"Beijing hardly needs more ammunition to crack down on civil society groups," said Sophie Richardson, China director at Human Rights Watch. "The NGO Law is like many others of the Xi Jinping era: ever-stronger tools to legalize China's human rights abuses."
The NGO Law requires that foreign groups must be sponsored by a Chinese government organization and registered with the police. Human Rights Watch notes that it also "grants police extensive investigation and enforcement powers, including the ability to arbitrarily summon representatives of overseas groups, cancel activities deemed a threat to national security, blacklist groups considered to be involved in vaguely defined 'subversive' or 'separatist' activities, and permanently bar them from setting up offices or organize activities in the country."
The fundamental issue here of course is not the right of foreign citizens or organizations to function inside China. It's the rights of Chinese themselves that are under the most severe restrictions, which are become worse as social dissatisfaction spreads.
September-October 2016, ATC 184