Against the Current, No. 184, September/October 2016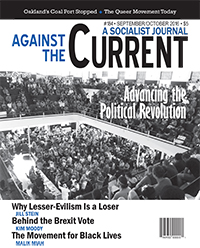 GLENN SHELTON, A retired president of Michigan Mailhandlers Local 307 who never stopped fighting for the rights of working people, and a member of Solidarity, died March 24 after a battle with cancer. He was preceded in death by his wife, Rosemary Jackson-Shelton, only weeks earlier. We mourn these losses.
One of the speakers at the March 31 memorial service was Barbara Harvey, who served as Local 307's attorney from 1986 through 1998 when Glenn led the local. She remarked "The highest office of any union presents many strong temptations for the abuse of official power. I've seen it happen, more than a few times. But not to Glenn Shelton — never! Not even a tiny hint of arrogance, or cockiness, or relish for his power."
Quite the contrary! Glenn and Rose lived in a modest apartment and carefully calculated their purchases. They married only after Obamacare went through — because marrying before then would have meant that Rose, who went to dialysis three times a week, wouldn't be able to afford the medical care she needed. Yet no matter how strained their budget was, every month Glenn's pledge to Solidarity arrived like clockwork.
Although he never had his own children, Glenn helped raise Rose's children and, by a previous relationship, a stepdaughter, Venina Baptiste, who died in childhood. He supported Rose through her medical setbacks, and as his cancer developed, she aided him.
Glenn Aron Shelton was born September 26, 1952 in Detroit, Michigan to Audrey Lee Shelton and Allard Inman Shelton. He grew up in a household where his parents modeled working-class and religious values. The youngest of three brothers, he grew up on Detroit's west side, graduated from McKenzie High School in 1970 and attended both Eastern Michigan University and Wayne State University. As a native Detroiter whose family had roots in the South, he was particularly interested in reading African-American and labor history.
At the memorial meeting, Ron Lare remarked that "the last time I was in Glenn's apartment, I found him sitting with a book in his hands titled The Deacons for Defense. Armed Resistance and the Civil Rights Movement. Glenn wanted me to read it."
That was Glenn — interested in sharing what he was reading, whether it was with a coworker, a friend or family member.
Ron summed up what Glenn represented to him by saying that "Glenn was the kind of union officer that can inspire coming generations. Glenn loved jazz and basketball. He loved to talk about politics, and he was a refuge for me from the self-seeking of everyday politics."
Members of Solidarity recall Glenn's intense interest and learning about socialist politics, history and revolutionary vision. Late to explicitly socialist politics, he used to joke, "When I grow up, I'm going to be like you." He particularly enjoyed Solidarity's educational conferences, soaking in new ideas and meeting younger revolutionaries.
When Glenn retired from the Postal Service, he stepped up his political activity. In addition to membership in the socialist-feminist organization Solidarity, he volunteered at Labor Notes and eagerly looked forward to its conferences.
He was co-chair of Southeastern Michigan Jobs with Justice and a longtime member of the Southeast Michigan Coalition on Occupational Safety and Health (SEMCOSH). He helped to build picket lines in front of the Post Office when Saturday service was threatened and worked with SEMCOSH director Jeff Ditz on the annual Workers Memorial Day, where those who had been injured or died on the job were remembered.
Life in the Post Office
As a young man working at the Post Office Bulk Mail Center in suburban Allen Park, Glenn quickly became active in the National Postal Mailhandlers Union and, after serving as a shop-floor steward, was elected president of statewide Local 307, where he served for 17 years.
As president of the Mailhandlers, he worked to strengthen the local and build solidarity with other postal unions. He challenged the authoritarianism of the Postal Service and fought against race and gender discrimination.
Local 307 is a statewide union so Glenn had the responsibility to represent even the three percent of the membership who lived in the Upper Peninsula. Barbara Harvey recalled that "Glenn had to charter a plane to reach an arbitration hearing in the UP during mid-winter. And he didn't believe in chartering a fancy little jet; no, Glenn chartered a prop plane.
"He never refused to represent a postal worker who had a worthy grievance, no matter what was their attitude toward him personally, or the union. He fought hard battles with the Postal Service, including its early and irresponsible drug testing."
Glenn's family noted that Glenn was soft-spoken and mild tempered so they were astonished when he ran for president of the local and won. They were even more surprised when they saw him at a protest, leading a chant from a bullhorn. As Ron Lare noted, Glenn was "one of the gentlest souls and toughest fighters you could meet."
Remembering Glenn
Glenn hoped to be remembered as someone who "loved his people, his family and his friends" and as "the type of person who showed us that we can fight what is evil in the world without forgetting to be loving and kind."
Indeed, as Barbara Harvey put it, "Glenn was right up there among the finest union officers. I loved him dearly for the beautiful person that he was."
Solidarity's message to his family concluded by stating "Glenn shared and embodied our movement's hope for a better, more equal, more just and democratic world. While we will miss him greatly, we know that the memory of good and righteous people is a blessing to us all."
He is survived by his mother, Audrey Shelton, his brother, Gerald Shelton, sister Eloise Shelton-Rome and a large family of relatives and comrades.
September-October 2016, ATC 184