Against the Current, No. 184, September/October 2016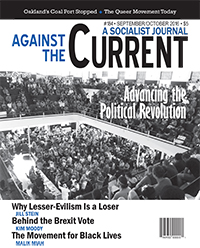 THE FIRST TIME I met Cornel West I was 18. It was at Swarthmore College on February 10, 2014. The event was promoted as a conversation between two prominent scholars on opposite sides of the political spectrum, West and Robert George, on the importance of a liberal arts education.
But the reason I'd ridden the train all the way to Philadelphia from my home in D.C. was to hear West do what he does best. I was the first person in line an hour before the event began at Friends Meeting House, the building where West and George were scheduled to speak.
Roughly ten minutes before start time, security began letting people in. Hoping to be in West's field of view as he spoke, I snagged the closest available seat, just behind the front row reserved for the president of the college, deans, and other distinguished faculty.
West strode into the room in his customary sartorial selection — a black three-piece suit with a black tie, black scarf, black Cole Haans, a silver fob pocket, and gold cufflinks bearing the image of the continent of Africa — giving hugs and shaking hands left and right as he made his way to his seat.
West held the crowd spellbound as he interpreted the currents of scholarly debates surrounding the liberal arts. He riffed passionately about the meaning of life and death as abstract concepts. He argued that deep education in the liberal arts requires learning how to die in order to live a life of greater decency, humility, and integrity.
What West meant by death was "a turning of the soul," a kind of death experienced through the surrendering of one's "tacit assumptions and unarticulated presuppositions" so that one may be "reborn into a higher level of maturity."
For West, this process of learning how to die is a perennial one that prevents us from becoming "well adjusted to injustice and well-adapted to indifference." To experience this kind of learning, West encouraged students to muster the courage to think critically for themselves, to question rigorously and intensely precisely what it means to be human, and to be unafraid of "going against the grain."
After the lecture ended, I got to meet West. He was as socially generous as he was disarmingly genuine, answering each of my questions thoughtfully and encouraging me to make the most of my time at Williams.
Behind Criticism of Obama
Since Barack Obama's first inauguration, many African Americans have been disappointed, even dismayed by the barbs peppered throughout West's remarks about a president whom most African Americans greatly admire.
For many, West's beef with Obama has done more than damage the scholar's credibility. Often, his remarks are keenly felt by African Americans because we naturally feel a special fondness for and existential connection to Obama. Thus, seeing him disparaged repeatedly by such a prominent Black figure damages cherished ideals of racial kinship and Black solidarity.
Yet West is undeniably a unique and essential public intellectual on the Left who has inspired many to bear witness to truth and justice. And his dissident intellectualism in the age of Obama raises questions about which of his critiques are valid and which are not.
To begin with, how could a distinguished professor of philosophy and religion who claims to honor the legacy of Frederick Douglass, Dr. King and Fannie Lou Hamer, hurl such invective at America's first Black president?
When West first castigated Obama in 2009, I wanted to understand his thinking as best I could so I began my research by revisiting his first book, Prophesy Deliverance!, published in 1982. In Prophesy, the astounding breadth and depth of West's intellect are on full display.
Discussing everyone from enlightenment figures and Renaissance intellectuals to African-American theologians and freedom fighters to revolutionary Marxist leaders and postmodern social critics, West writes fiercely yet eloquently with sure-footedness and impressive scholarly authority.
Beyond his erudition and philosophical acumen, Prophesy reveals West's deep commitment to truth, justice and individuality as he attempts to "enrich and enable the struggle for freedom" by exploring the complexities of modernity through the lens of the disenfranchised.
From The American Evasion of Philosophy to Keeping Faith to Prophetic Fragments and The Ethical Dimensions of Marxist Thought, West's work has consistently demonstrated a genuine concern for what he has identified as the fundamental question of any democratic society: "What is the relationship between public interest and the most vulnerable?"
Though West remains unwavering in his "ethical obligation as a Christian to fight for equal rights for all," he has not always been considerate of the feelings of others. Obama is not the only public figure who has been a victim of West's calculated verbal assaults. He even went so far as to call Al Sharpton "the head-house negro on the Obama plantation."
Gleaning a consensus on what constitutes truth, justice, and individuality in light of confirmation bias is almost impossible. "But," as West reminds us, "like protons leaving vapor trails in a cloud chamber, one is forced to posit them in the light of the overwhelming evidence for their existence."
The Character of the Man
How could someone who places such a high priority on love be so vitriolic in public? In person, he's the kind of guy anyone would love to be around. Concurring with many others who know him, Randall Kennedy, Klein Professor of Law at Harvard, said, that "West has been very nice to me personally over the years."
Robin Kelley, Professor of History at UCLA, even remarked that West's "more immediate influence is personal — the way he always embraced students and younger scholars and both encouraged and questioned us."
To many, West stands as a giant in the American intelligentsia, a towering figure on the cultural scene who bravely and boldly challenges America to be a better version of itself by reminding its citizens of the indispensable contributions to democracy by civil rights leaders, radical democratic intellectuals, blues and jazz musicians, and courageous political figures.
When I asked Robert George, a political conservative and distinguished Professor of Jurisprudence at Princeton about West's ad hominem attacks on Obama, he explained to me:
"What a lot of people on the left as well as the right fail to understand about Cornel West is his profound integrity. But to fail to grasp that is utterly to misunderstand who the man is and why he does what he does and says what he says. Where faith and reason lead him to a certain judgment, he will take his stand there and say exactly what he believes to be true — no matter whose ox is gored, and no matter the consequences for himself personally. His horizon is a transcendent one, not a worldly one. What explains what he does and says is the fact that he is a truth-driven radical Christian."
In this light, West is a "prisoner of hope" fundamentally committed to living a sacrificial life in pursuit of truth and justice.
To others, West is no longer the scholar or man that he used to be. To some of his critics, West is a bitter intellectual prizefighter past his prime who feels the need to broadcast his paroxysms of rage over feeling snubbed by Obama.
This is the West portrayed in The Ghost of Cornel West by Michael Eric Dyson. By Dyson's account and that of many others, West's greatest opponent is not Obama, Al Sharpton, or some ranting conservative public figure but instead, it is "the ghost of a self that spits at him from his own mirror."
In Hope on a Tightrope, West writes that "in the end, your life will be measured not by what you have. It will be measured by the fruit you bear and the life you live. It will be measured by what kind of love you really have."
In the years since Obama took office, West has surely given us reasons to question whether his prominence has finally exceeded his merits. The Cornel West of Prophesy Deliverance! in 1982 is not the same Cornel West who called Barack Obama "a Rockefeller Republican in black-face," and other Black intellectuals who supported him "intellectual prostitutes, who sold their souls for a mess of Obama pottage."
Yet the Cornel West I admire is far more than an egocentric showman. The West I admire is a brilliant thinker, devout Christian, and uncompromising truth-teller who, for three decades now, has challenged those in positions of power to look at life from the vantage point of those who are struggling, who are marginalized, demonized and disenfranchised in our society.
As Harvey Mansfield, Professor of Government at Harvard who debated West on affirmative action, told me, even many of his strongest critics view West as "a man of the left with a heart of gold. When West criticizes Obama, it is out of the disappointment of that heart, which cannot abide any semblance of Machiavellian politics. To think that this criticism [of Obama] diminishes his credibility, you have to believe a little bit of Machiavelli."
In the Public Sphere
In 1967, Noam Chomsky wrote an article for The New York Review of Books titled "The Responsibility of Intellectuals." Given their political liberty, access to information and training, Chomsky argued, it is the responsibility of intellectuals to use their skills and resources to "speak the truth and expose lies."
Throughout his career as a public intellectual, Cornel West has honored that responsibility. He even acknowledged his commitment to this creed with Noam Chomsky on as a guest in the final radio broadcast of "Smiley & West" in December 2013.
The question remains: has West lived up to his intellectual promise?
West has stumped for progressive politicians like Bernie Sanders, helped organize marches for jobs, and joined protests against South Africa's apartheid regime, the Israeli occupation, Wall Street corruption, and police brutality. [West was a supporter of Bernie Sanders' presidential campaign. After Sanders endorsed Hillary Clinton, whom West regards as a "neoliberal disaster," West switched his support to Green Party candidate Jill Stein — ed.]
However, West has not influenced public policy as has, for example, William Julius Wilson, nor has he sustained a serious commitment to producing scholarly writing like many of his colleagues at Harvard, Princeton and Yale. Even his closest supporters admit that the character of his writing has changed over the years.
Unlike W.E.B. Du Bois and the Niagara Movement, West has not organized any civil rights group to do the critical work of pushing for the enactment of legislation that would positively impact poor communities of color. On this score, perhaps it is fair to say that West has not lived up to his intellectual promise.
Says one friend:
I have great respect for Cornel West, the man. He's read extremely widely and has deep knowledge of some of the great texts of the Western canon. But I do think he has fallen far short of his potential as a scholar — having produced far less than he might have of careful philosophical/theological work that would impact what other scholars are doing.
He's not a part of that internal conversation among specialists — not publishing in peer-reviewed journals; not producing (many) students who are doing that kind of thing; not going to seminars of specialists to engage in colloquy on current technical debates within his areas of specialization. And he's never written that 'big book' of which I think him capable. Instead, he has chosen to be more activist than scholar, and has carved out a niche for himself in this regard.
When I asked the prominent sociologist William Julius Wilson about West's legacy, he said that "West is one of few living philosophers whose work has had a major impact on public discourse. Race Matters was an excellent and incisive work that significantly influenced the public discussion of race in the 1990s."
While West's ideas and theories about canonical thinkers ranging from Sidney Hook and Lionel Trilling to W.V. Quine and Friedrich Schleiermacher are cogent and creative, the solutions he has put forward as a public intellectual to address the very issues he skillfully analyzes, those of race and class, are sometimes underspecified and unpersuasive.
In the first chapter of Race Matters, for example, West addresses what can be done about the stultifying nihilistic threat — feelings of meaninglessness, helplessness and hopelessness — that he finds in Black communities:
If one begins with the threat of concrete nihilism, then one must talk about some kind of politics of conversion. New models of collective black leadership must promote a version of this politics….Nihilism is not to be overcome by arguments or analyses; it is tamed by love and care…a love ethic must be at the center of a politics of conversion…
The politics of conversion proceeds principally on the local level — in those institutions in civil society still vital enough to promote self-worth and self-affirmation. It surfaces on the state and national levels only when grass roots democratic organizations put forward a collective leadership that has earned the love and respect of and, most important, proved itself accountable to these organizations.
The collective leadership must exemplify moral integrity, character, and democratic statesmanship within itself and within its organizations…..the politics of conversion shuns the limelight — a limelight that solicits status seekers and ingratiates egomaniacs. Instead it stays on the ground among the toiling everyday people, ushering forth humble freedom fighters — both followers and leaders — who have the audacity to take the nihilistic threat by the neck and turn back its deadly assaults. (Race Matters, 30)
If we accept West's "politics of conversion" as a feasible Black solution to nihilism, we are still left wondering about crucial specifics. First, what kinds of institutions for West are still vital enough to promote self-worth and self-affirmation? Second, should there not be a policy component involved on the state and national level for the collective leadership that is to be formed?
Third and perhaps most importantly, does West himself desire to be a part of this politics of conversion? If it requires "shunning the limelight," he hasn't exactly done that. If it is crucial that this politics of conversion "stay on the ground among the toiling everyday people," then what is the role that intellectuals and politicians should play? How might those roles differ?
Or do intellectuals and politicians simply offer rhetoric and vague prescriptions to insoluble problems? To be fair, West has a book written with Roberto Unger, The Future of American Progressivism, which dedicates an entire chapter to progressive policy solutions for practical problems of poverty and inequality. But many of the unconventional solutions he prescribes, like "broad-based taxation of consumption," haven't been raised or discussed by West himself in public discourse.
In this regard, West could make a greater effort to advance the ideas he puts forth in that book and others in the public sphere. In their book West and Unger discuss a number of progressive ideas for taxation, pensions, savings and investment, arguing that broad-based taxation of consumption in addition to two sets of redistributive taxes could push American democracy toward "the generalization of a principle of social inheritance."
In the public sphere, of course, it is hard for West to offer illuminating readings of Karl Marx, John Dewey, and Ralph Waldo Emerson that get at the complexities of what it means to be a progressive in America. Yet West is the most visible Black public intellectual in America. He has plenty of opportunities to focus more on solutions, to present his ideas on social, political and economic reform and to address criticisms that will inevitably arise from people who are qualified to assess the quality of his ideas.
Assessing Cornel West Today
In the last 10 years, West has given up many opportunities to have these kinds of intellectual engagements. Instead, he has often settled for canned speeches and recycled rhetoric. While still a formidable intellectual force to be reckoned with when he wants to be, West has not clarified publicly what his vision of justice is for America.
Frankly, West's public commentary as of late rarely reflects his genius. Yet I disagree adamantly with those who would like to pretend that owing to his incendiary rhetoric and scholarly decline, West is no longer an invaluable asset to the Black community.
As David L. Smith, a close friend of West's told me, "What Cornel published before he turned 50 would sustain several elite academic careers. In recent years he has invested his energies in his activism and his career as an A-list public speaker.
"He always said he intended to be a public intellectual, and that is what he has become. It is understandable why many academics want him to continue being a conventional academic. However, it is irksome to see him disparaged for his change of focus by people who aren't academics and don't in fact embrace the commitment to academic scholarship. Cornel is someone whose greatness is not sufficiently understood."
Beyond writing insightfully and incisively about a wide range of influential progressive thinkers, West stands out in his ability to maintain a common touch such that he is willing to protest with and has been able to inspire protestors of Occupy Wall Street and Black Lives Matter.
Indeed Cornel West might be an even better role model for aspiring intellectuals if he refrained from name-calling, made a more concerted effort to articulate solutions to inequality in public discourse, and specified for the public precisely what he envisions to be the racial promised land for which he's spent his career advocating.
Note:
Cornel West is currently Professor of Philosophy and Christian Practice at the Union Theological Seminary in New York City. He previously taught at Yale, Harvard and Princeton. West's major works include:
Prophesy Deliverance! An Afro-American Revolutionary Christianity (1982)
Prophetic Fragments (1988)
The American Evasion of Philosophy (1989)
The Ethical Dimensions of Marxist Thought (1991)
Race Matters (1993)
Keeping Faith: Philosophy and Race in America (1993)
September-October 2016, ATC 184