Against the Current, No. 184, September/October 2016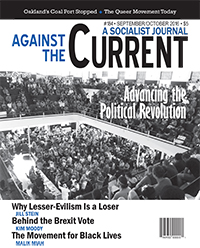 NNAMDI SCOTT IS running as an independent candidate for a seat on the Baltimore City Council, representing the Seventh District. The West Baltimore district is home to Gilmor Homes, where Freddie Gray lived and Mondawmin Transit Center, where students' response to a transit shutdown as school was getting out shortly after Gray's death in police custody sparked citywide protests and a police crackdown.
District Seven is also the site of Coppin State University, one of Baltimore's two historically Black universities.
With nearly 24% of the city's population living in poverty and a 37% unemployment rate for Black males ages 20-24, Nnamdi Scott decided to challenge the duopoly candidates. When asked why his ballot access petition bid succeeded, he remarked:
"Last April's rebellion in the Seventh district exposed decades of frustration and neglect experienced by the Black community under Democratic party rule. Voting for the same party and the same policies have failed us. People want a candidate who will serve them and not the one percent."
Nnamdi's Democratic opponent, Leon Pinkett, is firmly rooted in Baltimore's establishment. An official in the outgoing mayor's office, a director with the Baltimore Development Corporation, and a board member of the city-owned Baltimore Hilton hotel, he calls for financial incentives for businesses, "creating development opportunities," and expanding police presence in the district. The solutions he offers to the Seventh District's problems are false ones which continue the policies which have furthered the district's poverty.
Now that he is on the ballot, Nnamdi is building support through street outreach in areas with heavy pedestrian traffic, as well as speaking at community association meetings.
Pointing out that his campaign is based on mobilizing and organizing people, Nnamdi outlined an economic program that prioritizes affordable housing as well as rebuilding the community's infrastructure. His call for a guaranteed jobs program is built on raising the minimum wage to $15 an hour.
He calls for ending police brutality and corruption along with ending juvenile incarceration. His program includes the creation of both a locally elected Citizen's Review Board with investigative and disciplinary powers and a school board that expands quality education and supports teacher and parental influence. (Baltimore's school board is currently unelected, appointed by the mayor, and has been presiding over the privatization and dismantling of the city's public school system.)
Nnamdi states that "Freddie Gray did not die from carelessness. Police brutality is not something Black people made up. Citizens need to organize to build for community control and greater oversight of the police. I say no justice, no peace."
A West Baltimore native, Nnamdi graduated from Baltimore Polytechnic Institute and received a Bachelor's Degree in Industrial Engineering from Morgan State University. An IT professional and political activist since 1990, when he joined student demonstrations to improve conditions at Morgan State, Nnamdi has lived in or near the 7th district for much of his life.
Nnamdi Scott is a central leader of The Ujima People's Progress Party (UPP) Organizing Committee, a Black working-class-led party that calls for social and economic justice for all working and poor people.
(See the February 16th Real News Network interview with Nnamdi Scott about how the UPP is an "opposition party": https://imixwhatilike.org/2016/02/17/the-ujima-peoples-progress-party-marylands-first-black-worker-led-political-party/).
His campaign is the first one supported by UPP. As an independent party involved in grassroots organizing, its aim is to use the election to build power in West Baltimore and promote independent, working-class led organizing. (See www.nnamdiscott2016.com for more information about the campaign, and to volunteer or donate.)
September-October 2016, ATC 184