Against the Current, No. 184, September/October 2016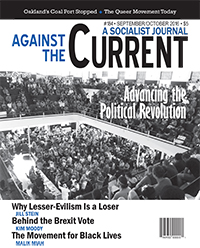 I WAS BORN in Cleveland, Ohio. I attended Cleveland Public schools and briefly worked at a community development organization in the city after college. Cleveland is in my blood. It boasts a thriving arts and music scene, unique neighborhoods, wide range of interesting indie bookstores, mom and pop restaurants, shops, bars, festivals, concerts, museums and entertainment.
I love my city, but it has its problems. One is that Cleveland is a city of sprawl. The actual city of Cleveland has a population under 400,000, but the population of Greater Cleveland (the city combined with its nearest surrounding suburbs and counties, also known as the Cleveland metro area) exceeds two million.
Greater Cleveland consists of five counties and roughly 170 suburban townships, cities and villages. It is also the most racially and economically segregated metropolitan area in the country. The Black poverty rate of Greater Cleveland is 33.3%, a stark contrast to the 9.3% poverty rate among whites. The Black unemployment rate is 20.2%, almost four times the white unemployment rate of 5.3%.*
This disparity was caused by decades of redlining, racist and discriminatory housing policies, white flight, divestment from Black neighborhoods, factory closures, a crumbling school system and overall oppression of communities of color.
Riding through some neighborhoods in the Cleveland metro area, you'll see opulent mansions, upscale shopping centers, and perfectly landscaped, tree-lined streets. Not far from these areas of extreme wealth are areas of extreme poverty where housing projects, abandoned buildings with all of the windows busted out, crater-sized potholes and vacant lots are the norm.
Liquor stores, check cashing joints and churches are the only businesses you might see in many of these communities. The parts of the city that are suffering are really suffering. The parts that are thriving are really thriving. There's not much in between.
Cleveland residents were promised that the Republican National Conven­tion would bring a guaranteed economic boom for our city. The thousands of delegates, protesters, celebrities and reporters from around the world would bring their business to restaurants, bars, stores and hotels.
For a city suffering from an economic downturn since the mass factory closures that happened decades ago, this type of boost was well needed.
Downtown Facelift
Fifty million dollars was spent on transforming downtown Cleveland, seemingly overnight, into a flourishing, hip metropolis. New hotels popped up left and right. Storefronts that had been empty for years had opened into new businesses. Vast stretches of grey, concrete nothingness became picturesque parks filled with green space. The renovation gave this small slice of the city a total facelift.
Millions were also spent on innumerable law enforcement officials patrolling the area surrounding the RNC. There were hundreds of national guard (housed in dorms at nearby Case Western Reserve University, despite student protests), rooftop snipers and police officers from as far as Utah and California. As I walked through the streets of downtown Cleveland during the convention, I saw cops in every angle of my vision walking in groups of five, ten, even 20.
The Cleveland police force bought hundreds of brand new bicycles, and they were also granted military-grade equipment to remain in the city after the convention. It's still a mystery exactly how much it cost to accommodate, equip, transport, feed and pay such extensive security personnel.
The RNC came and went. Republican speakers spent four days presenting their platform of xenophobia, racism, hate and fear. Hundreds of protesters held countless demonstrations outside of the convention each day, ranging from #BlackLivesMatter to immigrant rights to raising the minimum wage.
Lots of people displayed anti-racism and anti-hate signs throughout the week, which was well needed in the city where 12-year-old Tamir Rice was shot to death by a Cleveland police officer for having a toy gun in a park and where Timothy Russell and Malissa Williams were gunned down in their car and shot 137 times by Cleveland Police.
Thanks to our corrupt criminal in-justice system, not a single officer has been found guilty in either of those shootings. The City of Cleveland continuously denied that it did anything wrong in the Tamir Rice case, yet in April it agreed to pay his family $6 million.
The RNC protests were the most action that Cleveland has seen since the mass protests after Tamir Rice's murder and the non-indictment of the officers involved. The city used heavy-handed policing of protests, infiltration and other forms of suppression to quell those protests and to keep Cleveland people silent once again, so it was refreshing to see a resurgence in activism during the RNC.
However, since many of the protesters were from out of town, it is doubtful that these protests will lead to sustainable change in the city. I must also mention that there were several grown (white) men dressed in camouflage with rifles strapped to them, proudly displaying their Second Amendment rights — none of whom were shot by police.
The City Left Behind
Throughout the week, journalists got plenty of newsworthy stories, from Melania Trump's plagiarism of Michelle Obama's speech to the arrests of 18 protestors at Public Square.
With the convention over, the news crews, celebrities and masses of out-of-state law enforcement are gone. Massive potholes, abandoned buildings and the failing educational system are still here. There are still large swaths of concentrated poverty, mostly among people of color.
Sure, the news crews gave Cleveland the spotlight for a short while. The protests raised awareness and expressed the anger of those who have been blatantly slandered in Trump's campaign. But what about those who continue to suffer in a city overcome by poverty, pollution and police brutality?
Will all the attention lead to any significant change for Cleveland residents and those in the surrounding suburban ghettos? Will the news clips help the homeless people or the working folks living paycheck to paycheck? Will the renovation of downtown really help those who exist in the areas that have been left behind? Probably not.
It was, quite honestly, a slap in the face that $50 million magically appeared when it was time to renovate downtown for out-of-town visitors, yet people in power continuously claim that they lack any money to help improve the parts of the city that need it the most.
So what will help a city that is still struggling in so many ways? Jobs. Investment. Education. Housing. Power. We need jobs IN the city rather than the already affluent suburbs that people who live in the inner city cannot easily reach. We need economic investment in the most vulnerable parts of the city, not in the form of gentrification but in creating jobs and opportunities that are fair and equitable for the people who have lived in these communities for generations.
We need a complete overhaul of the educational system. For years, the school system has been punished by standardized testing, privatization and unconstitutional school funding methods that depend solely on property tax. The city has become overrun by charter schools, and though wealthy individuals are making millions of dollars from these schools, they have done absolutely nothing to improve the quality of education for our children.
"School choice" is often marketed as the magic-bullet solution for low-income families, but when you don't have money, all of the choices are equally bad. Even with charter schools, Cleveland still has notoriously low graduation rates and leaves too many students unprepared for college and the workplace.
The city's racial and economic segregation has created vastly different educational outcomes among white students and students of color. We need a school system that is fair for everyone, that treats students like human beings instead of numbers or customers, that offers the programs and services that all students need to thrive.
We need better housing that is safe, sufficient and aesthetically pleasing. There are too many slumlord-owned houses and apartments in the city of Cleveland. These slumlords need to be fined and forced to fix their properties.
Money from HUD needs to support housing improvement, and we need to fight against the racist housing policies that got us into this predicament. We need fair paths to homeownership without crippling debt and home loans that are not racist or predatory. We need to punish the orchestrators of the Great Recession, which forced thousands of homes into foreclosure, and we need to ensure that such a crisis caused by greed and predation doesn't happen again.
Finally, we need power. Generations of economic deprivation, politicians who did nothing for the people, coercive policing and unpunished police brutality, drugs and violence in our communities has left a lot of Clevelanders feeling powerless. Many people are simply existing, surviving, going through each day without truly living. Many people don't feel like they can change the system.
Disempowerment has made it easy for people in power to continue to exploit us. But we need to do whatever it takes to empower one another so that more people will stand up and fight against this oppression that has been perpetrated against us.
Clearly, the city's decision makers will not give us decent housing, education and other necessities out of the kindness of their hearts. We cannot depend on politicians to make our lives better, because they would have already done so if that was their priority. We must fight for these rights. In economically struggling cities across the country, we must empower, educate, organize and fight. This is the only way our lives will improve.
September-October 2016, ATC 184