Against the Current, No. 183, July-August 2016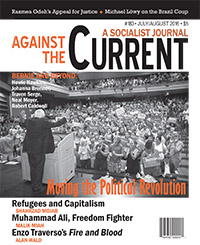 PALESTINIAN ACTIVIST AND Chicago community leader Rasmea Odeh is gaining ground in her struggle for a new trial, following her 2014 conviction for "unlawful procurement of naturalization." (For some background on the case, see "The Trials of Rasmea Odeh," http://www.solidarity-us.org/trialsofrasmeaodeh.)
In 2015, a Sixth Circuit Court of Appeals panel in Cincinnati ruled that the exclusion of testimony at her trial about torture and post-traumatic stress she suffered under Israeli interrogation in 1969 had denied her a fair trial. The case was returned to federal trial judge Gershwin Drain to consider arguments on the admission of expert testimony on torture and PTSD.
Hatem Abudayyeh of Rasmea's defense committee reported:
"Over 100 people from all over the Midwest gathered in Detroit to support Rasmea Odeh as she, her attorneys, and the prosecution appeared before Judge Gershwin Drain for a status conference on Monday, June 13, 2016.
"After the conference ended, Rasmea joined the waiting crowd chanting her name, and Michael Deutsch, her lead attorney, addressed the media, explaining that a tentative date for a new trial has been set for January 10, 2017!
"This is what the Rasmea Defense Committee has been anticipating ever since the appellate court decision a few months ago. (At her trial) Rasmea was not allowed to tell the entire story of Israel forcing her to falsely confess to alleged bombings in 1969, when she endured over three weeks of vicious sexual, physical, and psychological torture at the hands of the Israeli military.
"Rasmea suffers from Post-Traumatic Stress Disorder (PTSD) because of this torture, which, according to world renowned psychologist, Dr. Mary Fabri, caused her to suppress the horrible recollection of the arrest when she answered questions on her immigration application.
"Appeals court judges (ruled) that if the judy cannot determine new legal avenues to exclude the expert testimony, Rasmea must be granted a new trial, which it appears will happen.
"At the status conference yesterday, the government called for a 'Daubert hearing,' which is used to challenge the validity and admissibility of expert testimony (in this case, Fabri's), and also requested to examine Rasmea with its own expert. If the hearing is granted by Judge Drain, it will happen on November 29 of this year, the International Day of Solidarity with the Palestinian People."
It appears likely that the burdensome requirements that Rasmea report every week to probation authorities, and restrictions on her travel, will be modified. She is able to remain free and continue her important and award-winning community work in Chicago with the Arab American Action Network, especially with immigrant women.
Supporters will be planning to mobilize for the anticipated November 29 hearing. For information and updates, visit http://justice4rasmea.org/defense-committee/.
July-August 2016, ATC 183