Against the Current, No. 182, May/June 2016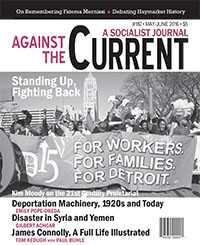 BERTA CÁCERES, CO-FOUNDER of the National Council of Popular and Indigenous Organizations of Honduras (COPINH), an internationally acclaimed environmental activist and among that country's leading opposition figures, was assassinated in her home shortly before midnight on Thursday, March 3.
Less than two weeks later, a fellow leading activist Nelson Garcia was similarly gunned down.
COPINH reported that in recent weeks "violence and repression toward Berta Caceres, COPINH and he communities they support had escalated. In Rio Blanco on February 20, Berta Caceres, COPINH and the community of Rio Blanco faced threats and repression as they carried out a peaceful action to protect the River Gualcarque against the construction of a hydroelectric dam by the internationally financed Honduran company DESA."
The London Guardian reported that "police told local media the killings occurred during an attempted robbery, but the family said they had no doubt it was an assassination prompted by Cáceres's high-profile campaigns against dams, illegal loggers and plantation owners."
A 2009 military coup in Honduras, with the enthusiastic support of Secretary of State Hillary Clinton and the Obama White House, returned the country to the control of multinational capital, death squads and drug lords.
Professor Dana Frank, of the University of California, Santa Cruz, interviewed by Amy Goodman on "Democracy Now" (April 13, 2016), explained the significance of the murder:
"(T)his is the biggest assassination since the coup. There have been hundreds of people that have been assassinated, both by state security forces and by private actors and death squads, but they never touched the top leadership of the opposition. And Berta wasn't just an indigenous environmental leader, she was a top leader of the opposition. In fact, when the resistance came to — came to the Lenca territories, she gave this beautiful speech welcoming everybody, that was one of the most beautiful speeches I've ever heard…
"She was so internationally renowned. (Former Speaker of the House, now ranking Democrat in the House of Representatives) Nancy Pelosi gave a whole reception in her honor last year. And we did — everybody did everything they could to protect Berta, and she was still assassinated. And this is a clear message by the Honduran elite, by the Honduran government, by the Honduran right, that they'll kill anybody now. And I want people to understand how terrifying that is, that everybody in Honduras now feels they can be killed, no matter how famous they are."
May/June 2016, ATC 182