Against the Current, No. 180, January/February 2016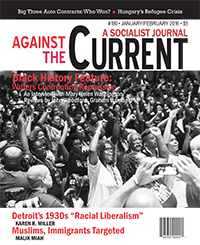 AHMAD RAHMAN, AN educator and activist who served almost 22 years in a Michigan prison and subsequently became the 2013 Michigan Council for Social Studies "College Professor of the Year," died unexpectedly on September 21, 2015 at the age of 64.
Just two months later, on November 29 Ron Scott, a leading activist of the Detroit Coalition Against Police Brutality and its neighborhood "Peace Zones for Life," died of cancer at age 68.
Both had been members of the Black Panther Party in Detroit. Along with General Baker, leader of the Detroit Revolutionary Union Movement, they spoke of their experiences at an ATC panel at the 2010 U.S. Social Forum to a packed crowd.
The Road to Prison, and Beyond
Ahmad Rahman joined the Black Panther Party in 1968 as a teenager in Chicago. He worked on the Free Breakfast for Children program and educated youth about the destructive nature of gang violence. Transferring to the Detroit branch, he continued working on issues of concern within the Black community. Viewing dope houses as predatory, the Panthers organized raids on them. But by that time the Panthers had been infiltrated by the FBI.
When Rahman and his partner were sent to a dope house, they only found a student. Rahman went upstairs to see if someone else was hiding; a shot rang out and the student was killed. Both Panthers were charged with first-degree murder. However Rahman, unlike his partner, refused to cut a deal. In 1971 Rahman was tried and sentenced to life without parole.
Six years later Ahmad became the first inmate in the Michigan penal system to earn a university degree while incarcerated.
Later a Detroit Free Press reporter launched a campaign to have Rahman's sentence commuted. The campaign even gained the support of the sister of the young man killed in the raid. Finally pardoned in 1992, Ahmed later spoke of how he was a victim of the FBI's counterintelligence program, COINTELPRO.
Although the adjustment to being "free" in a world that had changed dramatically was difficult, Rahman continued to pursue a master's degree and Ph.D. in history from the University of Michigan-Ann Arbor.
Rahman joined the UM-Dearborn faculty in 2004, teaching courses in history and African and African-American Studies. He was one of its rotating directors and frequently served as faculty advisor for the Black Student Union, always particpating in the annual Soul of Success Retreat.
Martin Hershock, dean of the College of Arts, Sciences, and Letters commented that "'While many students noted his approachability and eagerness to help, all of them noted how he pushed them to rethink their assumptions and how he challenged them with alternative points of view. His imprint did not stop with students. His faculty and staff colleagues in the college also always appreciated his candor, his fairness, and his sincerity."
Rahman's research resulted in two books: The Regime change of Kwame Nkrumah: Epic Heroism in Africa and the Diaspora and Liberated Territory: Untold Perspectives on the Black Panther Party. He developed a curriculum that highlighted African American history for the Detroit Public Schools and set up a mentoring program for at-risk youth.
Ahmad remarked: "I have always worked to balance academic achievement with what I regard as the more important goals for Detroit of achieving real solutions. At one time during my youth, I called myself a revolutionary. Now, I see myself as more of a 'solutionary.'"
Ismael Ahmed, a fellow activist and a colleague at U-M Dearborn, called Rahman "a man of both principle and action. Whether on the street, in prison, or as a scholar and teacher, he worked for freedom, justice and equality. His work in the civil rights movement, his role as a Muslim fighting Islamophobia and his active role with the Detroit Public Schools exemplify the character of this great man."
He leaves behind his wife Tamika and his children, Askia, Rahman, Saidah and Sudiata.
"Transformational Anthropologist"
At a December 13 memorial service at Little Rock Baptist Church, Ron Scott was remembered in many tributes for many things — including his ability to interpose himself between rival gangs getting ready for a shootout and get them together to clean up the neighborhood. He had a skill calling people late at night to get them out for an emergency protest next morning.
Whenever there was a campaign around a police shooting — of seven-year-old Aiyana Stanley Jones in 2010, of Terrance Kellom this past year, and many more in between — he was always organizing.
Even on the day he died, Ron was still making those calls from his hospital bed.
As a founder of the Detroit chapter of the Black Panther Party, he treasured its legacy of providing grassroots community service programs. In recent years he had spoken of bringing together party veterans to renew that spirit.
As longtime host of a public television program "For My People," Ron synthesized cultural and political themes. On one occasion at an International Socialists summer school many years ago, he delivered a memorable exegesis on a classic Joe Williams vocal with the Count Basie orchestra, connecting the sexual tension of the lyric to an underlying expression of racial pride.
Remembered at the memorial as a "drum major for justice," Rob Scott liked to call himself a "transformational anthropologist" — a way of saying both that he was a revolutionary, and that the revolution itself is made by and for the people.
January-February 2016, ATC 180