Against the Current, No. 180, January/February 2016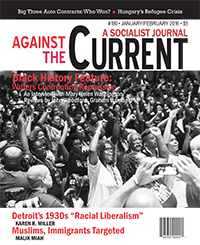 THREE DECADES AGO The New York Times Book Review observed, "Mary Helen Washington has had a greater impact on the canon of Afro-American Literature than has any other scholar." The occasion was the arrival of yet another in her acclaimed quartet of editions of creative writing by African-American women.
Since then, Dr. Washington has only intensified her dedication to rebalance historical perspective and restore visibility through a miraculous retrieval of the radical Black past in pioneering research culminating in the 2014 publication of The Other Blacklist: The African American Literary and Cultural Left of the 1950s (reviewed by Bill Mullen in ATC 173).
Born and raised in Cleveland, Washington received her doctorate from the University of Detroit in 1976 where she directed the Center for Black Studies before moving to the Boston Harbor College of the University of Massachusetts in 1980 and finally the University of Maryland, College Park, in 1989.
A left-wing political activist all her adult life, she was a central figure in the transformation of the American Studies Association (ASA) into a voice for students and faculty of color on U.S. campuses. This was signaled by a celebrated talk she gave upon ascending to the ASA presidency in October 1997: "Disturbing the Peace: What Happens to American Studies If You Put African American Studies at the Center?"
With observant precision, Dr. Washington has the ability to craft narratives out of that which had hitherto seemed silent, qualitatively expanding the archive of African American creativity and political commitment at the highest level of professional competence. On October 15, 2015, the ASA awarded Dr. Washington one of its most prestigious awards, the Carl Bode-Norman Holmes Pearson Prize, for a lifetime of achievement and service. Against the Current is delighted to publish the following interview with her — because this is what a radical scholar looks like.
Mary Helen Washington was interviewed for Against the Current by ATC editorial board member Dianne Feeley.
Against the Current: You grew up in Cleve­land and taught in Detroit. Like you, I attended Catholic schools in the post-World War II era. (For me it was San Francisco in the late 1940s through 1957.) Although it was a very anti-communist ghetto, through reading the New Testament I gained a sense of social justice. What about those industrial cities and experiences helped you develop your perspective as a radical, anti-racist and feminist activist and scholar?
Mary Helen Washington: At first glance, there seems to be nothing about my growing up in Cleveland that could remotely be called "radical." My family was racially conservative, socially respectable, and seriously religious, especially my fiercely Catholic mother.
We were deeply entrenched in Catholic­ism — cradle Catholics — as Black people liked to boast, baptized as far back as slavery, and practicing Catholics even unto my generation. My mother and her five sisters and two brothers were devoted to the Sacred Heart, the Blessed Mother, Saint Anthony (he could find things); they made the nine First Fridays to guarantee heaven; they wore scapulars, prayed the Rosary, and wanted the eight of us (my four sisters and three brothers) to follow in the footsteps of the saints.
But saints were extremists — often for justice and mercy — and since the most desirable and satisfying goal we could choose was to imitate their lives, religion sowed the seeds of a kind of radicalism: if you have two coats, give one away; the last shall be first; Blessed are the merciful.
Later, during the 1960s, the Second Council of the Vatican, known as Vatican II, led by Pope John XXIII, initiated some reforms that pushed many of us in the direction of social justice and away from petty concerns like not eating meat on Friday or missing Mass on Sunday.
In our new world view, the saints were people like Archbishop Oscar Romero of El Salvador, and the new Gospel was Liberation Theology, with its ideal of "a preferential option for the poor." Liberation Theology would soon intersect in my life with the other radicalisms of the 1960s and 1970s.
When I left for Detroit in the early 1960s for graduate studies at the Jesuit-run University of Detroit (U of D), I thought I was preparing for a conventional academic career. I didn't know then that I was stepping into history.
My best friend Ponchita and I found a one-bedroom apartment at the corner of John R and Brush, near Wayne State and close to downtown Detroit. We lived six miles from the University because the white homeowners in the U of D area at Six Mile and Livernois did not rent to Blacks — that is, until after the 1967 riots.
My divided self is well represented in this geographical distance: I was the first Black graduate student in the English Department's history at U of D, where they once refused to allow a chapter of the NAACP on the grounds that they had no race problem. By 1968, the downtown John R and Brush radicals had extended their reach into the university, protesting the racial politics at U of D uptown and Wayne State downtown, demanding Black Studies programs at both.
Project-100
In 1969, shortly after the '67 riots, which outed the underlying racial turmoil on the U of D campus, the University applied for federal and state money to create Project-100 and successfully recruited the first 100 inner city (mostly Black) students.
Poet and Broadside founder Dudley Randall was hired as the University's distinguished poet and my doctoral advisor, and the University happily agreed that I could specialize in Black literature.
Two years later, the Center for Black Studies at the University of Detroit was formed with courses in history, sociology, journalism, literature and religion, and I was one of its three full-time faculty. With Project-100 bringing in 100 new students each year, we had a core of students interested in studying the history and culture of African Americans.
In my downtown life at John R and Brush, I was introduced to the Black political and cultural life of Detroit: I was part of the ground troops helping in the union activities of the Dodge Revolutionary Union Movement (DRUM), an offshoot of the League of Revolutionary Black Workers; I shopped for Black books at The Shrine of the Black Madonna and Ed Vaughn's Book Store — centers for Black cultural and political debate.
Dudley Randall's Broadside Press was headquartered in Detroit, and between 1970 and 1978, Dudley brought the makers and shakers of the Black Arts Movement to campus, among them Robert Hayden, Audre Lorde, Don L. Lee (Haki Madhubuti), Gwendolyn Brooks, Etheridge Knight, Nikki Giovanni, Sonia Sanchez and Alice Walker.
Through the Black radical unionists and the Black bookstores, I met a host of Detroit activists: Gloria House, Grace and James Lee Boggs, Modibo Kadale, David Rambeau, Dorothy Dewberry, General Baker, Ken Cockrel — those are ones I can remember. But the most important cultural institution for Ponchita and me was Concept East, a small Black theater at 401 East Adams in downtown Detroit.
The three founders of Concept — Woodie King, Jr., Cliff Frazier and David Rambeau — were among the first in the U.S. to produce the plays of the young militant Ron Milner and those of Malcolm Boyd, a white Detroit minister whose plays about race were groundbreaking for that time.
The most provocative plays were by LeRoi Jones (later Amiri Baraka), which put Concept East and Black theater at the forefront of Black radical politics. I remember helping with the production of three plays by Jones — Dutchman, The Toilet and Slave Ship — being mostly in charge of vacuuming our small theater, handing out programs, and filling the seats when the volunteers and the cast were the only ones in the theater.
So you see cultural change, religious reform, labor activism, and institutional challenge were roiling me and Detroit, just before they would disturb the entire country.
ATC: You have organized several anthologies of African-American stories by women. Why was this work necessary? What did you learn as you were gathering the materials together?
MHW: Looking back now, I can see that my four anthologies were a part of this change zeitgeist. Black-Eyed Susans: Classic Stories By and About Black Women, the first anthology of Black women's fiction, was published in 1976 while I was a graduate teaching assistant at the University of Detroit.
You have to remember that, outside of a small coterie of Black scholars, no one was reading Black women writers, and none of these writers was included in any American literary history. Week by week, I was furiously copying stories by Alice Walker, Toni Morrison, Toni Cade Bambara, Paule Marshall, and Gwendolyn Brooks to use in my classes.
In hindsight I see that these anthologies were created because of and within the climate of racial and political protest in Detroit, though always with the undertow of resistance to change. I remember one of my professor's dismissive response to Alice Walker's short story "Everyday Use," "So, what's so important about making quilts"?
I had to insist that these anthologies be part of my graduate work, but I was not alone in this quest to challenge literary canons. All the young Black women professors across the country, who were teaching these writers — Nellie McKay, Thad Davis, Frances Foster, Barbara Christian, Andrea Rushing, Barbara Smith, Sue Houchins, Deborah McDowell, Hazel Carby, Valerie Smith, Cheryl Wall, to name just a few — were pushing for these changes, and they provided me both personal and intellectual support.
If you look at the original editions of my four anthologies you will see how political, social, and cultural change is reflected on the cover illustrations.
Black-Eyed Susans, illustrated by Laurence Schwinger, depicts three Black women's faces in profile, each joined together by a black mass of hair like a cubist Afro spreading up to the top of the cover and joining the women together. A Kente-cloth collar borders the neck of the three faces; on the ear is a yellow black-eyed susan and a large gold hoop earring.
The cover is a gloss on the statement in my introduction that the stories in this collection are meant to break "through the old myths and fantasies about Black women," which was the object of all of my anthologies.
Midnight Birds: Stories of Contemporary Black Women Writers (1980), which was meant to revise Black-Eyed Susans, is more rebellious and risk-taking, probing many more aspects of Black women's lives — including sexuality, poverty, murder, sexual abuse and mental illness that are not dealt with in my first (and more tentative) anthology.
The woman on the cover of Midnight Birds is more enigmatic, mysterious, engaged with modernity, and less easily situated in Black nationalism(s) of the 1970s and 1980s.
The cover of my third anthology, Invented Lives: Narrative of Black Women, 1860-1960 (1987), features Elizabeth Catlett's 1945 painting Pensive Portrait. Her portrait of a Black woman with strong, determined, sharply drawn features, eyes cast down but clear and purposeful, is a fitting introduction to a newly-imagined canon of writers — Harriet Jacobs, Ann Petry, Nella Larsen, Dorothy West, and Gwendolyn Brooks — who challenged the male-dominated canons of African-American literary histories.
The stories in my fourth anthology, Memory of Kin: Stories About Family by Black Writers (1991), were intended to go beyond the individual and consider these subjects part of a family and of a community, to rethink Black family as "living mystery, constantly changing, constantly providing us clues about who we are." The cover features Faith Ringgold's 1988 Church Picnic Story Quilt, the focus on quilts suggesting the search for new artistic models and the renewed appreciation of African American folk culture.
My next anthology will focus on the experimental writings of 21st century African-American and African Diaspora writers, who are exploring and expanding our understandings of race, gender, sexuality, and class, and it will be a challenge to find an appropriate cover to represent those ideas.
The Black Blacklist
ATC: The silencing of Black radicals in the 1950s left a hole in African-American cultural and political history that you seem determined to ferret out. What pressures did these African-American artists of the 1950s face? Where did they find the courage to overcome or sidestep a repressive ideology? As you have spent the last decade or so working on what has become The Other Blacklist, what have you learned about how, despite the chilling climate, some were able to tackle themes that tore through stereotypes of class, gender and race? How were the works received at the time?
MHW: The question that The Other Blacklist tries to answer is this: How did Cold War politics shape Black cultural production? I began the book trying to answer that question with personal reminiscences about my childhood in Catholic grade school in the 1950s, because that was the beginning of my Cold War anti-communist education.
The Cold War version of integration meant the production of good Blacks, who would never call attention to white racism, never use such a term as "white supremacy" (as the Left did), would accept the fiction of a color-blind society, and never be tainted by association with militant civil rights activists who admired Paul Robeson or those activists who fought for Black labor rights. As we see in the files of the FBI, the government's spycraft agencies were at the forefront of a strategy to target such civil rights activists.
To see how these Cold War racial protocols surface in literature, I turned to Phylon, the leading journal of Black literature of the 1950s, and to a questionnaire published in their 1950 issue about the future of "Negro" writing. The replies of the 23 respondents who answered the questionnaire revealed just how radioactive race was in the 1950s.
The conservatives presented race as a problem easily overcome with the application of American democratic values. Several respondents said that Black writers and intellectuals could achieve "universality" by minimizing "Blackness," race issues, and civil rights. Several critics praised writers like Frank Yerby and Willard Motley for making their main characters white.
Even Langston Hughes found it "heartening" to see Black writers focusing on what Hughes called the "general American field," rather than "dwelling on Negro themes solely." In the words of poet Sterling Brown, the Phylon conservatives turned the symposium into a literary passing for white.
The left artist-activists in The Other Blacklist — writer Lloyd Brown, playwright and novelist Alice Childress, visual artist Charles White, writer and unionist Frank London Brown, poet Gwendolyn Brooks, playwright Lorraine Hansberry and writer and activist Julian Mayfield, who constitute what I call the Black Popular Front of the 1950s — found the conservative messages of Phylon intolerable.
These militant civil rights leftists were entirely opposed to any softening of political and racial dissent. They were intent on representing U.S. Blacks globally, as connected to the struggles of other colonized peoples. They framed integration as a struggle against white supremacy, and they insisted on portraying Black life in all its cultural richness.
Ranging from open Communists to left-leaning fellow travelers, the artists of The Other Blacklist were committed to an artistic practice that combined a radical social vision with artistic experimentation.
The answer to the question,where did they find the courage to overcome or sidestep a repressive ideology, is this: they were not alone. They were active in the many exciting left collectives of the 1950s that promoted Black cultural arts and Black civil rights activism.
I'll briefly describe two of these collectives: Paul Robeson's newspaper Freedom and the Committee for the Negro in the Arts (CNA). Freedom began monthly publication from Robeson's office in November 1950 and ran until August 1955.
The editor of Freedom was Louis Burn­ham, an open communist, and appearing regularly were columns by Paul Robeson (its major fundraiser) and Lloyd Brown.
It sold for ten cents an issue, one dollar for a year's subscription, and a motto under the masthead proclaimed "Where one is enslaved, all are in chains," which pointed to the internationalist-socialist focus of the paper. With its focus on international news and solidarity with people of color around the world, on union and civil rights activities Freedom represented a genuine threat to U.S. government's Cold War on dissent.
While gender was not as consistently raised as race and international solidarity, Eslanda Robeson, Shirley Graham Du Bois, Victoria Garvin, Thelma Dale, Yvonne Gregory, Lorraine Hansberry, Beulah Richardson (later Bea Richards), Alice Childress and at least 15 other women labor activists and writers helped shape the paper's Black-leftist-feminist viewpoint. At age 21, Hansberry became an associate editor.
In the January 1954 issue, Freedom produced a relentless broadside on McCarthy and HUAC. In Childress's column called "Conversations From Life," her alter-ego Mildred was daring enough to call McCarthyism a form of legalized terror in which everyone from the Army, to the post office, to ordinary housewives were being investigated, and Mildred predicted that everyone would suffer until "we wake up and defend the rights of Communists."
Boldly outspoken until the very end, Freedom ended its run in 1955, when its major supporter and fundraiser, Paul Robeson, was blacklisted.
The Committee for the Negro in the Arts, a militantly Black, politically Marxist, socially bourgeois, interracial cultural organization was probably the most successful Black/Left collaboration of New York's Black Popular Front. Founded in 1947 by Paul Robeson and others on the Left, the CNA called for the "full integration of Negro artists into all forms of American culture and combating racial stereotypes."
Charles White's wife Fran White called the CNA a "Renaissance." Visual artist Ernie Crichlow was CNA chairman in 1950, and Elaine Jones, the first Black timpanist for the New York Philharmonic Symphony, and Sidney Poitier were vice chairs.
Lorraine Hansberry reviewed CNA activities in Freedom (May 1952), and The Daily Worker provided extensive coverage of the CNA's activities, including its founding conference and its annual Negro History Costume Ball, where attendees dressed as figures from Black history.
CNA members sold tickets to and attended CNA's first theatrical production held at the Club Baron at 132nd and Lenox Avenue, featuring Langston Hughes's Just a Little Simple, Childress's play Florence and William Branch's A Medal for Willie. In its short history (1947-1954) the CNA was a vital part of the Popular Front in New York, producing plays, articles, and other cultural events to support progressive Black art.
When the intimate medium of television emerged in the 1950s, CNA activist Walter Christmas was one of the first to write a full-scale critique of its racist practices of portraying Blacks only as smiling servants and exotic Africans but never as "typical Americans," and its omission of any reference to issues of labor or poverty.
The CNA finally caught the attention of the FBI, and some of its most famous members — including the actors Sidney Poitier, Ruby Dee and Ossie Davis, and the singer Harry Belafonte — were blacklisted. In 1948 the CNA was declared a subversive organization and by 1954, it was forced to close.
Putting these collective left spaces at its center, The Other Blacklist documents a non-canonical 1950s to show that even during the decade of the Red (and Black) Scare, these artists retained their radical edge.
The stunning discovery of The Other Blacklist is that until very recently none of this history could be found in African-American (or American) literary histories. The absences and silences induced by the politics of the Cold War are reproduced even in the 21st century, as though the blacklist era, during which writers and intellectuals were intimidated, arrested, interrogated, blacklisted and deported, never happened.
In most literary histories you would look in vain for any reference to Freedom, Masses & Mainstream, the CNA, Club Baron, the American Contemporary Art Gallery (ACA), even though these were the very institutions, publications, art galleries and collectives that gave the most serious intellectual attention to African-American literature and culture in the 1950s.
Social Modernists
ATC: What various experimental forms did this band of radicals utilize?
MHW: Let me explain why I call these Black Popular Front artists "modernists," or more accurately, social modernists.
First, these artists thought of themselves as modernists. In a 1936 essay, "Ten Negro Artists on Chicago's South Side," written for the Art Chronicle, artist Bernard Goss (later married to another left activist Margaret Burroughs), writes that the artists of the South Side Community Art Center (SSCAC) were self-conscious modernists from the beginning.
Goss writes, "We became modern, learned to straighten our hair," discovered art schools, and found a "greater space for romping than we had at the academic school." They were in search of "the identity of a new culture," influenced by Africa, by continental Europe, by the Native American Indian — and, Goss adds, some of these new identities would be racial, some not.
The term "social modernists" suggests that these artists were interested in combining artistic experimentation and social issues. The visual artist Charles White chose as his subjects "the everyday, ordinary, working-class people, the most African looking, the poorest, the Blackest in our ranks," to counter the images of assimilation and stereotype; but he represented the power and the anguish of those workers in formal terms, using the flat angular lines, exaggerated arms and hands, and stylized features that resemble cubist forms.
As a playwright, Alice Childress experimented both formally and thematically. In a 1951 play Gold Through the Trees, Childress juxtaposed the anti-apartheid struggle in South Africa with the 1949 rape trial of seven Black men in Martinsville, Virginia to show the links between the colonized status of Africans and African Americans.
Lloyd Brown found the road to formal experimentation by fashioning his 1951 novel Iron City out of the materials of leftist culture — documentary texts, 1930s proletarian drama, and Black folk culture.
Though she never identified publicly with the left, Gwendolyn Brooks was active in the Black Left Cultural and Political Front in Chicago in the 1940s and 1950s. In one of her sonnets, "A Lovely Love" from The Bean Eaters (1960), Brooks writes about a poor young couple whose first sexual encounter takes place in a stairway.
Rather than the imaginative space of the conventional sonnet where love is accorded dignity, these lovers occupy a stairwell for their lovemaking. So we see Brooks revising sonnet traditions by giving to the poor the elevated trappings of high poetic form.
Like Brooks, many of the subjects in The Other Blacklist distanced themselves from the Left, most certainly from the Communist Party. We can only wish that Brooks and many others of that generation had allowed the ghosts of their Cold War pasts out of the closet.
Imagine, if you will, an African-American cultural history of the 1950s that would include autobiographical accounts of the personal, intimate, messy and multivalent stories of the Cold War Black Left. The scattered fragments that I have gathered together to make The Other Blacklist is the closest I could come.
ATC: Having uncovered some of the secrets of the 1950s, what's your next project?
MHW: I am now at work on a digital map of the Black Popular Front of the 1950s, which I plan to unveil in the spring of 2016. It's intended to make the actors, landscapes, and ideas of the Black Popular Front available as a visual and aural experience.
January-February 2016, ATC 180