Against the Current, No. 180, January/February 2016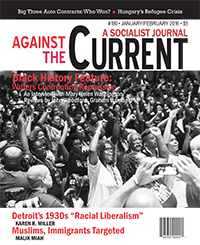 "I'M SORRY. " CHICAGO Mayor Rahm Emanuel uttered those two words December 9 that few elected politicians ever say.
His mea culpa, however, was not genuine. It occurred after mass protests demanding justice for Laquan McDonald, forcing the Cook County prosecutor to release a video showing the cop murder of McDonald. For 13 months the "Blue wall" of silence, the county prosecutor and mayor had joined together to hide the video and the truth.
The next day "dozens of medical students from area universities held a 'die-in,' laying on the ground for 16 minutes of silence in front of City Hall on Thursday morning. The number of minutes symbolizes the 16 shots that police officer Jason Van Dyke fired at McDonald, 17, in an October 2014 incident that has set off more than two weeks of demonstrations in the city." (Chicago Tribune)
"Dane Tucker, a retired Chicago firefighter who believes Emanuel should step down, brought his 10-year-old grandson to the protest. 'At some point we all have to get together and say, 'enough is enough,'" Tucker said. "We have to be as one, that's the only way we can fix this.'" (Reuters)
Emanuel and his police chief (whom he eventually fired) refused to release the video before his April 2015 reelection. Earlier in the year the City Council paid the McDonald family $5 million as a settlement for the shooting. Van Dyke has finally been indicted for murder.
The new upsurge is taking place in the most populous Midwest city, the home of president Barack Obama and a ruling establishment firmly in the hands of the Democratic Party. The racism and segregation of the city has a long history, like many northern cities.
The Mayor's close ties to the police department, the police "union," city council and its many Black aldermen as well as major businesses (the four legs of city power) are now challenged by African Americans who aren't waiting for future elections or promises. Between 2010-14 the Chicago police fatally shot 70 people, mostly people of color. The city was forced to spend $521 million to settle various law suits.
Today's crisis of the city rulers (also facing a possible teachers' strike) is so deep that Obama's Attorney General has opened a Department of Justice civil rights investigation of the police department. Obama had given Emanuel — his former chief of staff — a strong endorsement for reelection, which is unusual for a sitting president to do in a mayoral election.
The protests broadly attended by Black, Latino and white Chicagoans show how the two-year national youth-led Black Lives Matter movement is inspiring and radicalizing a new generation of activists against cop violence and government corruption.
January-February 2016, ATC 180