Against the Current, No. 179, November/December 2015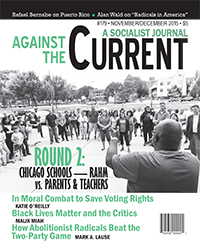 WHEN GRACE LEE Boggs died October 5 in her beloved adopted city of Detroit, she was well into her eighth decade of activism. A brilliant philosophy student who found decent-paying opportunities blocked by discrimination against Chinese Americans, by her mid-twenties Grace Lee was a socialist militant and contributor to the revolutionary Marxist journal New International. Under the party name Ria Stone, her essays there included analyses of the history of World War I and the anti-imperialist opposition, the rising importance of China, and particularly powerful pieces on the March on Washington Movement against racial segregation in the U.S. military.
As a prominent supporter of the tendency led by C.L.R. James, Grace's political odyssey led through the Workers Party and Socialist Workers Party of the 1940s to the Correspondence group of the 1950s. Having moved to Detroit, in 1953 she and auto worker James Boggs formed a marriage and partnership in politics and struggle that lasted 40 years until his death.
Their essays (often published in Monthly Review, for example "The City is the Black Man's Land," 1966) reflected an attraction to the rising power of revolutionary Black nationalism as the potential vehicle for a U.S. proletarian vanguard. Subsequently, feeling the shattering impact of deindustrialization and the destructive effect of drugs both on their theoretical conceptions and on their east side neighborhood, they moved toward a kind of communitarian socialism with the National Organization for an American Revolution, which they formed in 1981.
For the past 30 years, Grace Boggs developed a series of programs and organizing initiatives around community-based education and empowerment, notably a project called Detroit Summer, and has inspired more than one generation of activists looking for ways in which to create a new collective and transformative culture. If you could say one thing about Grace Boggs' life, she never stopped thinking about the future.
November/December 2015, ATC 179