Against the Current, No. 177, July/August 2015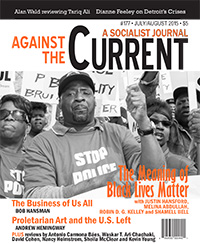 AS IF TO show the world that the state of Louisiana is a human rights dead zone, the release of Albert Woodfox after 43 years in solitary confinement — what the prison system calls "cell restriction" — was delayed while the state attorney general appeals a federal judge's order. His release was ordered by judge James Brady, who ruled that Woodfox cannot be tried a third time in the 1972 fatal stabbing of a prison guard at the infamous Angola state prison. Two previous convictions have been thrown out due to racial bias in grand jury selection.
Three prisoner activists and Black Panther Party members — Woodfox, Herman Wallace and Robert King, the Angola 3 — were convicted in a notorious frameup trial. King won his freedom in 2001 after 29 years; Wallace was released last year, days before his death from liver cancer. Immediately following Brady's ruling that Woodfox's retrial would be fatally flawed, a "higher" court (if that's the right term), the Fifth Circuit Court of Appeals, stayed the release order pending the state's appeal of judge Brady's order. That hearing is pending as ATC goes to press. The widow of the murdered guard, Brent Miller, has appearled for Woodfox's release as she believes in his innocence.
The state's contention that Woodfox, now 68 in poor health, represents a "danger" if released is testimony to the vicious and cynical character of the prison system and the depravity of the bureaucrats who operate it. (See David Cole, http://www.newyorker.com/news/news-desk/albert-woodfoxs-forty-years-in-solitary-confinement.)
Another prisoner at Angola, Gary Tyler, was sentenced to death at age 17, in 1975. A Destrehan high school student on a bus that was attacked by a racist mob, Tyler was convicted by an all-white jury in the shooting death of Timothy Weber, a white boy outside the bus. There was no evidence found on the bus — the alleged murder weapon disappeared from the evidence room — and his attorney was manifestly incompetent.
When the Louisiana death penalty was ruled unconstitutional in 1977, the sentence was commuted to life imprisonment and ironically the outrage around the case faded. Subsequently, "Tyler's case was appealed. In 1980 and 1981 the US Appeals Court, Fifth Circuit, ruled the trial was 'fundamentally unfair' and flawed by the judge making an improper charge to the jury. The second time, after an appeal by the state, the Appeals Court reversed its earlier ruling and called for a retrial, based on what it said was attorney error, but changed its recommendation on a technical issue.
"In 1989 the Louisiana Board of Appeals recommended a pardon, but Governor Charles 'Buddy' Roemer, a Democrat, was running against David Duke for election, and refused to consider it in a racially charged election. He feared such a decision would not be favored by voters." (https://en.wikipedia.org/wiki/Gary_Tyler)
In recent years the case was taken up by New York Times columnist Bob Herbert, but faded from view once more.
Albert Woodfox, Gary Tyler — two examples among many of what the racist and bureaucratic "carceral state" in America is about.
July-August 2015, ATC 177