Against the Current, No. 177, July/August 2015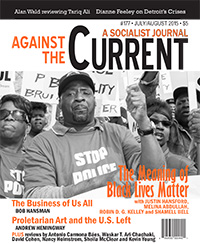 HI EVERYONE, I'M Shamell Bell, I'm from BLM Los Angeles and I'm also from the Black Infinity Complex — and that would be myself, Thabisile Griffin, and Mark over there. And Johnny, this is my son. He's four.
And there are history grad students here, and I'm in world arts culture and dance, and culture and performance. We sent about 50 emails out to all the Black organizations, and I'm not sure that everyone got them, but it looks like a lot of us are here, so we're really proud of that.
So first of all, I want to really quickly do our mission statement so you guys can understand; and I also invited our elder here, just so we can have what we call radical dialogue. We're doing this theory, theory, theory, throwing around these great concepts and kind of pontificating, but let's actually get some action items.
I know in Black Lives Matter we do it all the time. I wish Melina could have shown her video from when we did justice caroling at the Grove. My son was there, and we took Christmas carols and put them into our framework of what we think are racist (or anti-racist) carols.
So, we went through the Grove singing at the top of our lungs. And we had a Santa, we sat on his lap, they had my son sit. "What is your vision? What do you want for Christmas?" And he probably said — what do you say? — Black Lives Matter here.
We're using this event to connect and build unity within UCLA's campus and theorize and organize impactful actions on campus and outside.
Unity in Creativity
We're a group of UCLA grad students, and our vision of the Black Infinity Complex is inspired by the boundlessness and sustainability of Black creativity and imagination. It's a collective of organizers coming together as a liaison to create a united front of existing structures of grassroots organizations and community institutions, and organizers like you, or scholars.
We move from notions of love that speak beyond mere survival, to foster a world where Black activity is free from oppression and exploitation. In the current moment, it is the love of Black life and imagination that connects the mobilization of indignant bodies to murdered bodies in the streets.
We designate this matrix, linked by love and demands for justice, the Black Complex. And we charge that it is in its radical poten­tial, the character of its possibility is infinite. Thus the Black Infinity Complex: encouraging alternative modes of activism and highlighting culturally driven political engagement, we are focused on collective self-sustainment that serves as a transparent model of community-based health, education, and power.
Recognizing state-sanctioned violence as a Black diasporic experience, our current target is all forms of intrusive and destructive practices that subject Black bodies to premature death.
So, what we want to do as the Black Infinity Complex, and on behalf of Black Lives Matter Los Angeles, is: to have you guys take out a piece of paper. Everyone take out a piece of paper and write down your vision of an action item. Write it down. A lot of us are saying, we're organizers, we are all organizers.
I'm a mom first. So, the reason I became involved in Black Lives Matter Los Angeles is because of Melina, as my mentor and professor, as well as Robin Kelley. I had them in the same semester at USC. So law school wasn't happening for me after I had them both at the same time. I'm here today. And my research is now activism and my life.
July-August 2015, ATC 177