Against the Current, No. 175, March/April 2015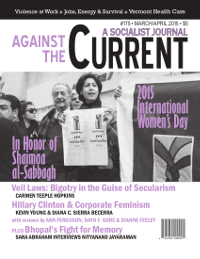 THE POLICE TORTURE of a woman at Kalamadanga village, in the Bardhaman district of West Bengal, is a grim reminder that "normalization" of state violence, particularly violence on women, has continued unabated regardless of which party is in power.
Sheikh Mithun, of the Parui region, is reported to have switched party allegiance from the All India Trinamool Congres (TMC) to the Bharatiya Janata Party (BJP). As part of the threat to wipe out the BJP from the area, he was injured by a bomb thrown by alleged TMC goondas. Treated in a hospital, he was released. Meanwhile police, accompanied by TMC people, turned up at the home of Mithun's aunt. She was asked about his whereabouts, then dragged to a forest area, tied to a tree, beaten, with a blade used on her body, stripped and tortured.
The internal police report has been trying to find inconsistencies in the torture victim's claims. The Calcutta High Court asked the police to provide protection to the woman, yet subsequently her father and brothers were attacked by TMC leaders. and journalists were chased away. The survivor claimed that they are under constant threat to withdraw the case, even under threat of rape.
While condemning the police and ruling party, and in full support of the woman, we would point out that the media hype today is because this is a conflict between two rightwing bourgeois parties. In a case of women accused of belonging to left forces, or relatives of leftwing activists, the media plays a far less vocal role. We urge all women's rights activists to relate this case to all cases of police- and party-led violence on women, instead of treating it in isolation. — edited from a Radical Socialist statement (India)
March/April 2015, ATC 175