Against the Current, No. 175, March/April 2015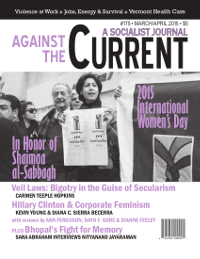 AS AGAINST THE Current goes to press, an appeal hearing is scheduled for February 24 regarding the imprisonment of Reverend Edward Pinkney of Benton Harbor, MI. The American Civil Leaders Union has filed an "Amicus Curiae Brief" in support of Pinkney.
Pinkney was convicted on a highly dubious charge of "voter fraud" involving alleged forgery (changing a handful of dates) in the handling of recall petitions against Mayor James Hightower of Benton Harbor earlier this year. During the five-day trial, no witnesses said they saw Pinkney change any dates or signatures on the recall petitions.
The all-white jury in St. Joseph, adjacent to the mostly Black impoverished town of Benton Harbor, deliberated for nine hours and delivered the verdict on November 3, 2014. On December 15 Pinkney was sentenced to serve up to ten years in prison, and immediately incarcerated.
Mayor Hightower, a close political ally of Whirlpool Corporation, was the subject of the recall campaign due to his refusal to support a local income tax measure designed to create employment for the people in Benton Harbor, located in Berrien County in the southwest region of the state.
The motion for bond pending appeal comes before the court in the wake of a unanimous decision by Michigan Court of Appeals on October 23, 2014 in a case (People v. Hall) with facts that are legally indistinguishable from the facts of Reverend Pinkney's case.
According to the defense committee, "If Rev. Pinkney committed a crime in this case, it was at most a misdemeanor punishable by 93 days in jail. In light of the Hall Case, Reverend Pinkney's likelihood of success appeal in this case is extremely high."
For more details, see http://www.truth-out.org/news/item/28050-whirlpool-corporation-sentences-edward-pinkney-to-prison-with-no-evidence#. Updates on the case are on the website of Reverend Pinkney's organization Black Autonomy Network Community Organization in Benton Harbor, http://www.bhbanco.org.
March/April 2015, ATC 175