Against the Current, No. 174, January/February 2015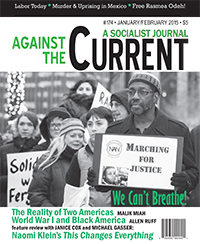 Africa Speaks, America Answers
Modern Jazz in Revolutionary Times
By Robin D.G. Kelley
Harvard University Press, 2012, 272 pages, $24.95 hardcover.
WHY HASN'T SOMEONE turned Guy Warren's life story into a movie? That's the question that circled my head as I read about the extraordinary Ghanaian musician in the opening chapter of Robin D.G. Kelley's Africa Speaks, America Answers.
The book, which takes its title from Warren's first album, unearths African and African-American jazz fusions primarily through the lives of four musicians: Warren, Randy Weston, Ahmed Abdul-Malik and Sathima Bea Benjamin. (Its structure is an implicit tribute to a seminal study of modern jazz, A.B. Spellman's Black Music: Four Lives in the Bebop Business published in 1966, which viewed the music through the prism of Cecil Taylor, Ornette Coleman, Jackie Mclean and Herbie Nichols.)
Kelley, previously the author of the magisterial biography Thelonious Monk: The Life and Times of an American Original, focuses here on the late '50s and early '60s when there was an admixture of burgeoning, sincere interest in the African roots of jazz, and attempts to commercialize on that interest that had little to do with the music. As he states in the Preface:
My hope is that Africa Speaks, America Answers offers a model for writing transnational histories of modern music, sheds light on the vexing relationship between art, politics, and spirituality and contributes to a more global interpretation of jazz history.
Personifying that "vexing relationship" is Guy Warren, who eventually became Kofi Ghanaba, had a life and career that leapt back and forth between West Africa, Europe and the United States; served as an intelligence agent for the CIA precursor, the Office of Strategic Services; created some of the earliest and most innovative African/jazz fusion records; and was one of the world's great drummers.
Thelonious Monk advocated for him and he gigged with Duke Ellington, Max Roach, Charlie Parker and Louis Armstrong among others.
Warren, who passed in 2009 at age 85, appeared in two movies: The Boy Kamasenu (1951), a West African film by British filmmaker Sean Graham, and Haile Gerima's Sankofa (1993). In the first film, he plays a slick urban hipster representing all that's cool. In the second, he virtually plays himself, a drummer who exhorts a Black fashion model to "get back to your source."
By that time his name was Kofi Ghanaba, and the cinematic transition and the name change parallel his tumultuous career and much of the back and forth between Africa and the Americas chronicled in this short volume.
You will have to read the book for the details of his relentless self-promotion, record deals, relationships and romances. Kelley is mainly focused on the barely chronicled cultural exchange between the African Diaspora and musicians born on the continent.
Sailors visiting Ghana (at that time, British Colonial Gold Coast) taught Warren/Ghanaba how to Charleston when he was a child. He grew up playing Highlife, a Cuban/jazz-infused guitar-based music.
As he moved around the globe and worked to embrace and create African music that was more indigenous, he worked toward another type of fusion, between jazz and Ghanaian music. You can find his music on YouTube. He made great records that never saw much daylight in record stores.
The story Kelley wants to tell here is not about records that didn't sell. He works to provide evidence that at least one fairly broad facet of the jazz intelligentsia's interest in the music's African roots ran parallel to liberation struggles on the continent.
Some of the efforts to reflect African influence didn't go past naming tunes after African countries or leaders. But Guy Warren gathered players to create Ghanaian jazz. Unfortunately, it was put forward at a time when Afro-Cuban jazz, a distinctly different and far more danceable form, was the rage. Even his given name, Guy Warren, failed the litmus test for the "exoticism" that was part of the marketing ploy at the time.
Diaspora Reflections
Kelley's work here is to explore what is African, what's accepted as being "authentically" African, and what happens when music from the Diaspora is reflected back to and through the continent.
As shown by the case of Warren, being from Africa and being versed in the culture didn't always win the day. His abundance of vision and talent and lack of success nearly parallels the story of the musician who ends the book, Sathima Bea Benjamin. Of course, being a woman and trying to make it in show business decades ago, she had the additional hurdles of sexism and sexual harassment to overcome.
Benjamin, who passed in August 2013, subsequent to this book's publication, was a South African "colored" singer who began her career totally enthralled by jazz ballads and torch songs. Her extraordinary voice was an unlikely and unique blend of Billie Holiday bending the notes like a horn, and Sarah Vaughan's bullseye perfection.
Jazz geeks will know that Benjamin's husband was Abdullah Ibrahim (aka Dollar Brand), whose career overshadowed much of hers. Indeed, the force of Ibrahim's innovations rival Benjamin's story even in the chapter that bears her name. Benjamin and Ibrahim married in 1965 and she spent much of her life promoting his career and raising their children.
She eventually produced several great and lauded recordings, but the journey from apartheid era South Africa to a great solo career was not easy. Like many South Africans of color, she suffered under apartheid. In her view, you were either white or totally oppressed. She specialized in jazz, music that everyone, including the government, saw as a race-mixing, liberation-promoting threat.
Benjamin was on the scene at a very heady time when people like (the then very young) Hugh Masekela and Miriam Makeba were blending jazz, pop and South African music. Ibrahim and others idolized Ellington and Monk, especially as the latter's syncopations reflected serious African sensibility. In their hands, jazz re-infused with more overt African strains and straight bebop became the rage in South Africa even as Ibrahim cut his own uncompromising, audience-ignoring innovations.
The mixed-race clubs they tried to play in were frequently closed. Benjamin and Ibrahim were forced to leave South Africa for career and political reasons.
But she had two added burdens. One was being a woman in what is still (ironically, for all its liberation affect) a very macho jazz music scene. She was almost raped by one of her "benefactors" and had to fend off advances at every turn until she left Africa for New York, where she only had to deal with sexism rather than sexual violence.
Then there was her predilection for very slow tempo songs. Even Duke Ellington, who loved her voice and helped her get a record deal, couldn't convince the record company to release Benjamin's record. It wasn't "marketable." Her husband's far more aggressive and innovative stuff when released did fine.
Where Ibrahim infused overtly African influence, Benjamin was a straight torch singer. Attractive but light skinned, she therefore wasn't considered "African" enough. Even so, she's a bit of strange choice of focus. The milieu from which she arose and her husband's music both exhibit more of the musical and cultural dialogue that flows through the rest of the book than does her story in and of itself.
Benjamin eventually found success (and infused South African influence into her work) in later years. She accomplished this with her own compositions, and while raising two children.
Abdul-Malik and Weston
Ahmed Abdul-Malik, born Jonathan Tim Jr. (sometimes spelled "Timm") was a New Yorker born to West Indian immigrant parents but claimed that his father was from Sudan — sort of the way Sun Ra claimed he was from Saturn.
Abdul-Malik did convert to Islam and was very focused on North African music and culture. Interest in Islam at the time ran almost parallel with interest in Africa and the end of the continent's overt colonization in the late '50s and early '60s.
His is one of the strangest stories: an Afro-Caribbean New Yorker who falsely claims Sudanese heritage but nonetheless manages a sincere if nascent fusion of Arab music with the jazz he grew up with.
Abdul-Malik's inspiration comes by way his being given an oud by a Korean farmer during a stint in the Army. This is another person whose life could be the stuff of film, reinventions and all.
Towards the end of his life he did get to study with Simon Shaheen, perhaps the foremost oud player alive and versed in fusing Arab music with art and pop music from around the world. Shaheen worked with Abdul-Malik but didn't think that much of the latter's early work Jazz Sahara.
Abdul-Malik recorded that album in 1958, long before the term "world music" was every imagined. It was the first fusion of North African music with jazz. Results were mixed: He was a fervent student, but his understanding and execution of the music was fairly elementary. Amazingly, he got Johnny Griffin to play tenor saxophone, and Griffin jumps and really blows on the session though he has even less experience with the music than Abdul-Malik. The miracle is that it happened at all.
The most successful musician given serious space in the book is pianist composer Randy Weston, born in 1926, who remains active today. He roughly parallels the South African Abdullah Ibrahim. Both are innovators with Monkish innovative ways of playing the piano, and are interested in the fusion of jazz and more overtly African music.
Weston was also the mirror image of Warren/Ghanaba, in that instead of wanting to come to the United States to create an African jazz fusion, Weston dreamed of coming to Africa. He worked hard to immerse himself not just in the technique of jazz but the culture out of which it sprang.
More than once Weston would take menial jobs to be in club or academic settings where he could observe the greats at work and/or engage in conversations about what jazz meant and where it came from.
Working days as a dishwasher at the Music Inn near Tanglewood, and playing the piano at night and eventually drawing a crowd (imagine getting a free concert from a young, improvising Randy Weston), he came upon scholar Marshall Stearns discussing jazz. Stearns declared that jazz had West African roots. It was one of many things that set Weston off on a journey to find those roots.
After studying everything from Russian folk tunes to Afro-Caribbean music, Weston took on the ambitious task of creating a big band reflection/tribute to African liberation struggles. The making of Uhuru Afrika (1960) could have been a book by itself. Suffice it to say Weston had to make many deals before he managed to get 17 topnotch musicians into a willing recording studio, and then work to get it distributed.
This was 1960, when the same activism that fueled revolutions in Africa was seen by many whites in the United States as dynamite. The record was released at virtually the same time as Max Roach and Abbey Lincoln's We Insist: Freedom Now Suite. The one-two punch was delivered as one African country after another experienced revolution.
Naturally, Uhuru Afrika was banned in South Africa. Ironically, the album along with Weston's consistent championing of African music almost prevented him from making his first trip to the continent. The gatekeeper for the sponsors of the trip, The American Society for African Culture (AMSAC), thought Weston was little too pro-African.
AMSAC got CIA money because the Agency thought AMSAC could act as a Cold War bulwark against socialist philosophies that were quite popular among revolutionary leaders at the time. Oblivious to the political machinations, Weston went to West Africa with a host of musical and cultural luminaries and had a fabulous trip. He'd hit the cultural mother lode.
The trip overall had many snags, including Africans not knowing what to make of vibraphonist Lionel Hampton's cheesy clowning. Langston Hughes complained about Black players being cut short while trip sponsors found plenty of room for European classical music.
But Weston looked at Africa as one big classroom. He would return many times and use what he learned to expose the African roots of jazz. Like the less profound Abdul-Malik, Weston gravitated toward North Africa, in his case the music of the Gnawa people of Morocco.
Where Are We Now?
Kelley works to end the book on a positive note, even as the coda begins with a Randy Weston concert in New York where Weston gets a jubilant ovation even after taking the stage an hour late. But the applause is polite and tepid when Weston talks about the music being inspired by African liberation.
Kelley goes on to cite hip hop, reggae and other pop genres as evidence that the dialogue continues between Africa and its Diaspora in the United States. From what I witness in American music, that's overly optimistic.
Ahmed Abdul-Malik would have given blood to have the access to African music and culture the Internet has given us. But though only it's now a mouse click away, I don't hear much overt African influence in jazz or pop, even though I believe hip hop is the most African popular music to come along since the fifties (some music is more African than but not as popular as hip hop, and some popular music is not as African).
Parallel to that, those taking up arms on the continent these days are not led by the likes of Patrice Lumumba or Kwame Nkrumah.
Like those sailors who taught Guy Warren the Charleston, it's the westernized cousin of African music, in this case hip hop, that's now sweeping the continent and the world. We await younger versions of Weston and Warren, versed in beats and looking beyond, to take up the cause.
January/February 2015, ATC 174