Against the Current, No. 173, November/December 2014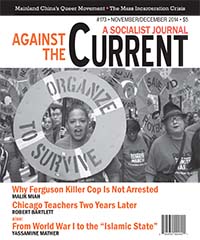 IN A CASE that has sent shock waves through academia, the University of Illinois peremptorily cancelled the appointment of professor Steven Salaita to a tenured position in the American Indian Studies program at the university. After Salaita had resigned his previous position at Virginia Tech and uprooted his family, U-Illinois chancellor Phyllis Wise notified him that she would not present his appointment for approval to the Board of Trustees.
Wise took this action without any consultation with the American Indian Studies program, which has expressed outrage over this act of disrespect.
The reason? As Salaita, who is Palestinian American, explained: "In the weeks before my move, I watched in anguish as Israel killed more than 2,100 people during its recent bombing of Gaza, 70 percent of them civilians, according to the United Nations. Like so many others, I took to my Twitter account. I posted tweets critical of Israel's actions, mourning in particular the death of more than 500 of Gaza's children."
These posts evidently came to the attention of major donors who threatened to withdraw their support over his appointment. Wise promptly caved, although for the record she claims that the cancellation was not about professor Salaita's political views but rather his lack of "civility."
Nobody's buying that. The American Association of University Professors Foun­dation has extended a $5000 grant to Salaita, who was left jobless and his family without a place to live when the appointment was withdrawn.
The AAUP itself has threatened to withdraw its accreditation of the University of Illinois; many of the university's faculty expressed contempt for chancellor Wise when she called for "reconciliation" at an annual meeting.
Sixteen departments have declared "no confidence" in the university administration, thousands of professors across the country have called for boycotting the university, and many have cancelled their own speaking engagements.
Professor Salaita is threatening to sue the university for breach of contract. Both the legal action and the ongoing campaign will determine how high a price the University of Illinois pays for this purge, and what lessons other institutions might draw as they contemplate similar action.
November/December 2014, ATC173