Against the Current, No. 172, September/October 2014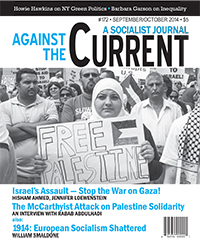 SAXOPHONIST, COMPOSER AND revolutionary Marxist activist Fred Ho (1957-2014) was a dynamic and prolific force within Jazz and radical left movements for over 40 years. A baritone saxophonist inspired by the avant-garde currents in African-American music, Ho despised the term "Jazz," considering it an insulting term for a powerful tradition. [An article by Fred Ho on the revolutionary content of jazz music appeared in Against the Current 159 and is online at http://www.solidarity-us.org/node/3642.]
As a Marxist Ho embraced and drew inspiration from the revolutionary movements against colonialism that swept the world in the 1960s and 1970s, from Vietnam to the U.S. Black Liberation Movement. He brought explicitly socialist and radical left politics to his performances like no other working saxophonist during the era of his wide-ranging music career, which formally began in 1985 with the LP "Tomorrow Is Now" (Soul Note).
After years struggling to thrive as a working avant-garde musician and even more years as a highly engaged Marxist cadre with a history in real social movements, Fred Ho's approach to his 2006 cancer diagnosis was no less determined than you might expect.
He battled cancer head-on, with sometimes unorthodox methods, and in public so that others might learn from it, essentially applying lessons learned by guerrillas and leftist insurgents to his fight against cancer.
Birth of a Third World Marxist
Born Fred Wei-han Houn in 1957, Ho (who changed his name in 1988) took up the baritone saxophone as a young teen after being exposed to live performance by key African-American avant-garde musicians such as Archie Shepp and Don Cherry relatively early in life. The son of Chinese immigrants, he understood American racism even earlier.
Ho became a political activist during the twilight of the New Left, yet in a period when radical movements against racism and oppression were still a considerable presence in many communities. The waves caused by the Black Panthers, Young Lords and Brown Berets touched youth of color across the U.S., including a young Fred Ho.
The first group that Ho felt had a sufficient understanding of white supremacy was the Nation of Islam, but Ho was not a member for very long. He was quickly moving towards Marxism, the experiences of the Chinese revolution and the leftist-led insurgencies against colonialism and neo-colonialism happening across Asia, African and Latin America.
Ho joined I Wor Kuen, one of many young Marxist-Leninist organizations that emerged from the New Left period. IWK's mostly Asian-American members organized in cities on both coasts. Eventually it merged with another POC-led Marxist-Leninist group, the August 29th Movement, rooted in the Chicano movement in the Southwest, to form the League of Revolutionary Struggle (Marxist-Leninist). Not long afterward the Revolutionary Communist League, led by poet Amiri Baraka and formerly known as the Congress of Afrikan People, merged into the LRS, a POC-majority Marxist-Leninist group from its inception.
During the 1970s social movements led by Asian-Americans swelled across the country, from the bitter fight to save the International Hotel in San Francisco (inhabited by many elderly Asian Americans) to struggles against police brutality, against the horrific working conditions faced by immigrants, and against U.S. imperialism in Asia. I Wor Kuen was one of many Asian-American groups to embrace Marxism; others included Wei Min She, J-Town Collective, East Wind Collective, and the Union of Democratic Filipinos.
Forming His Sound Downtown
Ho studied sociology at Harvard but resented its Eurocentrism and shameless elitism, so he headed straight for New York's vibrant and eclectic downtown music scene of the late 1970s and early '80s.
The "Free Jazz" explosion of the 1960s, largely forced back underground, continued to thrive in a network of informal NYC venues known as the 'loft scene.' Ho also found many open-minded saxophonists and other collaborators far outside the fringes of the "Jazz" world, including in the concurrent post-punk scene.
By the time that the influential Italian record label Soul Note released two LPs of his work in 1985, Fred Ho was emerging as a unique composer, improviser and live performer. His sound could evoke the most delirious, big band-inspired work of the Sun Ra Arkestra, and increasingly used themes, ideas and instrumentation from across Asia.
For 30 years Ho helped define a Pan-Asian current in modern music; with elements of both traditionalism and irreverent experimentation., but much more of the latter. He also recruited many Asian-American musicians to participate in his bands and recordings, founded the Afro-Asian Music Ensemble, Asian-American Art Ensemble and the Asian-American Jazz Festival (1985) and was the driving force behind many projects that featured Asian-American musicians interacting with radical Black music.
His baritone sound was always extraordinarily muscular, even by the commanding standards of the instrument. He drew from thick, earthy tones of baritone saxophonist Hamiet Bluiett, tenor David Murray and other artists from St. Louis' Black Artist Group collective. He studied Sam Rivers and the key "out" players in New York, in addition to the endless lessons he took from the compositions of Duke Ellington.
Ho regularly composed layered works with a narrative, reminiscent of suites by Charles Mingus. He seemed to build bridges between the avant-swing of Sun Ra, the militant poetics of the Black Arts Movement, and the operatic displays of China's Cultural Revolution.
Ho also became a skilled clothing and costume designer. On stage and off, Fred wore unthinkably bright and unique garments that he made in his studio. His bands and orchestras also wore his creations, which vividly mixed traditional Chinese fabrics with African patterns and designs.
League of Revolutionary Struggle
In the early 1980s, just as the Marxist-Leninist 'party-building' movement of the 1970s was all but collapsing, Fred Ho's League of Revolutionary Struggle was actually growing. Whereas many Maoist-influenced groups had waned in their enthusiasm for the leadership of the Chinese Communist Party after the death of Mao, LRS remained firmly "pro-China."
The LRS was also very clear in its continued support for the right of national self-determination of oppressed peoples, including inside the United States with African Americans (Black Belt South) and Chicanos (Aztlan, the Southwest). LRS threw itself into student activism too, investing serious cadre hours in the exploding anti-apartheid movement on campuses in the mid-'80s.
The organization's newspaper Unity was professional-looking and, importantly for the radical left in a period of steep decline, outward-focused. Fred Ho contributed significantly to the organization's vibrant cultural publications and brought its message of revolutionary socialism and national self-determination to venues and audiences that might never read a Marxist journal or attend a small meeting, but whose ears were open to a dynamic performing artist.
Both Fred Ho and Amiri Baraka were committed to the idea of bringing the avant-garde to the masses of working people, and committed to making radical art that is genuinely useful to revolutionaries. In many ways it was the movement that Baraka helped initiate, the Black Arts Movement, that first opened Fred Ho to political art. Fred left the LRS at the end of the 1980s, not long before the group finally burned out.
After the Party
Over the course of the next decade Fred was sometimes an independent Marxist activist, and sometimes a member of the Freedom Road Socialist Organization, a group formed in the mid-'80s by veterans of the '70s Marxist-Leninist left. He edited a special issue of FRSO's Forward Motion titled "Asians In Struggle" (1995), which looked at Asian-American activism across the United States.
Fred's politics continued to evolve, too. Radical feminism became increasingly central to his political vision, as did radical environmentalism, pushing past the boundaries of the previous generations of Marxists.
Throughout the 1990s and 2000s, Fred Ho edited a number of extremely important books, both on radical Asian-American history and on the revolutionary potential of music. In addition to these works, Ho authored many articles on these topics for movement publications and journals throughout his last two decades. This intellectual work stands as one of his most lasting political contributions.
Legacy to Liberation: Politics and Culture of Revolutionary Asian Pacific America (2000), co-published by AK Press and Ho's own Big Red Media imprint, brings together essays on the history of Asian-American radical activism in the 1960s and '70s, including I Wor Kuen and Wei Min She, with interviews with movement veterans such as Yuri Kuchiyama and younger activists. The book stands as essential reading for anyone studying Asian-Americans of U.S. New Left history.
Sounding Off! Music As Subversion/Resistance/Revolution (1995), published by Autonomedia and co-edited by Ho, includes essays on the intersection of music and liberation movements around the world. The book also includes Ho's essay "'Jazz,' Kreolization and Revolutionary Music for the 21st Century" in which he details his opposition to use of the word 'Jazz' and its roots in white supremacy and national oppression.
Ho also edited and contributed to a number of books that look at the crosspollination of Asian and African diaspora radicalism, including Kickin' the White Man's Ass: Black Power and Aesthetics and the Asian Martial Arts, AfroAsian Encounters: Culture, History, Politics and AFRO/ASIA: Revolutionary Political and Cultural Connections between African and Asian Americans (2006).
Musical Legacy
Fred Ho's work as a composer was always refreshingly ambitious; he favored big, complex compositions about big, complex political issues. He wrote operas about women who fought against patriarchy and imperialism by any means necessary; he wrote layered saxophone suites about political prisoners and neo-colonialism.
Some of his most righteously political (and artistically important) recordings include "We Refused to Be Abused" (1987), "Yes Means Yes, No Means No, Whatever She Wears, Wherever She Goes" (1998) and "Warrior Sisters — The New Adventures of African and Asian Womyn Warriors."
The latter is an opera about an imagined meeting of three women from African and Asian history who took up arms against colonists, and together "they jailbreak the imprisoned Assata Shakur and set out to form a matriarchal guerrilla army to destroy patriarchical-capitalist imperialism."
His work "All Power To The People! The Black Panther Suite" (1999) combined video and martial arts ballet, while "Deadly She-Wolf Assassin at Armageddon!" (2005) mixed radical feminism with imagery taken from Japanese manga comics. His conception of radical Afro-Asian musical activism never stopped evolving.
Fred Ho went to remarkable lengths to fight cancer, which he detailed in Diary of a Radical Cancer Warrior: Fighting Cancer and Capitalism at the Cellular Level (2011). Fred also spent an extraordinary amount of time in his final years to win freedom for Black liberation political prisoner Maroon Shoatz, including co-editing Maroon the Implacable" (2013). Shoatz was removed from solitary confinement and released into the general prison population — an important victory for Shoatz and supporters — just months before Fred Ho lost his battle with cancer.
Fred Ho was an iconoclastic performer and composer, with an aesthetic vision as unique as his politics were militant. He once described his new genre of far-out Afro-Asian music with radical anti-imperialist politics as "Mau Mao." No one ever seriously attempted to classify Fred Ho's remarkable body of work, but perhaps that self-label says it all.
September/October 2014, ATC 172