Against the Current, No. 172, September/October 2014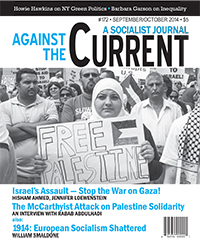 THE PEOPLE'S CLIMATE March, scheduled for Manhattan on Sunday, September 21, will take place just two days before world leaders attend an historic Climate Summit at the United Nations. Eddie Bautista, executive director of the NYC Environmental Justice Alliance, pointed out that "People are seeing this crisis unfold all around them, especially in low-income and communities of color. Our message to anyone anywhere concerned about the way the climate crisis will impact our jobs, health, children and communities is simple: join us."
The New York march is expected to be the largest climate action in world history. More than 700 organizations have endorsed the effort — bringing together over 50 labor unions, environmental justice and environmental groups. A number of conferences will take place beforehand and afterward.
The march will begin at Columbus Circle, proceed on 59th Street to 6th Avenue, down 6th Avenue to 42nd Street, then right on 42nd Street to 11th Avenue.
Simultaneous events are planned in dozens of countries around the world, with major marches in London, Berlin, Paris and Delhi.
For more information on The Peoples Climate March and participating groups, please see here: http://peoplesclimate.org/about/.
September/October 2014, ATC 172