Against the Current, No. 172, September/October 2014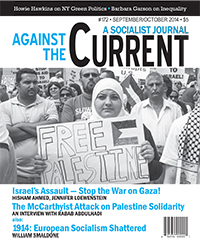 THE LAST-MINUTE entry of a new mayoral candidate has shaken up the electoral topography of Richmond, California, where the Richmond Progressive Alliance is taking on the money and political muscle of Chevron Corporation. Richmond resident and labor writer-activist Steve Early reports:
"(O)n the eve of the filing deadline for city candidates, a longtime city council member not up for re-election this year decided to throw his hat into the ring for mayor. Arkansas native Tom Butt, a 70-year-old architect, Vietnam veteran, and 41-year resident of Pt. Richmond seeks to replace Gayle McLaughlin, the well-known California Green and leader of the Richmond Pro­gressive Alliance (RPA), who is subject to a two-term limit as mayor.
"Butt is not part of the RPA but frequently allies himself with its members on the city council. When RPA first emerged a decade ago, Butt applauded the idea that 'a seemingly unlikely group of Greens, Latinos, progressive Democrats, African-Americans, and free spirits' could forge the 'first Richmond coalition in memory united over ideals rather than power and personalities.'
"Butt's sudden decision to run for mayor this year came eight months after RPA activists, including McLaughlin, first tried to persuade him to join forces with them, in more timely fashion. McLaughlin and Vice-Mayor Jovanka Beckles are currently seeking election to two of the four Richmond council seats up for grabs. A third member of their RPA-backed 'Team Richmond' is retired teacher Eduardo Martinez, who was runner-up in the council race two years ago."
Previously, Butt had backed Democrat Charles Ramsey, president of the Contra Costa County School District Board, against Chevron's favored candidate, 82-year old Nat Bates, senior member of the Richmond council and reliable business booster. Ramsey pulled out of the race and announced his candidacy for the council.
"In the meantime," writes Early, "the RPA tapped Mike Parker, an experienced community organizer and articulate critic of Chevron. A longtime auto union activist in Detroit, Parker is retired from Chrysler and teaching local community college students in Contra Costa County how to become skilled industrial electricians and technicians.
"As a mayoral candidate, Parker spent the last five months energetically and effectively canvassing door-to-door and recruiting volunteers. He also racked up a series of helpful labor endorsements, including Service Employees Local 1021 (which represents Richmond city hall employees), the California Nurses Association, National Union of Healthcare Workers, Amalgamated Transit Union and Communications Workers Local 9119.
"Late last week, to his considerable dismay, Parker found himself hurriedly conferring with Butt and getting what RPA strategists hope will be sufficient commitments from him about campaign coordination and future council cooperation. On Friday morning (August 15) Parker announced his withdrawal from the mayor's race to avoid a November election scenario in which 'the progressive vote would likely be split.'
"Parker declared he was still going to be 'an active part of Team Richmond' this fall. He promised 'to work very hard to continue the progress we have made in Richmond' by electing candidates 'who represent a different kind of politics, based on organized people-power not on corporate power.'
In the three months before Election Day, Early concludes, Big Oil's candidate Nat Bates "will also be fine-tuning the pro-Chevron message he has been delivering so dutifully for years."
[Read Steve Early's article: http://beyondchron.org/richmond-line-reshuffled-fall-contest-chevron/.]
September/October 2014, ATC 172