Against the Current, No. 170, May/June 2014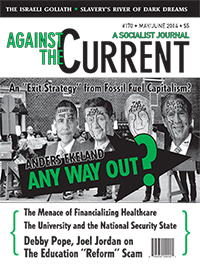 THE ASSOCIATION IN Defence of the Wrongly Convicted issued this tribute to Rubin "Hurricane" Carter, its longtime activist and director from 1999-2005. Carter served 19 years, and John Artis 15 years, in prison for a murder they did not commit, and became symbols of the struggle against racial bias and prosecutorial abuse in the criminal justice system.
Rubin made it his life's mission to help others who had been wrongly convicted after his own exoneration for crimes he did not commit, but for which he spent 19 years in prison. Rubin's celebrity status as a championship boxer and his wrongful conviction generated significant media attention worldwide which helped draw attention to his work in Canada with AIDWYC.
Rubin spent many years supporting the work of AIDWYC by reviewing cases, attending inquiries, participating in press conferences, supporting the wrongly convicted (both in Canada and abroad), and encouraging important changes in the Canadian and American criminal justice related to wrongful convictions. Rubin was the "face" of AIDWYC for many years and was devoted to raising awareness of these grave injustices. Rubin promoted and participated in every AIDWYC event and brought worldwide attention to our mission.
Rubin will be remembered by those at AIDWYC who were fortunate enough to have worked with him as a truly courageous man who fought tirelessly to free others who had suffered the same fate as he. We are honoured that Rubin played a significant role in the history of our organization. We will continue to fight against wrongful convictions, a battle that Rubin valiantly fought until the day he died.
Rest in peace Rubin, your battle is over but you will never be forgotten.
May/June 2014, ATC 170