Against the Current, No. 168, January/February 2014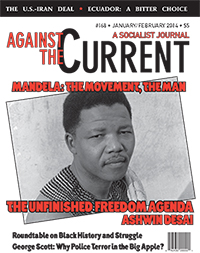 This article was originally developed as a presentation on the realities of police brutality and the character of organized opposition in the city. The author is a member of the New York City branch of Solidarity.
I WANT TO explore a political question around the role of current police repression in the United States. I think we'd all agree that capitalists will use various state apparatus to accomplish their goals. But actually I'm looking for a more thorough, more complete, and nuanced answer to explain some of our experiences in NYC over the past dozen years.
I'm not really talking about the surveillance net being dropped on our heads (thanks for the details, Snowden), and I'm not even focused here on the situations where we're actively and self-consciously protesting something or another — whether NY Police Department surveillance, infiltration of Occupy Wall Street, our other marches, rallies, actions.(1) I'm talking about people's in-person experience with the cops on a day-to-day basis — I'm talking about "stop-and-frisk."
It became the central issue in the recent mayoral election. The newly elected mayor, Democrat Bill de Blasio, said he would end the program. Yet his chosen police chief is the former police chief Bill Bratton. His transition team issued a press statement quoting de Blasio: "Bill Bratton is a proven crime-fighter….He knows what it takes to keep a city safe, and make communities full partners in the mission." In Bratton's earlier stint as police commissioner under Republican Mayor Rudy Giuliani, he championed the tactic.
Stop and frisk, whether or not called by that name, is the prime police strategy directed at profiled communities.
In 2010 the NYC population was 8.33 million residents, of whom 2.1 million were non-Latino Blacks (26%), 2.4 million Latinos (29%), 2.7 million whites (33%) and 1.1 million Asians (13%). Fifty-two and a half percent were women, the rest categorized as male, with no breakdown for transgender people.
According to data on the NYPD Stop-and-Frisk from the NY Civil Liberties Union, the year Bloomberg took office (2002) there were 97,296 incidents; only 18% of those stopped were charged with anything. By 2003 this had risen by about 65% (to 160,851 stops), while the proportion charged with any crime, or even cited, dropped to 13%. Of those, 77,704 were Black (54%), 44,581 were Latino (31%). 17,623 were white (12%), 83,499 were aged 14-24 (55%) and 87% were identified by police as "male."
The number of incidents steadily rose, peaking in 2011, when the NYPD stopped people 685,724 times; only 11% were charged or cited. Of these, 350,743 were Black (53%), 223,740 were Latino (34%), 61,805 were white (9%); 341,581 were aged 14-24 (51%) and 91.5% were identified as "male."
I think we can get an outline of the scale of racial profiling. Getting stopped and possibly beaten by the NYPD is the experience most people of color have had, or they know a close family member or friend who has been. This is especially true for Black folks, yet this experience is one that VERY few white folks share. Clearly white radicals have been on the sideline of the struggle against police brutality and racial profiling for far too long, and we need to immerse ourselves in this important struggle.
Opposition to Stop and Frisk
In the late 1990s, after the shooting of Amadou Diallo, the late Richie Perez, leader of the National Congress of Puerto Rican Rights and the Coalition Against Police Brutality (CAPB), suggested that they file a lawsuit against NYPD's stop and frisk policy. The Center for Constitutional Rights agreed to help; Djibril Toure of the Malcolm X Grassroots Movement (MXGM) was a plaintiff in Daniels v. the City of New York.
The Coalition Against Police Brutality included the Audre Lorde Project (ALP), CAAAV — Organizing Asian Communities (founded in 1986 as the Committee Against Anti-Asian Violence), Desis Rising Up and Moving (DRUM), the Justice Committee (JC) and the MXGM. They organized around the case, showing that the NYPD routinely violated the rights of the Black community by subjecting tens of thousands to stop and frisk. In 2003 they won their case and succeeded in forcing the NYPD Street Crimes Unit to disband.
Organizing continued and MXGM became a participant in a subsequent lawsuit, Floyd et al v. City of New York (where three MXGM members were plaintiffs). Utilizing the statistical information obtained in the Daniels case, Floyd challenged the NYPD's practice of unconstitutional stop and frisks of Black and Latino New Yorkers. This past summer, Federal Judge Scheindlin decided Floyd in favor of the class action plaintiffs. The New York Times reported.(2)
The judge found that for much of the last decade, patrol officers had stopped innocent people without any objective reason to suspect them of wrongdoing. But her criticism went beyond the conduct of police officers. "I also conclude that the city's highest officials have turned a blind eye to the evidence that officers are conducting stops in a racially discriminatory manner," she wrote, citing statements that Mr. Bloomberg and the police commissioner, Raymond W. Kelly, have made in defending the policy. Judge Scheindlin ordered a number of remedies, including a pilot program in which officers in at least five precincts across the city will wear cameras on their bodies to record street encounters.
Earlier this year, Scheindlin also ruled in an American Civil Liberties Union-initiated case, that the NYPD must have probable cause in order to stop people in private buildings, even when the landlords request extra police presence.
Bloomberg appealed these two latest rulings. Further, an appeals court halted the implementation of Scheindlin's recommendations and even removed her from the case — ostensibly due to her public remarks in response to Bloomberg's criticisms of her. With the election of de Blasio as mayor, however, it's expected that when he takes office in January he'll either drop the appeal and implement her recommendations or perhaps use the appeal as leverage to settle the case without having to deal with a court-appointed monitor.
Aside from these class-action suits, routine Civil Rights lawsuits against the NYPD have cost the city around $520 million in settlements FY 2011-2013.(3) Settlement payouts have grown by astounding 70% since 2006, and represent roughly six times what Los Angeles spends defending the LAPD.
Parallel to the legal challenges, advocates and progressive local politicians drafted and campaigned around a package of municipal legislation called the "Community Safety Act." These are two bills that:
1) Strengthen the prohibition of racial profiling by NYPD. The law specifically includes prohibitions against profiling homeless and transgender people and affirms the need for probable cause for NYPD to conduct a Stop and Frisk.
2) Create a new independent "Inspector General" to oversee NYPD compliance with the law and judicial rulings.
The latter was seen as necessary because the NYPD and Mayor Bloomberg had clearly failed to do this themselves. The legislation also created a remedy for anyone who successfully shows that the NYPD violated either provision. It does not award monetary damages, but can lead to prohibiting specific police practices if they contribute to violation of the law. The legislation was overwhelmingly passed by the City Council. Bloomberg vetoed it, but the Council overrode his veto.
Responses to Police Brutality and Murder
The 1999 shooting of Amadou Diallo, 22, was a major turning point in mobilizing people to oppose racial profiling. Four white officers in the Street Crime Unit fired 41 shots at Diallo while he stood in the vestibule of a building. They testified that they thought he was reaching for a gun. In fact he was reaching for his wallet. Nineteen bullets hit Diallo yet the four officers were acquitted in a jury trial. His parents sued, maintaining that his murder was a case of racial profiling. They received a $3 million settlement.
In 2006 Sean Bell, a young father, was murdered along with his friends on the night before his wedding. A series of vigils, press conference and marches, led by 1199 SEIU and Sharpton's National Action Network (NAN), organized peaceful, contained actions in midtown.
The year 2012 was particularly bloody, with 21 people killed by NYPD. Ramarley Graham, 18, an unarmed teenager, was chased to his grandmother's apartment in the Bronx and while he flushed marijuana down the toilet a NYPD officer, who had no warrant, shot and killed him. The movement for justice in this case has been based in Graham's neighborhood, and supported by several unaffiliated leftists. Large and consistent rallies have been held in front of the 47th Police Precinct. In December 2013 a grand jury refused to indict the officer and a rally was called for the following day.
Last March Kimani Gray, 16, was shot and killed by two NYPD officers in East Flatbush, Brooklyn. They claimed he had a revolver, although no shots were fired, but one eye witness told the police and press Gray did not have a gun nor did the police identify themselves when they accosted him. The police fired 11 shots, three of which hit and killed Gray. Over the following days the neighborhood saw enormous vigils and marches. Without significant organizational infrastructure, left or otherwise, notice of marches was spread by word of mouth. During these events many of the youth who marched angrily confronted the police and the media. Cops responded by barricading the whole neighborhood. Gray's parents have called for an independent investigation and have filed a wrongful death suit.
Even though the murder of Treyvon Martin wasn't the work of the police, whether in New York City or Florida, I'd also like to mention his case because it certainly impacted those of us living in New York City. Several very large rallies were held and all clearly identified George Zimmerman as a product of the same repressive apparatus as the police.
After the jury trial produced a "not guilty" verdict for Zimmerman this past summer, about 10,000 people marched through midtown Manhattan in an entirely unpermitted action. It disobeyed all NYPD demands, and blocked Times Square for hours. After nearly eight hours of marching and blocking traffic, most people just got up and went home.
Since I have been following these cases over the last six or seven years, I notice that rallies and marches have gotten significantly larger and less restrained. Organizers no longer seek NYPD "march permits." The role of traditional organizations, such as the National Action Network, has decreased while Cop Watch, People's Justice Coalition and other forces have grown. The tone and direction of actions has been increasingly militant, and many occur in neighborhoods where the murder has taken place.
MXGM has led a movement in NYC to monitor and discourage police harassment and abuse. As part of their overall People's Self-Defense Campaign, MXGM operates Cop Watch, a program in Central Brooklyn, and has trained many other groups as well. Around five years ago, MXGM helped found the People's Justice Coalition, which has focused on further expanding Cop Watch programs across the City and supported other aspects of the fight against police brutality.
To my knowledge, Cop Watch is the most sustained grassroots aspect in opposing police harassment and violence. The other initiatives are either lawyer-led (court cases), lobbyist-focused (legislative) or relatively short-lived responses to individual cases of police brutality. Their approach is quite different from the October 22nd Coalition, which has organized national "days of action" every October 22nd since 1996. This national network of anti-police brutality organizers has an annual event rather than the ongoing approach that Cop Watch encourages.
Looking back over the massive effort to intimidate people of color in NYC over the course of the Bloomberg administration, I can only conclude that Bloomberg has determined that Stop-and-Frisk is not just another tool of social control among many, but that it was the central tool.
What Makes It Necessary?
As the Bloomberg era ends, we can see that over the past 12 years income inequality in NYC has dramatically increased. In fact income inequality in the city has risen even faster than nationally. A 2012 report from the NY-based Fiscal Policy Institute, a Union-funded think-tank, concludes that "No state is more polarized than New York, and no large city is more polarized than New York City."
How does aggressive policing reinforce income inequality? Is it necessary for capital's political representatives to spend such a huge effort harassing people who are not engaged in illegal activity?
One answer is contained in the Floyd lawsuit: State Senator Eric Adams (a Black former NYPD officer) testified(4) that NYPD Commissioner Ray Kelley told him the NYPD is using stop and frisk "to instill fear into African American and Hispanic youth, so each time they leave their home, they feel as though they can be stopped by the police."
"Instilling fear" is pretty much the textbook definition of terrorism, isn't it? That's an acknowledgement of what so many individuals and families has been experiencing for a long time, but of course doesn't answer why that terrorism is needed. Herewith a few initial thoughts:
Preventing crime? Nope. If your "modern policing" tactics end up being wrong over 90% of the time, its ineffective crime fighting. And while the NYPD justifications shifted, crime continued to decline even as the number of stop and frisks has declined(5) since 2011 (in response to opposition outlined above). The stop and frisks are not fighting crime, and they are not preventing crime either.
Protecting wealthy residents? I'm sure this is part of the rationale (especially for number that occur in downtown Manhattan), but with NYC so segregated, this doesn't account for the majority of stops. Of the six neighborhoods with the highest rates of stop and frisk,(6) maybe one or two are in rapidly gentrifying areas (East Harlem and Williamsburg, Brooklyn); the others are not really gentrifying (i.e. East New York or Brownsville in Brooklyn).
Feeding the Prison Industrial System? One might think this is the obvious answer, but with so few arrests this doesn't seem to pan out. Convictions are most likely to be for minor crimes (small amounts of drugs, disorderly conduct, etc), which aren't going to get you that much time in NYC (some of our worst "get tough" laws have eased up a bit lately).
But while stop-and-frisks don't produce many arrests, the broader "war on drugs" is does set the stage. While many have been writing and speaking about this for decades, Michelle Alexander has brought renewed attention to the mass incarceration of people of color with The New Jim Crow. Though incarceration rates in the United States are astronomical (roughly 2.3 million), even more extreme are the numbers of people who are on probation and parole (over five million in 2008).
Alexander outlines the many barriers that these ex-prisoners face in establishing economic stability. They are barred from most safety net programs (welfare, public housing, etc.) and legally discriminated against in employment and housing, ineligible to vote in a number of states.
Maintaining this massive population of excluded and exploited people of color outside the prison walls, Alexander argues, is the most powerful aspect of the "New Jim Crow." It effectively economically hobbling entire communities of color, much like the "old" system. Her book doesn't develop that point much further, but recently she's been acknowledging intersections of Capital's imperatives with mass incarceration as a means of social control.(7)
In addition to the other inhumane aspects of mass incarceration, the system serves to legalize and enforce an austerity regime on communities of color, centered on a growing population of probationers and parolees. This attempt to permanently criminalize and marginalize people of color may be a taste of what is to come.
New Jim Crow and Austerity
In his presentations on the necessity of austerity,(8) Charlie Post proposes a logic that seems to resonate: working-class communities of color, especially young African Americans, have been the most rebellious over the last 150 years of American history. Perhaps the ruling elite has concluded that "These people won't continue to accept our austerity regime for much longer so we must pre-emptively terrorize them to discourage any significant rebellion."
Politically, then, stop-and-frisk is serving a similar function to white vigilante mobs of the Jim Crow era. Both are attempting to impose an oppressive but profitable economic system on Blacks and other people of color. Both need to convince African Americans that rebellion is suicide.
If this is basically the latest incarnation of white supremacist vigilante rule using mostly Black and Latino cops, why was it so important to develop this tactic during Bloomberg's years? Why not earlier? In what ways is it significantly different from earlier versions of racial terrorism? And what concrete evidence might we look for or find in NYC that could shed light on the mechanisms behind various tactical shifts of white supremacy?
As we see with the Bratton appointment, Mayor de Blasio may not turn out to be as much change as the voters demanded in his landslide electoral victory. Bratton has signaled less of an end to Stop and Frisk than a modification designed to minimize further opposition. Ironically, while announcing the appointment of the person who helped design the tactic itself, de Blasio stood in front a sign that read "Transitions NYC."(9)
Will Bratton perform a magic trick that will give new life to this specific regime of racial terror? Is this a central tactic of modern capital nationally, or just a localized thing? If opposition continues, what other tactics might serve to provide the same kind of social control?
If this line of analysis is going in the right direction, perhaps we need to develop a greater appreciation for how organizing against Stop and Frisk is not just about building "organizational capacity" in order to be effective, but about confronting terrorism itself. I know that in my workplace organizing, fear of the boss's power is one of the hardest things to "unlearn."
In opposing Stop and Frisk through public rallies and marches, what is the role that fear might play in our ability to mobilize. How do other emotions — such as apathy or hopelessness — play out?
All these questions seem to have implications for organizing. How we position ourselves in these struggles may help or hinder not the future of these struggles but the Left's ability to learn and grow over the coming period.
Notes
January/February 2014, ATC 168