Against the Current, No. 167, November/December 2013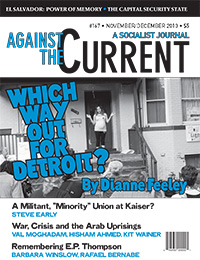 A Turnpike Utopia:
Poems to Resist Environmental Destruction for Profit and War
by Sam Friedman
Central Jersey Coalition Against Endless War,
46 pages, Available from the author at sam4wp@netscape.net.
Written as a fundraiser. Price: whatever you can afford
(at least $3 to cover costs).
BACK IN THE 1950s as a high school student, I had to read Edwin Markham's "The Man with the Hoe." What happened was exactly like Emily Dickinson described: the top of my head blew off!
Later, when a professor asked how I came to be involved with fair housing issues, American Indian activism, feminism and so forth, I gave him a copy of "The Man with the Hoe." I distinctly remember that he did not lose the top of his head, not even when reading
Time's tragedy is in that aching stoop;
Through this dread shape humanity betrayed,
Plundered, profaned, and disinherited,
Cries protest to the Judges of the world,
A protest that is also prophecy.
I often wonder how, in those innocent high school years of mine, such a political poem could have "changed the chemistry of my soul" to use Denise Levertov's phrase from The Poet in the World.
I lived in an environment where there were no newspapers, no television and an extraordinary amount of religious fundamentalism.
Whatever mysterious communication took place between me and Markham's poem that day was an important first step that helped set the direction of my life towards social justice. Throughout my professional life as planner and now as a working poet, I have always been drawn to the poetry of protest, especially when I have had the privilege of knowing their authors.
Sam Friedman and I came to know each other through our friendship with Hunter Gray, who moderates several private, online social action groups, and who has written articles for this magazine.
A few years ago, I volunteered to review Sam's draft manuscript of some new poems and began to pay closer attention whenever he posted poetry online during our various discussions. He is a man intimately grounded in the urban world and its issues of AIDS, workers' rights, racism, the mistreatment of immigrants, and so forth.
In "Pledge of a 'Good American,'" he is not afraid to goad the reader into taking more responsibility than "…pledg[ing] to do nothing but vote. I particularly liked "After, On the Way to Thereafter," where he uses his poet's good craft to describe how he builds his global city:
…I may write a paper on AIDS,
or hug and console
a stranger or friend.
My evening, perhaps, put our heads in the oven
as we clean a community stove,
or I may weave a poem, or rest overlong,
or whatever seems needed and fun
as we build our embraceable
new global city
from the petals and rootings of dreams.
Picture Poetry
The poems I love best in this chapbook are seven ekphrastic poems, or picto-poems. Another practitioner of this form is the Anishinaabe poet, Dr. Kimberly Blaeser, professor in the English Department of the University of Wisconsin.
Sam's short poem "Tuna" best illustrates the blending of words and image. The poet asks, "…do they turn bellies up / as they float into extinction / dreaming of sushi bars without sushi / of weeping humans / without their dead to eat?" Just below the two stanzas of the poem is a graphic photograph of a dead tuna. I wish the image could have been in color, as dreadful as that would be!
The title poem, "A Turnpike Utopia," is either a little playful or tongue in cheek. It took me awhile to chuckle! But that photograph of hundreds of ducks clogging an intersection was too good to be true. Read this poem aloud! Savor these lines:
…they quack forth their horror
at ponds full of benzene,
they weep for their rivers
all covered with scum.
to:
The geese seize the White House
as ducks fill the Senate:
…Their guano makes fertile
the halls and the rostra,
replacing the bullshit
where money once reigned.
My favorite of Sam's eckphrastic poems came to be "Second Negation: Notes on the Day after the Revolution." "What the hell do we do next?'' the poet continually asks, in the face of a photograph looking like it came from Cairo's Tahrir Square during the Arab Spring uprisings. "How will we live our meanings…? / How do we unleash the sleeping poetry? the smothered power to create / that waits like crabgrass / in the brains and hands of everyone…?" And towards the end, the poet — honest yet hopeful, has the courage to say,
I ponder the epic mistakes our revolutionary
democracy
is undoubtedly making
even as I rove, wander and scribble
through the rubble, the wonders, and the
shoving salvation
as crabgrass pushes aside the arid asphalt
of Madison Avenue
to seek its sun.
In the introduction, Paul Sauers rightfully praises Sam's ability to "connect the dots between Wall Street, dying fish… [and] grotesquely profitable fossil fuel energy companies…" I would add to this praise that it is Sam's strong vision that shines through our nights, as in "August Outage":
In my five hours wandering without electrons
on the midtown streets of Manhattan,
in the ghetto core of Plainfield, NJ,
and throughout the long bus-sit between,
I hear no hostility,
share confusion, water, and thoughts
with many strangers,
make many friends
of the moment
of this moment when solidarity flowers,
this moment nested between years
of shoving, pressure,
talons,
fangs.
November/December 2013, ATC 167