Against the Current, No. 166, September/October 2013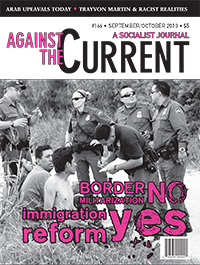 Ten Freedom Summers
a 4-CD box set by Leo Wadada Smith
Cuneiform, 2012, $26.
IF YOU BUY one jazz album this year, make it this one. This is not merely a moving testament to the contributions of African Americans to a free creative folk music of the Americas. It is y/our music. Savor it, and pass it down.
Ishmael Wadada Leo Smith, the American trumpeter, multi-instrumentalist, composer and teacher, has spent more than three decades composing the four-hour-twenty-minutes of music on this set. Premiered in October 2011 and recorded in Los Angeles a month later, Ten Freedom Summers is not strictly speaking a suite; instead, Smith states, "each composition … is complete and stands on its own." There are currently a total of 21 separate pieces, 19 of which appear on the new release, thematically linked and subdivided into three smaller collections called "Defining Moments in America," "What is Democracy?" and "Ten Freedom Summers" so that all can be performed over the course of three nights.
I cannot possibly do justice to all the music here, so will instead chart some of the highlights and provide some background information. The project features the juxtaposition of a classical chamber string ensemble with Smith's own Golden Quartet: Anthony Davis (piano), Susie Ibarra and Pheeroan akLaff (drums), John Lindberg (bass), and Smith on trumpet.
The Southwest Chamber Music ensemble consists of Alison Bjorkedal on harp, Jim Foschia on clarinet, Lorenz Gamma on violin, Peter Jacobson on cello, Larry Kaplan on flute, Jan Karlin on viola, Tom Peters on bass, Lynn Vartan on percussion, Shalini Vijayan on violin. The resulting sound is capable of producing vibrant tone colors set in gorgeous combinations.
Thematically, the work stretches the summers from 1954, and the Brown vs. Board of Education decision, to the Civil Rights Act of 1964. The overall structure is inspired by August Wilson's epic (ten century) historical method which takes up the concept of a quest for liberation.(1) Smith shares with Wilson the attempt to offer moments in the African-American experience through performances where a community might come together to bear witness to events.
We hear demanding strains suggestive of the great struggle for dignity, the great struggle of the composition titled "America, Parts I and II" (of course there can't be just one part to an organic whole).(2) These forces are then faced with occasional hard object-like blocks that a group of players, sometime an individual, will attempt to overcome. The composer's official statements set its aims predictably high: "This musical work is the result of my research and reflection concerning the philosophical, social and political history of the United States of America."
Smith has been an outspoken critic of the unequal pay women receive, especially in institutions of higher education, and repeatedly expressed his support for a national healthcare system. Moving in circles of conspicuous silence on issues of great importance, it is refreshing to know that he relishes any opportunity to make political statements during interviews and performance spots. "If everyone is hungry and wants to get a job and then they vote for the wrong person to be in office, that don't mean that they don't have the potential for change. They do have it, but it means that they didn't take the opportunity to use that energy that they have for change. They did allow the status quo to outweigh their own personal experience."
Time, Place and Music
Referring to the influence of geography on his music Smith characteristically launches into some apposite remarks on the state of the arts:
"Place functions like this: it does definitely give you a new canvas to paint on, but you still have the same heart and head and intelligence. And the same problems that you face on one side of the continent are also on the other side. And the people that you are trying to make art for, in any corner of the world, they suffer the same problems of hunger, of no national health care, of very little concern for community development, and bigness, too much bigness.
"Hospitals are now managed by administrators who have nothing to do with medicine, and art conglomerates are run by art administrators who know nothing about art…So the issues of addressing the human equation or the human condition don't change, you see."
The composer firmly situates himself as a child of the Deep South who was raised in the crucible of the Civil Rights Movement and inspired by such blues legends as B.B. King. "I was born in 1941 and grew up in segregated [Leland] Mississippi and experienced the conditions which made it imperative for an activist movement for equality," Smith says, who marked his 70th birthday with a presentation of the work.
"I saw that stuff happening. Those are the moments that triggered this. It was in that same environment that I had my first dreams of becoming a composer and performer." He knew at the age of 12 that, since he already wrote music, he would be a composer.(3) Smith played in the horn sections of rhythm-and-blues bands, went on the road with Little Milton, and toured Europe with Anthony Braxton, Leroy Jenkins and Steve McCall at a time when America was still largely unappreciative of the explosion of free jazz.
"When you live in the South, you're constantly part of the civil rights movement," he says. "I was walking home late at night in the downtown area. A car came swiftly and a bunch of white boys got out, intending to do damage to me. Nobody else was on the street. One of the boys recognized me and said, 'That's Leo. He plays at the country club.' They all got back in the car and left."(4)
Smith vividly remembers "the psychological fears that many African Americans felt when 14-year old Emmett Till was brutally murdered [in 1955, for apparently flirting with a white woman] and many activists were killed changed the way we moved through the street." "Everyone watched out for the children, young men, and women; and from houses one could see people looking out from their windows making sure that nothing happened to you."
Stretched cello tones create a downright creepy landscape where other instruments can step in almost as a weeping chorus. The ensemble's tensions seem to grow more complex as they meet the jazz band, boding ill for both when they eventually clash. The piece for Till encompasses the defiant stridency of generations of Americans who grew up with social justice values, even as the cold war waged by prejudice both within the Civil Rights Movement and without it would seem to prove otherwise.
While serving in the Army, Smith experienced the peculiar forms of racial subordination and glorification imposed on African-American soldiers, writing music in notebooks while most other soldiers merely wanted to play the notes on the sheet music. Smith still writes his music by hand, then spreads the score onto the floor and walks through it — the Ten Freedom Summers manuscript standing at well over 200 pages. He also incorporates graphic scores, occasional ear whispers and gestural signals, videography and poetic ruminations. Each musician must study the full score so that, in conformity with Smith's method, they can grasp the totality and contribute appropriate tonalities and improvisations (necessary for a method that emphasizes proportion and expression rather than meter and key).
The somber mood of a funeral motorcade receives its measures in the music for John F. Kennedy's assassination (while writing the piece, Smith watched televised images of the funeral to get it just right). Yet the sound suggests a deeper sadness. "I was in the Army band stationed in Louisiana," Smith recalls. "When I went to the Day Room [where the assassination news was on television] I saw my band master and his first officers dancing for joy. My heart sank to the floor… I could never respect those men after that; later I asked to be transferred to Italy."
AkLaff and Ibarra provide the tolling drums in sections of "John F. Kennedy's New Frontier and the Space Age," sensitive to Smith's years of studying ethnomusicology(5) and combining with the orchestra's repetitive attacks to recall a '50s science fiction soundtrack (perhaps one where the primordial alien must face a misunderstanding and fearful administration. There are good reasons why Sun Ra said he was from outer space, not racist Birmingham, Alabama.)
Recalling Mississippi in 1964
There's a fabulous celebration of Fannie Lou Hamer, founder of the Mississippi Freedom Democratic Party, the former cotton-picker who like Smith grew up in a segregated Mississippi, and who brought the sound of the fields to her reworking of Christian hymns to turn them into many of the protests songs we know and love and sing.(6)
She later said of the violent summer of 1962 when she quit the plantation after James Bevel, the SNCC coordinator and associate of Martin Luther King, pleaded with Black Mississippians to go to the voting booths, "I guess if I'd had any sense, I'd have been a little scared — but what was the point of being scared? The only thing they could do was kill me, and it kinda seemed like they'd been trying to do that a little bit at a time since I could remember."
SNCC field offices had been set up all over the state for the purpose of canvassing for voter registration and Bob Moses sought her out for the position of field secretary-at-large as "the lady who sings the hymns." Lindberg's solo on Smith's composition is phenomenal, remaining spirant while calling in the drums and the rest of the grouping in a gesture of profound kinship.
Locked out of Mississippi Democratic Party meetings and denied the right to vote, in April 1964 Hamer and others decide to establish a racially integrated Democratic Party, naming it the Mississippi Freedom Democratic Party. After signing up 60,000 members that summer alone, precinct and county primaries were held and delegates elected to a state convention where 64 Black and four white delegates were chosen to challenge the "regular party" delegation at the Democratic National Convention in Atlantic City, New Jersey.
Aaron Henry, a Black pharmacist, was elected chair and Hamer was elected vice-chair. By the time the MFDP delegates arrived, they had won the support of nine other state delegations, 25 Congresspeople, and the United Auto Workers. That summer, Freedom Schools opened in Mississippi, at that time the poorest state in the country.(7)
Violence against the organizers was relentless. The liner notes begin with a quotation from Southern Christian Leadership Conference member and protester Dorothy Cotton detailing "forty-five straight nights of beatings and intimidation" in St. Augustine, Florida. "We sang every night before we went out to get up our courage," she continues. "The Klan as always waiting for us — the folk with the chains and bricks and things — Hoss Manucy and his gang. After we were attacked we'd come back to church, and somehow always we'd come back bleeding, singing 'I love everybody.'"
During the summer of 1964, 30 Black homes and more than three dozen churches were firebombed or destroyed in Mississippi. On June 4, three civil rights workers connected with the voter registration project went missing. "I'm sick and tired of being sick and tired," Hamer told her amassing listeners. Smith draws on her example to explain to his listeners and students that true freedom is not found or discovered because of fortune; it is earned through the persistent quality of the hard work of those who struggle to make themselves heard. (Activism, like music, is 90% perspiration.)
Like Hamer, Smith understands that it is the principle within actions and words that requires our deep understanding and respect. "From now back to the past," he says, "we can observe clearly that none of us is free." He again emphasizes "the psychological part. The basic reality of the human being is that if you can tap into the psychological reality of the decisions they made… When I write these pieces, I walk through those peoples' lives daily while I am writing it. … For example, Fanny Lou Hamer… How could a woman like that realize in an instant that human rights was an important issue? That she should dedicate her life to [it] and that voting is part of her civil liberties that she should partake in? …That makes my heart open with a river of joy. Because that says that woman understood something about the human experience that most people never, ever get to in a full life. …"(8)
"Wadada was absolutely right when he told me, 'It's time for these people to become American heroes, not just African American heroes,'" says conductor Jeff von der Schmidt who has worked with the composer before in order to make his methods accessible to the largely classically-trained musicians. Schmidt calls Ten Freedom Summers "an African-American Ring Cycle" (in reference to Richard Wagner's opus), a nonverbal gestalt in which powerful voices and social forces interact, offering "inquisitive psychological examinations" that do not simply focus on heroes or martyrs but rather on the traces of history in personal memories that form a cultural memory in the present.
The "first" piece, so to speak, "Medgar Evers," is also in some ways the end-piece, the piano and drums at last overpowering the string ensemble. The lush sounds of violins and flute on "Medgar Evers: A Love-Voice of a Thousand Years' Journey for Liberty and Justice"(9) create a spectrum of aural emotions with vigorously swirling strings and sapient flute in the foreground.
The piece also provides a moving tribute to the late composer-violinist Leroy Jenkins, whose first request to Smith to write the piece back in 1977 launched the entire project. I was lucky enough to see Jenkins play a solo concert in an intimate gallery space shortly before he passed, and when he encored with 'Nobody Knows the Trouble I've Seen' more people than not wept during the final strains than not. The music is so powerful still today in my mind that I honestly cannot remember whether Jenkins sang the whole thing or just joined in with the violin for the chorus — art is nothing without the fragility of the afterlives memory affords it.
Maybe it takes an immense gift like Ten Freedom Summers to remind us to listen, while we still can, to those who devoted their lives to this "other" tradition of protest music.
Resonances of the Movement
The stirring eloquence of "Martin Luther King: Memphis, the Prophecy" takes up the circumstances of the largely improvised form of King's last public speech, and is the piece Smith chose to close the concert performances. Its dark string tones slowly allow space for a somewhat cheery clarinet, but the buildup is slow and sadness washes over the clash of chamber musicians and jazz quintet. Perhaps it is fitting that there is no real fanfare for a finale, as the motion set forth by the 1960s was not met with a mass movement in the '70s and '80s. Throughout, Smith's music manages to articulate the longing for justice that was always pregnant in the pause of "Free at last, free at last."
Ten Freedom Summers draws upon, and interprets, key events in the history of the Civil Rights Movement from 1948 through 1964,(10) but provides social and historical resonances that reach well beyond these epochal struggles. There are always challenges for listeners struggling to engage with a wordless tribute in sound to historical events, not least the nagging doubt that maybe the necessary abstraction of the music has pushed off to a place where it has too little connection to the written titles' real-life meanings.
Perhaps these doubts can be soothed with the knowledge that we activist-listeners are asked to perform a role not unlike the interpreting musician, given the chart of a shape which we must fill with our own imaginative movement. We know in which general direction we might be headed but the 'how' of how we get there is up to us now.
In a helpful interview on the Southwest Chamber YouTube site (ah, the wonders of technology for bringing the arts down to earth), Smith explains that the music's relationship to the political ideas has both a "psychological" and a physical impact." Smith compares the complex multiple strands of grouped players as cohering through the principle of "gliding through the air . . . trying not to avoid each another [but] make connections, take disconnections, and move forward . . . these parts moving off the material inside it [the wind]," with the conductor bringing "the concept of wind."
The metaphor for the idea of a free society is stated clearly: "I think that connections will be pretty easily done…." The finest music in the blues and jazz traditions, no matter where it has travelled, has been about changing consciousness in the music itself and in the lives its touches upon. Each composition here not only addresses the underpinnings of landmark events, but also forms a multi-hued and nuanced artistic response to what Smith calls "the psychological transformation that America achieved" in the ongoing struggle to solve the problem of capitalist relations.
And how does music solve the problem? It allows the person a moment to reflect minus the distraction of living and being involved in living. And that reflection allows them that little moment with themselves so that they can figure out the best way to maneuver through this maze of a society. That's what art does for us, you see. And if a person that engages in experiencing art truly does drop the outside when they walk into an area to participate in art, they will be liberated. At just that very moment inside the theater or inside the performance space, they will be liberated. And they will have the same problems, but they have experienced a few moments of liberation to give them enough energy to carry on until the next challenge comes.
"There is a deep code embedded in Wadada's music that never fails to unlock new revelations for the performer," says Anthony Davis, whose many achievements include having helped reinvent American Opera with works like his definitive musical tribute Malcolm X (1992),(11) Tania (2001) and Amistad (2008). It is common language that asks to be understood, to be the spark for collective cognition. "For classical and improvising musicians alike, his music always makes us thinking musicians."
The Left has a lot still to learn from the social interactions of musicians like these. If there is a "deep code" embedded in the Civil Rights Movement in America it one that works best when decoding, when defiantly calling on the strength of all to break decisively with stifling regimes.
Musical Roots and Forebears
Smith's Golden Quartet has many incarnations, including many of the great figures in jazz. Stepping in to the quartet where percussionists Don Moye and Ronald Shannon Jackson have sat before him, akLaff's reputation could be staked on his playing here alone, ascending from chatter to a tidal roar, and his solo on "America" is one of the emotional highlights. Ibarra's immense sense of musical tactility, fed by her studies in the folk music of her Philippine heritage, is crucial to the feeling of depth, showing her lightning-quick sensitivity with the necessary added backbone.
Davis uses eye contact to time his scurries up and down the keyboard via the full physical movements of harpist Alison Bjorkedal (positioned across the other side of the stage during live performances). From the chamber nonet, Vijayan in particular contributes some impressive precise intonation in the highest register. Sections often start with the strings seeming split, running at great speed from opposite directions, suggestive of great tension that may or may not subsequently be resolved.(12)
It is a holistic method wholly suited to this probing journey, employing the concepts of rhythm and velocity "units" to convey finely calibrated antagonisms and releases. Thus we get some sense of the social distress and straight-up stress of being Black and working for a better America. A few attentive critics have already pointed to the kaleidoscopic, richly textured, vibrant music presented here, with counterbalancing rhythmic and intervallic "cell-units" (the term is Anthony Braxton's) charged with "spiritual dimensions."(13)
In the history of music, Ten Freedom Summers takes some obvious cues from Duke Ellington's Sacred Concerts, Max Roach and Abbey Lincoln's We Insist: Freedom Now!, John Coltrane's classic suites, George Russell's Electronic Sonata For Souls Loved By Nature, and the revolutionary sounds of "The Lion of Zimbabwe" Thomas Mapfumo.(14)
Smith's project creates a generous, respectful, sometimes solemn sometimes playful sound-world; a utopian space — "this worldview, this utopian environment in which you create and develop and present this music, is a perfect laboratory for any kind of new ideas"(15) — where Bartôk and Ives can meet Bob Marley and spirituals.
Straight-up indignation comes out when the strings attack the jazz grouping and the latter reacts wih blaring improvisation. This said, the predominant mood is reflective and humane rather than vituperative and resentful. You can feel the anger, but the music does not need to always sound angry in order to communicate this. "It was not written just to explore the anger of the African-American experience," Smith has said, "but to explore the American experience."(16)
I'd say that the more versatile jazz quartet/quintet "wins" over the orchestra, in part because of their appetite for all things "free" and their greater ability to lead by rhythm, often bursting out from the commissioned spaces to swing in their own time. For shining examples, check out the moment in "The Freedom Riders Ride" when Davis' Monkish blue chords rouse the quartet to urgent action, or the tympani and drums exchange as "Lyndon B. Johnson's Great Society and the Civil Rights Act of 1964" begins with an aural image reminiscent of LBJ's hands moving to signing the document into law.
"Thurgood Marshal and Brown vs. The Board of Education: A Dream of Equal Education" likewise gets a drum roll for the formal announcement of its arrival, while elsewhere recalling the loose, spirited joy of Lester Bowie's music with the Art Ensemble of Chicago. "A landmark decision," Smith says, "yet unfulfilled, but nevertheless it has the mechanism there to someday achieve…(17)
Composer, Conductor, Trumpeter
Like other fans I was initially disappointed to hear that Smith's own trumpet voice takes a seat back here to demonstrate his role as composer and conductor. There are just a few times I find myself missing Smith's full trumpet range. For this reason, first-time listeners should start with the tremendous opening of Disc Two and the track "Rosa Parks and the Montgomery Bus Boycott, 381 Days" (previously recorded on the Golden Quartet album Tabligh).
Smith's trumpet work always had the ability to unlock the precise yet gritty gravitas that the metallic instrument excels in. On this set he memorably mirrors one of his solos with that of the cello, where both try to step out of the shadows to take each other seriously. In the muscle-and-finesse tradition of Louis Armstrong and Miles Davis, Smith's powerful, diaphragmatic propulsion combines with the restraint with which he articulates individual notes — a striking, searing tone that can hush to the few muted slow-burns at the end of the sad and slow quintet piece "The DC Wall: A War Memorial For All Times," a testament to his lifelong opposition to the violence of armed conflict.
Most of Smith's compositions take the form of "shapes" that can be reconstructed in as many ways as interpreters can connate music from the material. And so Smith's own playing cuts like a blade or rings like a bell, moving from stentorian salvos or intimations of the steadfast dignity of Rosa Parks, to the searching tone and emotional depth he has become known for.
There are gut-wrenching moments such as the vocal strings moving from youthful verve to harrowing apprehension, clearing a space to cry amidst a background like still water in "Emmett Till," which also features superb solo arcos and duets from Peter Jacobson on cello and Lindberg (who has been playing with Smith since 1978) on bass. Like the Civil Rights Movements and this country itself, Ten Freedom Summers has deep resources that a cursory listen can only begin to take in.
What August Wilson called "the poetry in the everyday language of black America" shapes much of the heritage of the struggle Smith otherwise outlines. Where explicit reference to the justly famous freedom songs is missing, the listener is asked to search a little deeper for the spiritual[ism] in the song. Ten Freedom Summers does, after all, sound "old" — as is to be expected with compositions that date decades back — "old" of the eccentric, wise kind, rather than sounding stodgy or crabbed.(18)
It evokes not weariness but hope in the cadence of "freedom now," a hope echoed formally by the cumulative and sinuous effect of the set's most exquisite theme titled "Freedom Summer: Voter Registration, Acts of Compassion and Empowerment, 1964."
Freedom Summers Now!
The tragic aftermath of Freedom Summer in Mississippi today is found in the disfranchisement of African-American voters in that state, due to unfair election restrictions. In Mississippi, residents convicted of a felony lose their right to vote for the remainder of their lives. By 2000, about one-third of the state's Black male voters were ineligible from voting. A similar situation exists in many other states. In the liner notes, Smith explains that "None of these pieces are meant to simply be listened to," Smith explains in the liner notes. "They poetically suggest what can be done."
Ten Freedom Summers sounds like a call for another round of "compassion and empowerment," as called for by the recently departed and much-missed Manning Marable who proposed: "A massive civic education and voter mobilization campaign to restore the elective franchise to millions of blacks who have lost their voting rights must be initiated now. Let every summer be a 'Freedom Summer,' until every American citizen can vote."(19)
Smith's reflections on the rhythm of life make a fitting conclusion:
"(H)ow one deals with art objects and how those art objects are really institutions that express profound ideas about how this person, or any other person, views creation. . . . it does not come in an isolated environment, it comes out of a person who is in a social sphere. And that social sphere, everything that concerns them is placed in not just one piece but in every piece. You see, because I truly believe that a socialized being expresses their notion about that society continuously, if they're working in art, or if they're working in a factory, or working as a teacher…
"What really comes into play is how can one document this research that they have amassed and have other people experience it. Because the whole object of art is to make a better society. Not just for the person who's doing or the person who's looking, but at large, whether today or tomorrow or the future, to make a better society. And art objects live past the human tenure…."
"We have a world society now that has built a new generation of ideas about solving conflict based (on) war, or creating conflict to dominate other societies…And it has destroyed the human heart right now. And this repair — and there's a lot to repair and it's going to take a lot of sincere artists to do it — and right now I'm afraid that I don't have much trust in what's going to make the repair. And the reason I don't have any trust in it is because art is like every other system right now, and it has become commercial, you see.
"Now there's an underground, and there's always an underground, but by and large the commercialization of art has taken away the value that art has in society. It has lost that value. To get back to that value, that's really a very hard question to answer."(20)
Notes:
September/October 2013, ATC 166