Against the Current, No. 165, July/August 2013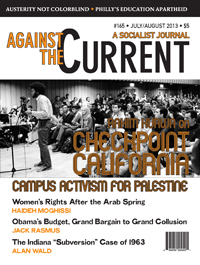 HOWARD WALLACE'S SISTERS and brothers in the queer, labor, elder and human rights movements have the sad duty to report his death on Wednesday, November 14, 2012 at beautiful Buena Vista Manor in San Francisco. A veteran of social movements since his high school years in Denver, Colorado, Howard was a radical, gay and trade union activist up until a year before his death from the destructive ravages of Alzheimer's Disease.
The January 6, 2013 Celebration of Life at ILWU Local 34's Hall was classic Howard, with lots of great music greeting attendees that could be heard for blocks and blocks away performed by the fabulous Brass Liberation Orchestra.
California Assembly Democratic member and very popular LBGT community leader Tom Ammiano, whose fondly contentious friendship with Howard marked their many years of successful collaboration, spoke of secretly dreading his phone calls or seeing Howard approach because "I knew I was going to be asked to do something."
The audience howled in acknowledgment, as many of us "suffered" the same treatment.
After the formal presentations, celebrants from the audience also shared their love of Howard, his principled politics and his fun-loving ways (he loved karaoke!).
The Celebration continued at a nearby popular restaurant just off the waterfront with an absolutely delicious spread of appetizing delectables and drinks. It was a grand sendoff.
A Precocious Organizer
Howard was born in Philadelphia, Pennsylvania on August 29, 1936 to Edna Horton Wallace and H. Milo Wallace. His parents relocated first to Worcester, Massachussets and then to Denver, Colorado where Howard spent most of his upbringing.
Howard came out to himself as a gay man at an early age. "I was aware of being gay in the second grade," he said. "It gave me a strong empathy with other underdogs that stuck with me all my life."
Indeed, his half century of activism and leadership leaves a record of the most important struggles of our times.
Howard was a junior in high school when he joined the local chapters of the NAACP and ACLU in 1953. He demonstrated acute organizing and leadership skills even at this very young age, managing the campaign of the first African-American candidate for the Denver School Board in 1955 at the tender age of 19, serving on the NAACP Denver and Colorado Executive Boards, and working for the passage of Colorado's Fair Employment Practices and Anti-Discrimination law in 1957.
In the mid-1950s, Howard's father threatened to cut off payments for his college tuition if he did not end his political involvement. Howard remembered, "He put a couple of checks on the dining-room table — the checks for next year's tuition — and said, 'Get out [of activism] and you can have those checks.' I tore them up in his face, and that was the end of my college education."
Howard worked as a Teamster and warehouse worker during those years and his activism increased even more, including most of the movements of that era.
In the early 1960s, he was a founder of the Denver Friends of the Student Non-Violent Coordinating Committee, which organized support actions for the Southern sit-in civil rights movement. He joined the ranks of the newly emerging anti-Vietnam War movement, helping to found Denver's Stop the War Committee and organizing an international defense campaign for Lt. Henry Howe, who was court-martialed and sentenced to a dishonorable discharge from the military and a year's hard labor for attending a 1965 antiwar demonstration.
He supported Chicano rights by working with the New Hispano Party in 1966 and by opposing police brutality in the Mexican-American community, campaigns which united African Americans and Chicanos over several years.
Even earlier, in 1962, Howard was in­volved in organizing the Denver Fair Play for Cuba Committee and it was around this time that he joined the Denver branch of the Socialist Workers Party (SWP), becoming in 1965 the party's candidate for the Denver School Board. He remained a member until 1972. He left the SWP after a disagreement over the importance of LGBT issues, which the party leadership was reluctant to take up.
Nonetheless, Howard remained a com­mitted socialist all his life and an avid admirer of Leon Trotsky's vision of socialist democracy that originally attracted him to socialism. Howard always treasured the photo of Leon Trotsky and Natalia Sedova that he kept on display in his living room even after his memory waned.
An opponent of what he considered the "two capitalist parties," Howard ran in 1977 as an independent for San Francisco supervisor against the late LBGT icon Harvey Milk. Later, without changing this fundamental view, Howard did periodically support local LBGT candidates running in the Democratic Party.
What Howard took from the SWP experience was the best of its organizing tactics — to organize people where they are, form coalitions and attract the broadest possible constituency, be militant, and always to draw connections with broader struggles.
Combining Labor and Gay Rights
Howard always linked labor to social movements, and made those movements reach out to labor. Because of this, the second LGBT labor organization that he founded is now part of the AFL-CIO.
Howard moved to San Francisco in 1967 with his lover Roger Hovland. He continued to work in the anti-war movement as a leading organizer of popular opposition to the Vietnam war and as a staff organizer for the National Peace Action Coalition. His efforts and those of other progressive activists to bring labor into the movement were successful when the Northern California Labor Councils were the first to officially oppose the war.
In 1969, Howard managed the office of the Community Conference to Support the San Francisco State Strike organized by Dr. Carlton Goodlet, publisher of the San Francisco Sun Reporter and a prominent African-American leader. Howard also spearheaded the victorious city-wide ballot measure Proposition J campaign in 1970, which called for immediate withdrawal from Vietnam.
With the rise of an organized gay movement in the early 1970s, Howard founded Bay Area Gay Liberation (BAGL) in 1975 which, according to Howard, "was to advance lesbian and gay liberation by reaching out to potential allies within the labor movement, the feminist movement and movements of people of color and national minorities."
The organization's life was brief but through its pioneering work, it did launch numerous mass actions for LGBT rights and dramatically increased the community's influence. During that same period, he also formed the Committee to Defend Gays in the Military and began his work on the Coors boycott in 1975 with San Francisco Teamster leader Alan Baird and AFL-CIO western regional director Dave Sickler, one of the most powerful and visible political campaigns of that era.
Howard recalled the origins of the Coors Boycott: "The Teamsters had a local strike at the Coors distributor. They came to Harvey Milk and me and asked for our support for the strike and boycott.
"Both Harvey and I endorsed it. Harvey used some of his influence with bartenders and bar owners in the Tavern Guild (a guild of about 100 gay bars in San Francisco) and BAGL activists also pushed the boycott strongly in all the bars.
"At that time Coors had a lie detector test they required of all their employees that included the question, 'Are you a homosexual?'"
He continued, "So I had a strong sense of the potential of this boycott because the main center of activists within the budding lesbian and gay movement was in bars, because that was a meeting place and a recreational place historically. It was a meeting place where people could let their hair down and be themselves, except for police harassment, and meet other lesbian and gay people in a relatively safe atmosphere. So we started getting Coors out of the bars. We not only got it out of the bars in San Francisco but we extended the campaign in about 13 other states."
The boycott formally ended in 1987 but many bars continue to exclude Coors from their beer lineups.
During this time Howard convinced the San Francisco Labor Council to become the first Labor Council in the country to go on record supporting Gay Rights. The top labor leaders in the city were photographed with Howard at a major press conference that made the front page of the San Francisco Chronicle and, in a very real sense, made history as well.
Howard continued to combine labor and gay rights issues by traveling to Dade County, Florida in 1977 to participate in the unsuccessful attempt to oppose a measure that would have prevented LGBT teachers from working in the Dade County school systems. When he returned, he helped establish boycotts against Florida orange juice and worked as a key organizer in the Bay Area Committee against the Briggs Initiative in 1978, the California ballot measure which would have accomplished the same thing had it passed.
Key to defeating the initiative was Howard's consistent objective of mobilizing the labor movement.
After serving on the staff of the labor/community Northern California Peace, Jobs and Justice Coalition for a brief period, Howard joined the staff of the United Farm Workers union at the specific request of Cesar Chavez. It was here that he struck up a life-long friendship with Dolores Huerta.
At Howard's Celebration of Life meeting, Dolores spoke emotionally of how Howard "saved my life" during a 1991 San Francisco anti-Gulf War demonstration when a police attack ruptured her spleen.
Soon thereafter, Howard joined the staff of SEIU Union of Hospital Workers Local 250 at the behest of president Sal Rosselli. Howard remained for 14 years as an organizer and community representative, and during these years Local 250 stood out as one of the first unions in the country to unite LGBT and labor struggles and to educate both movements about the other. He retired in 2001.
The culmination, in many ways, of Howard's work and probably one of his greatest achievements was the formation of a national organization that united both the LGBT and labor movements. Howard founded the Lesbian Gay Labor Alliance in the mid-1980s with Nancy Wohlforth, now International Secretary Treasurer, Office and Professional Employees Union (OPEIU).
That evolved into Pride at Work, an LGBT labor organization affiliated with the AFL-CIO where Howard served as Vice President of Community Affairs until shortly before his death.
Howard is preceded in death by his parents and his older brother John of Denver, Colorado. He is survived by sister Barbara Eastburg of Albuquerque, New Mexico, nieces Linda Eastburg and Gwen Lowery of Albuquerque, New Mexico, nieces Wendy Gossett and Laurie Ames of Denver, Colorado and nephew Randy Eastburg of Highland Village, Texas.
The social movements that Howard led, and those who continue to struggle, also survive him. He remained true to his socialist and humanitarian beliefs throughout his life and never stopped trying to change the world for the better.
For that, he has left a bereaved and thankful community of friends.
July/August 2013, ATC 165