Against the Current, No. 165, July/August 2013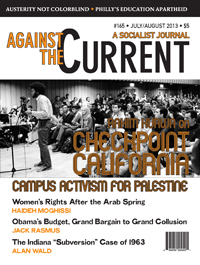 Accessorizing the Body:
Habits of Being 1.
Edited by Cristina Giorcelli and Paula Rabinowitz
University of Minnesota, 2011, 272 pages, $24.95 paperback.
Exchanging Clothes:
Habits of Being 2.
Edited by Cristina Giorcelli and Paula Rabinowitz
University of Minnesota, 2012, 288 pages, $25 paperback.
"Speaking crudely, football and sport are 'important'; the worship of fashion, the buying of clothes 'trivial." —Virginia Woolf, A Room of One's Own
CRISTINA GIORCELLI AND Paula Rabino­witz's first two volumes of the four-part series in progress, Habits of Being, reveal that clothes, accessories, and fashion are anything but trivial. Rather, the manner in which we accessorize — the shoes or boots we wear, the hats and ties that adorn us, the handbag we carry — as we make our way to work, to school, to a party or a protest, reveal our cultural, political, social, economic and ontological status.
Habits of Being takes seriously a most fundamental aspect of our being: that we clothe and accessorize our bodies, and this usually unexamined daily routine, a habit, exposes essential aspects of our identities and desires.
Habits of Being includes essays from historians, fashion designers, scholars of textiles and interiors, psychoanalysts, literary and film critics and others who take seriously the accessorizing of the body and render visible the body as an accessory. These essays, many of which first appeared in the Italian series Abito e Identità, contribute to the interdisciplinary study of identity and subjectivity through the examination of daily accessories.
In the first volume, Accessorizing the Body, the accessory is taken seriously as an intimate and telling aspect of one's identity and selfhood. Essays in this volume traverse the modern body as an array of accessories are spotlighted, including the "model body," Spain's Fascist-era prescribed ways of feminine dress; Futurist fashion designs of the vest and the tie; the role of women's heels and Salvatore Ferragamo's sandals; workers' hats and poets' tiaras; scarlet letter As and yellow Jewish stars.
In Exchanging Clothes, the second of the four-volume series, the circulation of clothes and accessories across time and place and bodies illuminates that meaning and materiality is anything but stagnant.
Essays cover an array of subjects including Homer and Virgil and their armor or its lack, the tie and its social power, a safety pin's resistance turned to high fashion, Algeria and feminine ornamentation, pleasures of shopping in a thrift store, lesbian pulp fiction's guide to fashion, silk stockings and pointed boots as a symbol of luxury, Nellie Bly's travel bag as a symbol of freedom, Audrey Hepburn's coming of age in Paris, and the importance of rings in James Merrill's poetry.
The series title, Habits of Being, emphasizes that our daily habits of dress and undress, of changing clothes for various activities, for public or private display, the shoes we wear, the embellishments that become a part of our identity, all reveal that the natural state of the body is a dressed, not a naked body.
As Manuela Fraire, in the first essay of the collection, "No Frills, No-Body, Nobody," attests, "'naked' people do not constitute societies." She continues, "Without clan colors or other signs of membership in any kind of group, the naked body lacks meaning: it can only acquire meaning, and become human, once it is veiled and/or unveiled." (8)
The meaning the accessorized body acquires, the meaning it conveys, the manner in which meaning is exchanged and circulated is the object of the first two volumes of Habits of Being. Dressing and accessorizing the body becomes a "search for an ideal image and for a legible identity that can actually be recognized by the Other." (8)
This construction of an identity, of an "I," is linked to the accessory, "in the sense that all changes, even the most radical, start from the smallest thing, those that tend to pass unnoticed." (9)
Accessories in Context
It is the radicalness of something seemingly so trivial — a handbag, a hat, a shoe — that becomes most significant because the accessory tells a story about the body in relation to other bodies, and the cultural, political, and economical context in which bodies reside.
For instance, Martha Banta's essay "Coco, Zelda, Sara, Daisy, and Nicole" traces the emergence and decline of the new independent woman that Coco Channel embodied through liberating women's fashion from the physical and social constraints of her time. Coco herself wore "men's sweaters with jewels or cinched in at the waist with a silk scarf, and brought men's turtle-neck pullovers or open-necked shirts off the polo fields into the spectator stands." (93)
Chanel dressed the independent woman, the woman who did not want to be, at least in theory, a "kept woman." The "Chanel woman of the 1920s might dance, walk, and ride with a freedom she had not previously experienced," and her clothes would help liberate her physical mobility and her imagined view of herself. (89) The radicalness of Chanel's clothes that liberated the physical movement of women, while maintaining their youthful femininity, radicalized women's desires and their desire for fashion.
The radical accessory takes a turn in Zsofia Ban's essay, "The Yellow Star Accessorized." In this provocative essay, Ban begins with the description of Nathaniel Hawthorne's novel The Scarlet Letter and describes in detail Hester Prynne's elaborate and beautifully designed red letter A that adorns her dress.
Ban contends that Prynne's "luxurious embroidering of the sign functions as a subtle method with which she defuses the visual mine it is originally meant to be." (149)
Prynne reimagines and reconstructs the shameful mark into a symbol of her making.
As Ban explains, "By proudly enhancing the visual aspect of the stigma, she transforms it into something that succeeds in making a substantial statement about herself, that is, into something that becomes a visual complement — an accessory — to her very essence." Hester's embroidered letter "becomes, as it were, part of her; it becomes second nature." (149)
How is it that an accessory that is meant to stigmatize and shame the wearer becomes "second nature"? Ban turns to Imre Kertesz's Fatelessness, a novel about a 14-year-old boy's experience in the concentration camp. Kertesz's narrator describes how his Jewish star becomes intimately connected to all of his actions.
He states, "It was a clear, balmy morning, considering it was still just early spring. I was about to unbutton myself but then had second thoughts: it was possible that, light as the head breeze was, my coat lapel might flap back and cover up my yellow star, which would not have been in conformity with the regulations."
Ban explains, "the wearing of such a visual stigma thus affects not just the mind, but also the body, triggering self-surveillance and self-censorship, except instead of the natural reflex, which is to hide a stigma, the boy's actions here are coordinated in order to keep it visible at all times." (159).
Kertesz's narrator's daily habit of wearing the yellow Jewish star and making certain that his Jewish star is always fully visible becomes "second nature" to him, it becomes a natural habit of his daily being, much like Hester Prynne's scarlet letter.
In Jeffrey Stewart's essay "Black Hattitude," the manner in which the accessory is worn functions to radicalize and protect the wearer. Stewart tells a story of Zora Neale Hurston's experience at a white doctor's office in which the doctor humiliates Hurston by examining her in the custodian's closet.
In response to the humiliation Hurston felt, she says, "I got up, set my hat at a reckless angle and walked out." (173) This "hattitude," an act of resistance, demonstrated that she was more ladylike and proper, superior to the racist, misogynistic doctor. The way in which Hurston donned her hat at a "reckless angle" was a form of resistance and self-protection in the face of racism. Stewart explains:
"Here is the key insight about the hat set at a "reckless angle" on a Black head — it signifies Hurston's impunity, functioning as a shield against the brainwashing that attempts to inculcate in its would-be victims the idea of their inferiority, that somehow they deserve the rude treatment segregationists dish out to them. Just when the emotion connected to such abuse began its assault on her psyche, she reached for her hat, cocked it at an angle that says "kiss this," and sauntered out of the vortex." (174)
Shoe as Symbol and Weapon
Paula Rabinowitz, in her essay "Barbara Stanwyck's Anklet," takes the shoe, and specifically the black high-heeled pump as an accessory that reveals the complexity that the postwar woman symbolized. As Rabinowitz contends, "For women in the movies, especially postwar B movies, shoes, usually high-heeled pumps, click along the hard concrete sidewalks. They sing a chorus combining vulnerability — we know she cannot run too fast in them — and menace: her relentless approach or retreat alerting us to her ever-presence." (187-188)
And at any moment, a woman's shoe can turn into a weapon as it does in Herbert Biberman's 1954 labor film, "Salt of the Earth." Esperanza, the wife of a strike leader, defends her family and the strikers from the sheriff's deputies. She knocks a gun out of the deputy's hand with her flat shoe. Rabinowitz's reminds us that the shoe is a complex sign. As she states, "Shoes, as symbolic objects themselves, travel across three fundamental planes of human experience: work, sex, death." (191)
Accessories and their meanings do travel. Whereas Accessorizing the Body demonstrates the radicalness of accessories and their significance to the everyday ways of being in the world, Exchanging Clothes investigates the accessory and its movement through time and space.
Fashion designer Krizia (also known as Mariuccia Mandelli,) explains, "Accessories are small, portable talismans of our well-being. They make up that framework of meaning that we construct about ourselves; they are invaluable indicators of taste, character, style, and behavior." (33) Accessories travel across oceans and generations, creating new meaning, desires, constraints, and freedoms along the way.
Acquiring the accessory of our desire may symbolize freedom from our daily lives. This is most evident in Cristina Giorcelli's essay, "Sheer Luxury, Kate Chopin's 'A Pair of Silk Stockings.'" The narrator of Chopin's story, a poor woman who comes into an unexpected sum of 15 dollars, agonizes over how best to spend it. After deciding to purchases the practical and necessary items that her children need — shoes, stockings, hats — her plan is to shop in the bargain bins at the department store in order to get the most for her money.
At the department store, instead of making her way to the bargain bin to compete for the best-reduced items, she sits in a stool swirling around, stimulated by all of the luxuries that abound. When a saleswoman approaches, the narrator asks to see the sheer-stockings. Finally, she purchases a pair of black silk stockings and then a pair of "pointed tipped boots and then a pair of kid gloves." (86)
Giorcelli contends, "No hint of censure for her selfishness colors the picture of this young mother who, nurturing her sense of aesthetics, develops a feeling of independence — at least temporarily." (91) The silk stockings and attendant pointed boots along with the soft kid gloves offer the narrator an escape from her daily life and its financial constraints. As Giorcelli reminds us, an accessory can do that, "at least temporarily."
Bag of Independence
The all-important bag is the subject of Cristina Scatamacchia's "Traveling Light," in which independence is found and carried in "Nellie Bly's all-inclusive bag." In 1889, Nellie Bly embarked on "a new kind of travel journalism" that shattered assumptions about women's ability to travel alone. Bly traveled the world in "seventy-two days, six hours, and eleven minutes," breaking the record of Phileas Fogg, the protagonist of Jules Verne's Around the World in Eighty Days. (98)
More significantly, Bly completed her journey alone, without a chaperone, and with only one small bag that carried her most essential necessities. This publicity stunt not only garnered readers for Bly's employer, New York World, but it transformed the preconceived notions about the safety of women traveling alone and the stereotype that women travel with lots of luggage.
Scatamacchia contends, "Bly's purchase of her traveling bag marked the beginning of a new phase in her life, full of expectations and rich with adventures." Moreover, the bag was "small and unpretentious, yet it acted as a compass and as a charm against bad luck: it was Bly's true traveling companion." (112)
The importance and radicalness of an accessory is captured in the significance of Nellie Bly's bag, its ability to symbolize freedom, independence, mobility and worldliness, coupled with the notion that a bag is a woman's trusty and true companion. As the editors note in the preface, "sometimes a cigar is just a cigar, but a purse is never just a purse" (XII).
Accessorizing the Body and Exchanging Clothes make known what Virginia Woolf argued: accessories and fashion are anything but 'trivial.' Rather, accessories are often radical as they use the smallest detail to transform bodies and meanings. Habits of Being reveals that our daily habits are worthy of examination and readers of the series will rethink their own accessory habits and desires and for good reason, because "all changes, even the most radical, start from the smallest thing, those that tend to pass unnoticed." (9)
July/August 2013, ATC 165