Against the Current, No. 164, May/June 2013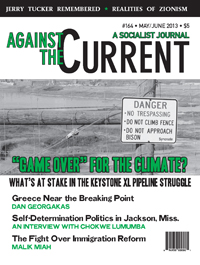 THE LABOR MOVEMENT lost an insightful unionist, tactician and strategist when Jerry Tucker died last October 19, 2012 of pancreatic cancer, at age 73. A passionate advocate of workers' rights, his career in the labor officialdom was hindered by his investing greater loyalty in the workers he represented than in the organizations for which he worked.
Jerry was a third-generation unionist who saw himself as part of the social unionist tradition forged by long-time UAW president Walter Reuther and Reuther's brothers. His standout quality was to understand the power of rank-and-file members to advance social unionist goals if they had the guidance and support to do so.
In the 1970s, Tucker orchestrated a stunning defeat to "right-to-work" forces that gave organized labor a decades-long breathing space, which they squandered, and a blueprint for organizing, which they shelved. In the 1980s he developed organizing and strike techniques that workers successfully used to repulse corporate demands for concessions, but which labor's generals also ignored.
Jerry was born November 21, 1938 to Raymond and Luella Tucker of suburban St. Louis, Missouri, during the height of the United Electrical Workers Union's (UE) successful organizing drives. His father was a journeyman tool and die maker and UE activist. His mother was a garment worker.
Growing up, he would sometimes listen in as his father and other UE activists sat around his family's kitchen table discussing union and workplace issues. Sometimes he heard stories about his grandfather's involvement in the Industrial Workers of the World (IWW). In the 1950s, under the relentless pressure of anti-communist attacks on the UE from the Catholic Church, the United Auto Workers (UAW) and the International Association of Machinists (IAM), Jerry's father and other UE machinists reluctantly switched to the IAM.
After graduating from high school, Jerry attended Southern Illinois University at Carbondale before going west to pursue his interests in writing and philosophy among the Beat poets of San Francisco's North Beach. At the age of 21, however, he was back in St. Louis, where he got a job at General Motors. Laid off after less than a year, he got another job at Carter Carburetor.
Jerry began his union career in 1961 at Carter Carburetor, where he joined the UAW and moved rapidly up the ranks of officers and staff. Within two years he was elected as committeeman (the equivalent of shop steward). Five years later, he was chair of the bargaining committee.
The auto industry was expanding, and so was the UAW. International UAW president Walter Reuther encouraged the development of young leaders to meet the UAW's growing needs. Jerry was one such promising young leader.
Anti-Racist Activism
Jerry was unusual among St. Louis area local officers in agreeing with Reuther's embrace of the civil rights movement led by Martin Luther King, Jr. While local union officers at Chrysler and GM plants colluded with plant managers to segregate jobs along racial lines and preserve the best jobs for white workers, Jerry worked to end racial qualifications in hiring and promotions at Carter Carburetor. He joined the company-sponsored "Colored Industrial" or "Tandy" league baseball team to show solidarity across racial lines.
Jerry met his future wife Elaine while at Carter. He was a union rep, she a rank-and-file production line worker agitating her co-workers for more militant action. They married in 1969 in one of the first interracial weddings in St. Louis, after the U.S. Supreme Court ruling of June 1967 that struck down states' laws banning marriages between whites and Blacks.
The '60s were a time of notable civil rights battles in St. Louis as across the country. The highly visible protest of two African-American workers chaining themselves 100 feet up the partially built legs of the Gateway Arch (officially called the Jefferson National Expansion Memorial) prompted the first federal affirmative action order. Construction unions responded by going on strike to exclude Black workers and only resumed work under court orders.
Thus began many years of federal intervention against segregation and racial discrimination in St. Louis unions. Most local UAW unions backed the construction trades fight against integration. In 1969, the struggle between white supremacists in the UAW and Black workers seeking equal employment opportunities erupted in pitched battles with baseball bats and fists at the gates of the GM plant in north St. Louis.
Under the pressures of Black workers from below and the federal government from above, International UAW president Leonard Woodcock took control of union locals at St. Louis area GM and Chrysler plants in the early 1970s to eradicate practices of segregation, and the auto manufacturers reformed their local management practices. Black activists, however, recall that the regional UAW office remained a bastion of white racists.
Lew Moye, then a local Chrysler worker and an activist in a Black caucus within the UAW pushing for more job opportunities for Black workers in the plants and in the union, said that Jerry was the only person at the region hall that Black activists could talk to.
Jerry's star rose while the International was trying to look progressive on race issues. By 1971, he was directing the union's political action program in Missouri. By '74 he was one of the union's lobbyists in Washington, D.C.
Fighting RTW and Bureaucracy
In August 1978, Jerry returned to Missouri to assist the fight against a ballot initiative to make Missouri a so-called "right to work" state when polls showed voters favoring the anti-union initiative by a 2-1 margin. Recognizing that members were out in front of the state union leadership in fighting the initiative, but that they couldn't do it alone, Jerry revived the Reuther strategy of building coalitions with other groups.
Supporting members with various campaign materials and guiding them to target voter groups, while simultaneously building coalitions with clergy, African Americans, women, farmers and small businesses, the energized labor campaign turned public opinion around in just six weeks to defeat the initiative by a 3-2 margin.
Jerry then returned to D.C., where he tried to get leaders of the U.S. labor movement to learn from Missouri's campaign. The UAW team that had worked on the campaign proposed that the UAW and the AFL-CIO create Committees for Democracy in the Workplace to tap the lessons of Missouri in targeting "right-to-work" states to roll back the antiunion law, but the union leadership did nothing with it.
In 1981, Jerry was sent back to Missouri to serve as a staff representative in the UAW's Region 5, a sprawling eight-state region that stretched south and west from a headquarters in St. Louis. Employers seeking deep cuts to wages and benefits were quick to replace workers who went on strike. Looking at the long lines of job applicants, many unions were caving in to employer demands.
Operating off of vague memories and stories of unions "working to rule" to win contact fights in the 1950s, Jerry and leaders of UAW Local 282 developed an "inside strategy" to beat back concessions demands by auto parts maker Moog Automotive in St. Louis. Jerry further refined the strategy to win contracts at a Schwitzer cooling-fan plant in Rolla, Missouri, and at Bell Helicopter and LTV-Vought's aerospace defense systems plant, both in Texas.(1)
As in the campaign against right-to-work, the strategy relied on the ingenuity and effort of the workers in the plants, guided and support by the staff and the structure of the union.The contract fight at LTV would be a defining moment in Jerry's career and a turning point in how he viewed the union bureaucracy.
In July 1985, Regional Director Ken Worley and UAW International Secretary-Treasurer Ray Majerus, head of the union's aerospace department, notified Tucker that they had secretly settled the contract with top LTV officials on a North Carolina golf course. Workers would give up raises, new employees would earn a much lower wage rate, forever, and the company would not rehire any of the workers fired during the struggle for engaging in the union's campaign.
They ordered Jerry to sell the new contract to Local 848 and its members. He ignored their orders and told the local bargaining committee to ignore them, too. Jerry and the bargaining committee instead told the company that they rejected the proposed settlement and that the UAW had authorized a strike.
The workers' information that the company had run out of product to ship was correct. Two hours after they walked out, the company caved. The local union won a decisive victory and the fired workers returned to their jobs as heroes.
Jerry would later say that he had been growing increasingly disillusioned in the International leadership of the UAW for years, but it was on the grounds that they were lazy rather than on ideological grounds. His criticism of union leaders in the wake of the failure to pass labor law reform in 1977-78, for example, was that in failing to mobilize their members around the issue they let themselves be out-organized by business groups.
The LTV betrayal, however, and a betrayal he thought it was, upended Jerry's long-held view of the union. For 25 years he had seen the UAW through a liberal lens, viewing the International office as the progressive engine that drove the union, and seeing national leaders and union representatives as being above the prejudices of local leaders.
Reuther, especially in his embrace of Martin Luther King, Jr., was progressive compared with the widespread racism dominant among the whites in UAW local unions in St. Louis. Even more so was Woodcock's trusteeship over St. Louis locals to weed out racially discriminatory practices.
Douglas Fraser, who became Interna­tional President in 1977, continued the pattern. His effort to re-animate the old Reuther coalitions with the Progressive Alliance fit that liberal mold. Jerry's role in the battle against "right-to-work" in Missouri fit the model of a national representative getting state level labor leaders to put aside their differences and unite.
Fraser was probably the International UAW president with whom Jerry had the closest personal relationship. Jerry embraced Fraser's Progressive Alliance and condemnation of business's "one-sided class war" against workers, and embraced his role as a state coordinator for Edward Kennedy for President. The International UAW and the Progressive Alliance backed Kennedy's challenge to incumbent president Jimmy Carter in the 1980 Democratic Party primaries.
It was Fraser who sent Jerry to Missouri to organize the fight against "right-to-work." It was Fraser who sent him back again in 1980 to run the Kennedy campaign in the state. It was Fraser again who made Jerry a staff rep in Region 5 in 1981, and saw to his promotion to assistant regional director against Worley's wishes. Fraser stepped down at the end of 1983, however, and was replaced by Owen Bieber in 1984.
The International union's attempted betrayal of LTV workers in 1985 ran counter to that liberal image of the UAW. In this case, it was the national officers who were misled by ignorance and prejudice, which was why they sought to snatch defeat from the jaws of victory. Neither Majerus nor Worley had been involved in any of the negotiations before listening to company representatives and deciding on their own that the workers should give up. It was the workers and local officers on the scene who best knew what the situation was and how to move forward.
Siding with the Ranks
Jerry knew that in staying loyal to the LTV workers, he had crossed a line that could not be uncrossed. Fraser was not in position to protect him. He did not know Bieber well, and what he did know was not encouraging. Bieber was the officer who had secretly negotiated the wage and benefit cuts at General Motors that had so infuriated union members in 1981-82.
Ken Worley had never wanted Jerry, and now Jerry had crossed Ray Majerus, the second most powerful man in the union. Jerry expected to be shipped to the union's equivalent of Siberia after the next union election.
Leaders of Local 848, however, were not willing to forgive and forget Majerus's and Worley's sellout. One of the effects of Jerry's organizing tactics was that rank-and-file workers and local leaders realized that they had power to accomplish things through collective action. They didn't just get active to get a contract; they remained active in their union, in their community and in politics.
In January 1986, Local 848 president Carroll Butler and two other local officials sent a letter to other local leaders in Region 5. They questioned the International's policies and criticized its failure to work with local unions. They blasted Worley and praised Tucker. By then, Worley had already pledged to retire twice, in 1980 and 1983, and reneged on his promise. (His critics liked to say that he actually had retired, he just hung on to his office and his salary. It was a variation of the "laziness" critique of the union leadership.)
In March, 125 local leaders from Region 5 met in Oklahoma City and issued a report that basically called for more energetic activity from the regional office. They called for new collective bargaining strategies, more aggressive organizing and political activity, and greater use of computers to increase communications and share information to help unions fight hostile corporations. A month later, they formally asked Jerry to run for regional director.
They were about to run into one of the central contradictions of the UAW. At the local level, it was a vigorous democracy. Multiple candidates ran for offices. Political coalitions formed within plants for one election and disbanded for the next. There could be frequent turnover of officers and contracts required a majority of rank-and-file votes for ratification. At the national level, it was very different.
The national union was run like a one- party state. A convention system isolated the national leadership from rank-and-file pressure. Political decisions were made at the top and passed down to local officers through meetings of the "Administrative Caucus." Officers of important locals might bargain away their votes for staff jobs. Dissent on policy was barely tolerated, and opposition to anointed candidates ruthlessly crushed.
Jerry declared his candidacy on May 8, 1986. He was fired four days later for violating a rule adopted by the Administrative Caucus in 1973, that any staff member who wanted to run against an incumbent had to declare his candidacy at least 90 days before the vote and take an unpaid leave of absence. The Labor Department later declared the rule illegal and sued the UAW to drop it.
It was a pivotal moment for the UAW. A savvier executive council might have recognized that a choice by local union officers acting within the forms of the ruling party in the region was no threat to the party's power. A savvier executive might have welcomed Jerry with a challenge: launch Committees for Democracy in the Workplace in your region and see if you can make them work. He had already demonstrated an ability to organize and win contracts in anti-union states.
Imagine the possibilities if, as regional director, Tucker would have had the freedom and funding to combine the energies of victorious local unions with a broader campaign for workplace democracy in the "right-to-work" states of Texas, Arkansas, Louisiana, Kansas and Oklahoma.
Instead, International UAW President Owen Bieber fired Jerry, illegally spent union funds to defeat him, personally and openly campaigned for Worley, and when that didn't look likely to be enough to block his election, brought in unelected "ringers" to fraudulently cast votes as delegates. Even so, Jerry lost by only two-tenths of a vote out of more than 600 delegate votes cast.
The Break
Bieber and his executive council were haunted by visions of a splintering union. They had lost Canada a year earlier when anger at Bieber's behind-the-scenes efforts to force them to give up some of their wages and benefits prompted the Canadian section of the union to pull out of the UAW. Facing similar criticism from Region 5, the executive council circled its wagons and saw a threat not an opportunity.
I first met Jerry in 1987 while I was working at GM's assembly plant in Wentz­ville, Missouri. The U.S. Labor Department was seeking a court order to force the UAW to re-run elections for local union delegates to cast votes for regional director. Jerry knew that relying on supportive local union officers would not be enough to win, so he had to break with the Administrative Caucus system and reach out directly to rank-and-file members and speak to their concerns.
Jerry won the re-run. He took office amidst high expectations that he would launch an initiative to educate members of their rights and power as workers and assist them in battling concessions. Bieber and the Administrative Caucus, however, took every opportunity to sabotage him and set him up for defeat in the next election.
In the UAW, the international president hires and fires all staff representatives. Bieber would not approve Jerry's choice for his assistant and had staff representatives campaign against him in the plants. Jerry was isolated and could not even turn to other progressive unions in the area for help. Don Giljum, who was president of Operating Engineers Local 148 and would later become close to Jerry, didn't know him yet.
"Jerry had been out of St. Louis for so long, he did not have strong connections to progressive local unions that would have been able to work with him. The UAW International had pretty well contaminated labor here against him. . . . The St. Louis Labor Council and state AFL-CIO kept him at arm's length, and Jerry didn't know which local unions he could turn to," Giljum recalled.
Neither could he expect help from the Left, which although weak, did have a presence in the plants. Some leftists, such as those around Labor Notes or the Coalition of Black Trade Unionists, rallied behind Jerry, but Jerry and the broader Left held each other in mutual disdain. In Jerry's view the "industrialized" left in the plants, whether of Maoist or Trotskyist origin, were more interested in talking than in taking power, while many of those leftists viewed Jerry as just another business unionist.
Similarly, the social democratic left also were more interested in talk than power, the difference being that they wanted the blessing of union officials for their talk. Bieber was personally involved in the movements against apartheid in South Africa and against U.S. intervention in Central America. He was instrumental in getting the AFL-CIO to endorse boycotts of companies doing business in South Africa and in 1986 he traveled to that country to support anti-apartheid activists.
Bieber also was one of the four core leaders of the National Labor Committee in Support of Democracy and Human Rights in El Salvador, which Jack Sheinkman of the Amalgamated Clothing and Textile Workers Union had founded in a sharp break with the AFL-CIO's traditional right-wing foreign policy. The UAW provided legitimacy and institutional support to those movements, reason enough for leading activists in groups allied with the UAW to keep as much distance from Jerry as their counterparts in union staff jobs.
Henry Weinstein, in an article in Mother Jones in April 1988, described Jerry's views on the UAW as "evolving." He said that Jerry was "not an advocate of adversarial relations per se," but a critic of "some" of the cooperative labor-management relations touted by the UAW's national leadership as "more beneficial to companies than to workers."
Jerry told New York Times reporter John Holusha that "Unions and corporations do not have common objectives all the time." Perhaps reflecting on Fraser's seat on Chrysler's board after union concessions helped that company avoid bankruptcy, he added that a reasonable tradeoff for more cooperation would be for companies to give the union a say in their capital spending decisions.
That was enough to get Jerry labeled "a rebel," "troublemaker" and "firebrand" — and for many UAW member and local union officers across the United States to begin sending pleas to his office in Bridgeton, Missouri for help in resisting corporate demands for concessions. Influenced both by the pleas he received from unionists around the country and by the support of Labor Notes and its network of activists, Jerry's views sharpened from simple opposition to concessions to an articulate critique of undemocratic practices in the UAW and of the new labor-management philosophy of "competitiveness," which he said tends to drive workers' wages toward zero.
The main purpose of unions, Jerry declared again and again, is to take workers' wages out of competition, and the way they do that is by empowering the rank-and-file.
Jerry lost the next regional director election, but focused on turning the call for New Directions into a national movement to give UAW members and local officers the tools and direction they needed to effectively build and promote workers' rights. He ran for International president of the UAW in 1992 to give the reform movement more focus and immediacy and to draw the fire of the Administration Caucus, so as to give local leaders or staff representatives space to run for regional director.
In the event, several of the officers whom he had expected to run for the director's jobs opted not to openly oppose the Administration, and the movement to reform the UAW failed.
The Inside Strategy and Staley
In the wake of his failed bid for the UAW presidency, workers at the A.E. Staley Co. in Decatur, Illinois, asked him for help. Ironically, the Staley workers were members of the Allied Industrial Workers (AIW), the union from which the UAW had emerged in the CIO's split from the AFL in the 1930s.
The Staley struggle became one of the epic labor battles of the 1990s.(2) Local 837 of the small Allied Industrial Workers union asked Jerry for help with in-plant tactics to resist the drastic concessions that management was demanding, while also asking Ray Rogers and Corporate Campaign Inc. for help with an outside the plant corporate campaign.
Jerry helped the members built an effective inside game that cut production and built a culture of solidarity that prepared the members for the next level of struggle. The main weakness of the inside strategy soon became apparent, however: It could only work when workers were inside and on the job.
The logic of an inside strategy is that it depresses productivity and gets management so frustrated that they either settle or lock the workers out. When workers are able to drain a company's inventory of product, and the company lacks other sources of the product, a lockout is a sign of management's weakness. It signals that they've run out of options. But a lockout can also signal a determination to crush the workers even if it means the destruction of the plant, particularly if the company has other ways of getting product.
Staley had made extensive preparations to lock out the AIW, even to the construction of a 3.5-mile pipeline to connect to cross-town rival (and part owner) ADM to continue to supply it with product if the battle with workers should curtail production. And lock the workers out, it did.
The lockout shifted the focus of the battle to the corporate campaign, which Ray Rogers was guiding. Jerry, however, was critical of Rogers and his strategy. He thought that Rogers' fees drained the local of funds that were desperately needed to support the workers, and that Rogers' focus on targeting directors from other companies was too abstract and too far removed from the company's operations.
Always conscious of the importance of sound bites, Jerry advocated targeting Staley's customers, whose connection to the company could be explained in the 15 seconds a worker might have to talk to someone on a sidewalk. Drawing on lessons from the Missouri voter campaign, he pushed to involve more rank-and-file workers in campaign activities and to build coalitions with African Americans, women, and owners of small businesses as well as other unions.
As Jerry foresaw, a rift developed between those workers involved in the campaign and those who weren't. The United Paperworkers International Union, which had swallowed the AIW during the Staley struggle, began lobbying workers to give up the fight. Ultimately, two-and-a-half years after the lockout began, the majority of workers voted for the local union to do just that. Only 110 of the 760 workers got their jobs back.
Jerry viewed the UPIU's role as a betrayal like the attempt by Majerus and Worley to end the LTV battle. To the end of his life, he remained convinced that the workers were near winning. Miller Brewing had stopped using Staley products and, he was sure, Pepsi was about to do the same. Even Jerry's allies in that struggle are split on that view, however.
While the Staley struggle was ongoing, Jerry had begun to consult with a host of local unions engaged in many smaller, less public battles. Most unusual among them were St. Louis-area nurses dissatisfied with the efforts of both the United Food and Commercial Workers (UFCW) and the Service Employees International Union (SEIU).
Jerry helped them set up an independent union, called United Health Care Workers (UHCW), which aimed to organize hospital workers "wall-to-wall," regardless of job classification. With financial assistance from the California Nurses Association (CNA), they had organizing committees in half a dozen St. Louis-area hospitals.
His was a very traditional union organizing campaign, at which he excelled. Jerry had his organizers focus on the details. He guided them to map every single worker in the hospital; to keep track of who talked to each worker about the union and how many times; of who had signed an authorization card; of who hadn't, but was worth talking to again and who would do the talking; and of who was definitely opposed.
He was aware of discussion and experimentation elsewhere with different ways of organizing workers, including community worker centers and organizing for better wages and working conditions under Section 8 of the NLRA without seeking a union election, but such experimentation was not for him. His organizing campaign ran along the lines of get the union first, and worry about everything else later.
After narrowly losing an election at St. Anthony's Medical Center, in which all workers would have been in one bargaining unit, the UHCW noticed that they would have won the majority of workers if they had tried to organize them in several different bargaining units. They started a new organizing campaign a year later, but a decision by the CNA to concentrate resources on an organizing campaign in Chicago ended the effort in St. Louis.
Looking for New Directions
Jerry spent the rest of his life carrying the ideas of "New Directions" to the broader labor movment by educating and advising workers in how to fight for their rights and build coalitions, sometimes doing so through local unions and sometimes through independent "Solidarity Schools."
He was a founder of St. Louis Jobs with Justice, U.S. Labor Against the War, the Labor Campaign for Single-Payer, and Medicare for All. He was a co-founder of the Center for Labor Renewal and the Solidarity Education Center.
Jerry is survived by his wife Elaine and three daughters, Cynthia, Nicole and Tracy, as well as a brother, two sisters, four grandchildren, and two great-grandchildren.
One of the UAW's criticisms of Jerry was that he was too traditional. Jerry proudly agreed, and his friends and supporters say it was true. "Jerry was very much within the traditional union framework," Don Giljum said. For Lew Moye, who knew Jerry for 41 years and was one of the first local union officers to urge him to run for regional director in 1986, that means, "he was an organizer who believed in giving rank-and-filers information and knowledge."
Jerry, Moye added, "educated a lot of rank-and-file members about union structures and how they worked."
For Giljum, who, would later hire Jerry to help educate and guide his members through tough contract fights, Jerry's idea of education had a specific meaning within the context of traditional union structures. "He gave the appearance that he was ceding control to the rank-and-file, but . . . he always said you had to push and mold them to get them to do what you know has to be done rather than what they think is needed."
For Jerry Tucker, unionism was not just a career, it was a calling. Throughout his life, Jerry believed and taught that people in situations of poverty or powerlessness could better their lives and achieve power through collective action and that unions provided the vehicle for them. In a period when the fastest growing sectors of the jobs economy are the low skill, low wage sectors, that lesson is as relevant as ever.
Ultimately, however, what set Jerry apart from his peers and made him a hero of the labor movement was that he came to realize that union institutions are not more important than the people they are supposed to help and represent. His loyalties lay with real people, workers and rank-and-file members of labor organizations, rather than with the staffs and bureaucracies that sometimes spoke for them.
Notes
For more information, see Jack Metzgar, "In-Plant Strategies: 'Running the Plant Backwards' in UAW Region 5," Labor Research Review, Cornell University ILR School, v. n7, article 8, http://digitalcommons.ilr.cornell.edu/cgi/viewcontent.cgi?article=1059&context=lrr; and Dan La Botz, A Troublemaker's Handbook, Labor Notes, Detroit, 1991, Chapter 12, "Inside Strategies."
back to text
For more information see Steven Ashby and C.J. Hawking, Staley. The Fight for a New American Labor Movement, University of Illinois Press, 2009.
back to text
May/June 2013, ATC 164