Against the Current, No. 161, November/December 2012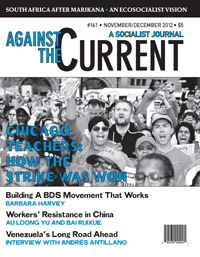 An excerpt from the South African journal Amandla! Full text appears at http://amandlapublishers.co.za/amandla-magazine/curent-issue/1580. — The ATC Editors
UNDERLINING (RECENT) POLITICAL developments is extreme inequality and a dysfunctional state…. The South African state, one of the most energy-intensive economies in the world, has embarked on an infrastructure investment program aimed at intensifying the extraction of mineral wealth… with no regard for the environmental consequences. Already the state faces a massive water crisis made worse by acid mine drainage. The commissioning of Medupi and Kusile, as well as the recommissioning of retired coal-fired power plants, will substantially enhance South Africa's profile as one of the biggest emitters of greenhouse gasses in the world.
Feeding the voracious coal needs of our electricity-generation plants will also lead to much higher greenhouse gas pollution and place great pressure on scarce water resources…. Fracking of shale gas is also likely since our Minister of Mineral Resources regards extracting underground shale gas as a 'God-given right,' supposedly greater in monetary value than God's other great gift, fresh clean water, which is not abundant in sunny SA. For the sake of workers, our economy and environment, let Marikana be a wake-up call.
Our dilemma was brought home forcefully by the recent death of Neville Alexander, a powerful intellectual, political strategist and thinker. From his release from Robben Island in 1974 he devoted his life to uniting progressive and revolutionary forces in our struggle for freedom as a first step towards making socialist politics hegemonic in the mass movement.
The Marikana massacre should inspire similar initiatives. Alexander often warned (in a slightly different context) of the dangers to our revolution if we did not change tack. The Left must unite to be an effective voice and to offer an alternative to what is happening.
Now is the time to heed his prophetic words.
November/December 2012, ATC 161