Against the Current, No. 160, September/October 2012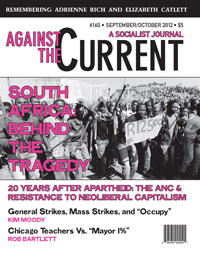 The background material on South Africa in our new issue (ATC 160) – an interview with Brian Ashley, Zachary Levenson on social movements and Niall Reddy on the economic and social background to the crisis – was planned and compiled over a period of several months before publication. We could not imagine, of course, that the "Tunisia moment" foretold in Niall Reddy's essay would explode just as we were going to press, in the shocking form of the police massacre of striking platinum miners.
The circumstances surrounding this mass murder, and the political wildfire it unleashed for the African National Congress and the trade union movement, are the subject of an ongoing discussion within the South African and international left. We'd like to refer our readers to a few particularly informative contributions:
"The Marikana Massacre: A Turning Point?" by veteran South African Marxist Martin Legassick:
http://www.socialistproject.ca/bullet/689.php
"Lonmin crisis: A tinderbox of discontent," 17 Aug 2012 01:00, by Kwanele Sosibo:
http://mg.co.za/article/2012-08-17-00-lonmin-crisis-a-tinderbox-of-discontent
"Lonmin violence: It's D-day for the unions," 17 Aug 2012 02:00. NUM must ask itself how it has lost control of the mineworkers and ceding its majority to an even more disorganized unit, writes Rapule Tabane:
http://mg.co.za/article/2012-08-17-00-d-day-for-the-unions
"Marikana Miners: The Massacre of Our Illusions," by Leonard Gentle:
http://www.zcommunications.org/contents/188263
The next issue of ATC will continue our coverage.