Against the Current, No. 160, September/October 2012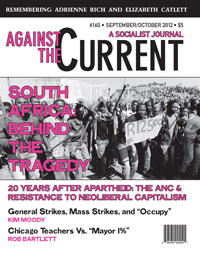 ALEXANDER COCKBURN, WHO died in July at age 71, was perhaps the best-known columnist and essayist on the U.S. as well as British left. His passing is a loss to all of us who were enlightened, entertained and sometimes enraged by his politics as well as his polemical wit.
We also mourn the loss of James D. Young, the revolutionary Scottish historian, who died on June 24 at age 81. An appreciation of his life and work can be found at http://www.scottishrepublicansocialistmovement.org/Pages/SRSMMemoriamDrJamesDYoung.aspx. A new expanded edition of his book The Rousing of the Scottish Working Class (Glasgow: Clydeside Press, first published 2009) came out in 2011. He was a longtime reader and friend of ATC.
September/October 2012, ATC 160