Against the Current, No. 159, July/August 2012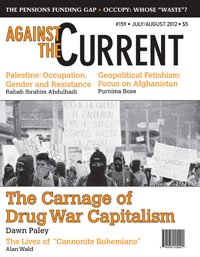 SAMIHA KHALIL (UM Khalil), born and raised in Anabta, Palestine, became a refugee in the 1948 Nakba with her family (husband Salameh Khalil, who was until retirement the director of the UNRWA Teachers College for Men, and their four children) and 750,000 other Palestinians. In 1965, she attended the founding meeting of the Palestine National Council (PNC) in Jerusalem. Samiha became a leader and an organizer of the Palestinian anti-occupation movement after the 1967 Israeli occupation of the rest of Palestine.
In addition to founding and leading the Society of Ina'sh el-Usra (Revitalization of the Family), an association serving at least 18,000 families in the occupied areas and dubbed by the Israeli military governor of Ramallah-El Bireh as a "state within a state," Um Khalil was the underground President of the Israeli-banned General Union of Palestinian Women (GUPW) until the Oslo Accords in 1993, when the PLO leadership relocated from Tunisia and set up the Palestinian Authority in Gaza and parts of the West Bank.
Placed on house arrest, detained several times by the Israeli military and beaten on at least one occasion, Um Khalil was also denied the right to see her daughter and four sons for several years as punishment for her anti-occupation activities and the involvement of most of them in Palestinian resistance. (She was not allowed to travel out of El-Bireh where she lived, and they were not allowed to come to the West Bank.) In 1996 she was the first woman in the Arab world to run for the post of President, opposing PLO Chairman Yasser Arafat, and received between 13% and 15% of the vote.
July/August 2012, ATC 159