Against the Current, No. 155, November/December 2011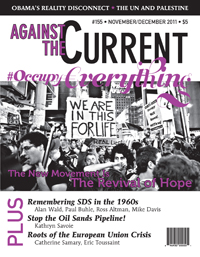 IN MY LIFETIME I've heard two speakers whose unadorned eloquence and moral clarity pulled my heart right out of my chest. One was Bernadette Devlin McAliskey, speaking from the roof of the Busy Bee Market in Andersonstown in Belfast the apocalyptic day that hunger striker Bobby Sands died.
The other was Carl Oglesby, president of SDS in 1965. He was ten years older than most of us, had just resigned from Bendix corporation where he had worked as a technical writer, and wore a beard because his face was cratered from a poor-white childhood. His father was a rubber worker in Akron and his people came from the mountains.
I'm not capable of accurately describing the kindness, intensity and melancholy that were alloyed in Carl's character, or the profound role he played in deepening our commitment to the antiwar movement. He literally moved the hearts of thousands of people. He was also for many young SDSers — like myself and the wonderful Ross Altman (original UCLA SDSer and Carl's close friend, whom I salute) — both a beloved mentor but also leader of the wild bunch.
At a crucial moment in the tragic fucking history of this desert country, he precisely and unwaveringly defined our duty. He was a man on fire. To those who knew him, I send my deepest love and solidarity — as I do to those yet to discover this great, tormented and most-old-fashionedly American radical.
November/December 2011, ATC 155