Against the Current, No. 155, November/December 2011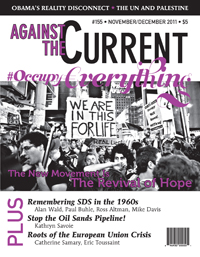 THE KEYSTONE XL is a proposed 1700-mile pipeline that would transport tar sands oil (also called oil sands) from Alberta, Canada into the United States, crossing six states from Montana to Texas and Louisiana. The proposed pipeline, which has a price tag of $7 billion, would add to the extensive existing network of oil pipelines, carrying tar sands to refineries on the Gulf Coast.
TransCanada, the company that would build it, needs the approval of both the U.S. State Department and president Obama, who must grant a "certificate of national interest" for the project to go forward.
What Are Tar Sands?
Tar sands are a thick, black substance, a type of unconventional petroleum deposit that exists in a solid or semi-solid state, and must be either heated or mixed with toxic lighter hydrocarbons in order to flow through a pipeline.
Tar sands are ecologically devastating at every part of the cycle — extraction, processing, transportation and refining. Most of us have never heard of tar sands, but the Alberta tar sands extraction is one of the most destructive industrial mega-projects on the planet, and the source of an ongoing environmental nightmare in Canada. Now the project threatens to expand into this country and globally.
Tar sands lie beneath the vast boreal forest in Alberta (other large deposits include Venezuela). To extract tar sands crude, oil companies must clear cut ancient boreal forests, a large and important source of carbon sequestration, then strip mine the soil beneath the forest, using enormous quantities of fresh water and natural gas to separate the oil from the bitumen (or tar).
The process leaves behind huge toxic lakes (tailing ponds) so large they can be seen from space, and are linked to unnaturally high levels of cancer in surrounding communities. In Alberta indigenous people, who have been suffering the loss of their ancestral lands and ways of life with devastating cultural, economic and public health impacts, have experienced rare bile duct cancers at a 30% higher rate than the general population. Migrating birds landing in the ponds have died in massive numbers.
The U.S. oil industry is expanding facilities to process this highly toxic oil through a network of refineries and pipelines, including the Detroit Marathon Oil Refinery which is currently undergoing a $2.2 billion expansion. This brings to U.S. cities concerns about public health impacts similar to those experienced by communities in Canada: Tar sands oil processing releases pollutants that are directly linked to asthma, emphysema and birth defects.
The Keystone XL would also cross some of the most fertile farmland in the country, passing directly over the Ogalalla Aquifer, the largest freshwater aquifer in North America. It supplies irrigation water for one-third of the nation's agriculture. Tar sands processing also uses and contaminates tremendous amounts of water — every barrel of oil produced uses four barrels of water!
Many of us in Michigan know about the summer 2010 oil spill in the Kalamazoo River — still far from being cleaned up today — but it was only when I started learning about the tar sands that I realized that this horrendous spill was tar sands oil.
"Game Over"?
The problem goes even beyond the harm to indigenous communities, communities along the pipeline and refineries, destruction of forests, strip mining of the land, contamination of water and air. The greatest threat is that tar sands will trigger the fatal overheating of our planet.
The amount of oil contained in the tar sands deposits is second only to that contained in the oil fields of Saudia Arabia. But tar sands are "dirty oil" whose extraction, transportation and refining is more intensive than conventional oil; a barrel of tar sands oil produces three times as much global warming pollution as conventional oil.
NASA climate scientist James Hansen has said that if we utilize the tar sands oils entirely, it would add another 200 ppm (parts per million) of carbon dioxide to the atmosphere, making it "game over," in his words, for climate protection efforts.
Current levels of carbon dioxide in the atmosphere are approximately 390 ppm, about 40 ppm beyond a level considered "safe" enough to ensure climate stability. A world of 600 parts per million carbon dioxide is not compatible with life and civilization as we know it.
In summary, tar sands are an extremely dirty fuel source, far more polluting than conventional oils, and with a far greater impact on climate change. The Keystone XL would be a major investment in moving us in the direction of further dependence and reliance on fossil fuels, at a time when we need to be moving rapidly in the direction of reducing global warming emissions and reducing dependence on fossil fuels.
The Tar Sands Action
The Tar Sands Action was called in an attempt to stop the Keystone XL Pipeline because the immediate impacts on communities, both human and ecological, on water, air and land are so enormous, and the potential posed to our climate so huge. The Keystone XL is the best "proxy" for fighting climate change that the environmental movement has at this point.
The call to action came from a group of twelve, including environmentalist and author Bill McKibben, founder of 350.org, an international organization dedicated to "building a movement to solve the climate crisis;" NASA climate scientist James Hansen; Tom Goldtooth of the Indigenous Environmental Network; author Naomi Klein, actor Danny Glover, and others.
The organizers called people to come to Washington DC to participate in nonviolent action, demanding that Obama refuse to approve the Keystone XL Pipeline. Participants were asked to risk arrest in front of the White House to bring attention to the issue, its impacts on communities, and its potential for climate catastrophe. The plan was that 50-100 persons would participate in the action each day, from August 20 through September 3.
The call attracted young 20-something climate justice activists, many of whom had attended the 10,000-person 2011 Power Shift Conference, as well as 50 to 80-year olds, many of them veterans of 1960s political struggles. The day I was arrested, however, the majority had never been arrested in previous political actions.
Each participant signed a statement agreeing to adhere to nonviolence in word and action, and to participate in training if they planned to risk arrest. The training covered principles of nonviolence, details of the action, what to expect from police, and legal questions.
Each day, the group of Tar Sands Action participants gathered and approached the White House, where we would sit or stand together, refusing to move when warned by U.S. Park Police. (Tar Sands Action did have a permit to protest on the site, but it required protesters to keep moving.)
Despite very clear indications from Park Police to organizers that this would be a "catch and release" operation — in which participants would be arrested, taken to jail for booking, allowed to pay a fine, and immediately released — on the first day, the police arrested and jailed 70 participants, including Bill McKibben and other organizers, holding them in jail over the weekend.
Park Police said they purposefully did this to deter future protesters. Of course, this did not have the desired effect and the protests continued every day for 15 days as planned, with all other arrestees being released within a couple of hours.
I arrived in Washington DC on August 23 for the Tar Sands Action training (arriving just an hour before the earthquake!), and was arrested in the action on the following morning, August 24, along with a contingent of activists from the Gulf Coast: shrimpers and fishermen suffering economic devastation from the BP oil spill, many suffering from health problems after participating in the cleanup, and others who live near oil refineries in Texas and Louisiana.
Among the 52 arrested with me were an 80-year old woman, a 16-year old high school student, farmers from Nebraska, college students, ministers, and a labor union activist. There was a strong feeling of solidarity and unity among participants and supporters cheered and chanted as each person was arrested.
The ride in the paddy wagon, with our hands cuffed behind our backs, and dripping sweat in the hot, humid August weather, was certainly uncomfortable. But we spoke words of encouragement to each other, particularly when one woman became claustrophobic. As we sang songs and chanted words of support, the solidarity was inspiring and the atmosphere became almost jubilant.
With the planned unveiling of the new Martin Luther King, Jr. Memorial scheduled for the August 26 weekend in Washington DC, the theme of nonviolence and references to Dr. King were prominent during the Tar Sands Action. One reason the Park Police wanted to dissuade protesters was that they were concerned the Tar Sands Action would interfer with their ability to respond to the 300,000 extra people in town for the unveiling event.
McKibben and others argued that this action was a "living memorial" to Dr. King's legacy, and it went forward — although ironically both the MLK memorial celebration and the Tar Sands Action were canceled on August 26, due to Hurricane Irene. But with the arrest of 1253 people, the Tar Sands Action clearly raised awareness about the Keystone XL Pipeline.
Fighting Big Oil: What's Next. . .
On July 6, 2010, House Energy and Commerce Committee chairman Henry Waxman urged the State Department to block Keystone XL, saying in a letter to the department that "this pipeline is a multi-billion dollar investment to expand our reliance on the dirtiest source of transportation fuel currently available."
The State Department, however, appears to be leaning toward accepting the pipeline; Hillary Clinton has said that she is "inclined" to approve of the project. (In recent days, reports have surfaced indicating oil industry lobbying money has corrupted the State Department's review of the Keystone XL project. See coverage at http://motherjones.com/blue-marble/2011/10/emails-state-department-transcanada-elliot.)
The State Department's draft environmental impact statement was found inadequate by the Environmental Protection Agency. Nevertheless, a final environmental impact report was released on August 26, 2011, during the Tar Sands Action. It stated that the pipeline would pose "no significant impacts" to most resources if environmental protection measures are followed, although it would present "significant adverse effects to certain cultural resources."
The Obama administration is clearly under enormous pressure from Big Oil to approve this pipeline. With the final decision expected by the end of 2011, it is clear that the Tar Sands Action has created a new dynamic in which stopping the pipeline is at least possible. It has also provided a new momentum and focus to climate justice efforts.
Tar Sands Action protesters were encouraged to return to their community and tell their stories. A YouTube video of some Seattle-area activists visit to the local Obama campaign office inspired others to organize similar visits to their local "Organize for America" office, reminding Obama of his campaign promises to "free America from the tyranny of oil."
Since the Tar Sands Action, activists have organized Keystone XL protests at numerous Obama speeches, fundraisers and campaign appearances across the country, including Mountain View, CA; Columbus, OH; Richmond, VA; Raleigh, NC; Denver, CO; Portland, ME; Cambridge, MA; and at a Biden appearance in Delaware.
Many Tar Sands Action participants took part in 350.org's Moving Planet Day on September 24, an international day to "move away from fossil fuels." (See http://act.350.org/signup/moving_together/ for a brief video of some of the 2000-plus events in over 180 countries).
On September 26, a Tar Sands protest was held outside the Canadian Parliament in Ottawa; nearly 1000 people participated, and over 200 were arrested in civil disobedience.
The Tar Sands Action returned to Washington DC on Friday, October 7th for a noon rally outside the final State Department hearing on the pipeline. This event kicked off a month of nationwide actions, culminating on November 7th, when activists will attempt to encircle the White House and demand that Obama reject the Keystone XL Pipeline. §
Notes
More information about the Tar Sands Action, and upcoming events can be found at www.tarsandsaction.org. An excellent overview of the tar sands, including impacts and profiles of activists can be found at www.sierraclub.org/dirtyfuels/tar-sands/faces/TarSands.pdf.
November/December 2011, ATC 155