Against the Current, No. 154, September/October 2011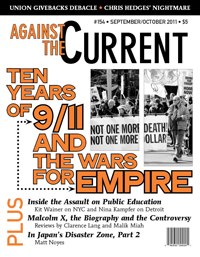 David Blair (D. Blair, or simply Blair on stage) was born in Newton, New Jersey in 1967 — coincidentally, a fateful year of urban rebellions — and died this August in Detroit. His memorial included a jazz funeral that was large enough to stop traffic on Woodward Avenue, Detroit's main drag. The crowd was a testament to his incredible life, his power to reach people and how he used that power.
The awards he garnered and the work he created in his less than 50 years speak to the speed with which Blair created great work. He was a 2010 Callaloo Fellow, was nominated seven times for the Detroit Music Awards and won in 2007 which was also the year he earned BENT Writing Institute Mentor Award. He churned out seven records in ten years. In 2010, he and his band, The Boyfriends released The Line on Repeatable Silence Records. He led the Detroit Slam Team to its National Championship back in 2002.
His first book of poems, Moonwalking was released last year and, as the title implies, is concerned with Michael Jackson. But the book uses the pop star's life as prism to refract issues of gender, race, fame and class culture. In one section he both admonishes Joe, the Jackson family patriarch, for his abuse of the family and admonishes people, especially whites, who have no idea how desperate and driven Joe was to get the family out of Gary, Indiana.
Blair embraced that sort of paradox and contradiction. He was a "spoken word" artist who worked on the page. He was a clear standout on any stage, who nonetheless encouraged other artists to achieve their best. That quality came out in one testimonial after another at his memorial.
He travelled the world performing but chose to live in Detroit without a car. As far as we know at this point, he died of heatstroke and was found in a motel west of downtown Detroit.
Blair was an openly queer socialist poet and musician, frequently called upon to perform in Europe, South Africa and Asia. He was also a great teacher and those things are related. He loved and was well suited to the engagement/performance aspects of teaching and being on stage.
He taught poetry in Detroit Public Schools, The Ruth Ellis Center (for LGBT youth), Hannan House Senior Center, the YMCA of Detroit, and at various universities, colleges and high schools across the country.
Among the things I will most remember about Blair is his love for Detroit, manifested most potently perhaps in his poem "Detroit (While I Was Away)." The opening line about the air hanging over the city "like a dead dog's ass" is doesn't contradict the love expressed in the lines that praise the hands, braid hair and grab overtime in the factories. Here's how it begins:
Even though I know the air hangs
like a dead dog's ass over River Rouge,
I still miss you. Your fenced in gardens
filled with sustenance and Saturday
evening draped over a back alley porch.
The September stench that creeps
slow as a Woodward bus on Sunday.
Black tires crawling in summer heat.
Your acoustic guitars and amplified hair.
Your rows of long thin buildings,
arranged on a young man's head…
Blair celebrates the ghetto without illusion. He had a hard love that fit the city. It could be seen as paradoxical that the best poem about the city was written by an import. The text is impressive but you must see and hear Blair. Search for "Detroit (While I Was Away)" at https://www.youtube.com/watch?feature=player_embedded&v=huWvgWihtXg.
September/October 2011, ATC 154