Against the Current, No. 153, July/August 2011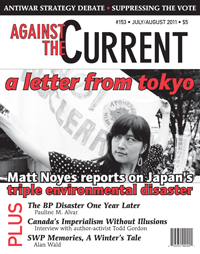 IN CITIES ACROSS America, young men from low-income communities are ending up in prison more than they are making it to college — at the rate of seven to one. And during the nation's protracted economic slump and high rate of unemployment, especially among African Americans and Latino Americans, we can expect that ratio to grow.
In light of the proposed budget cuts, educational funding is expected to suffer some very deep cuts. Those hit the hardest will be children and young teens from poor and minority school districts throughout Pennsylvania. While many parents are fearful of the consequences from such drastic actions, few have offered alternative solutions to help fund educational opportunities for the children.
• In 2008, 10 members of the Latin American Cultural Exchange Organization in Gaterford prison created the L.A.C.E.O. Achievement Scholarship in partnership with the Bethlehem Area School District, Minority Affairs, Government Programs & Grants. The following year the scholarship was awarded to James Raymond, who now attends Wilkes University.
• In 2010 L.A.C.E.O. partnered with the men of the United Community Action Network (U-CAN) to rename the award the Education Over Incarceration Scholarship.
The men in both organizations believe that every child deserves a chance to maximize their potential through higher learning. We came to realize what many government officials pretend not to understand: the number one Public Safety Issue, as a crime-fighting tool, is a Quality Education.
As prisoners we understand very well that denying any child the full opportunity of a quality education only further endangers Public Safety and ensures a child's swift path to incarceration. Statistics reveal that every eight out of ten prisoners entering the Department of Corrections does not have a high school diploma or G.E.D. A high school dropout is potentially a future convict.
What's going on behind Graterford Prison walls is a new movement that can help to save many lives. It could dramatically improve the state's educational opportunities for African-American and Hispanic students. If prisoners, who only make 18 cents an hour, can come together and establish the country's first scholarship with our own funds, then people must demand that our government's budget cuts don't perpetuate failure for our students.
It is absolutely critical that parents in the city of Philadelphia support and promote "Education Over Incarceration," ensuring that every child receives a quality education and reaches his or her highest potential.
To make a tax-deductible donation, please make it payable to L.A.C.E.O. & U-CAN Scholarship, Bethlehem Area School District, 1516 Sycamore Street, Bethlehem, PA 18017. For more information, contact Vivian Robledo-Shorey, Supervisor of Minority Affairs, 610-861-0500, ext. 60228 or fax 610-861-8107.
July/August 2011, ATC 153