Against the Current, No. 150, January/February 2011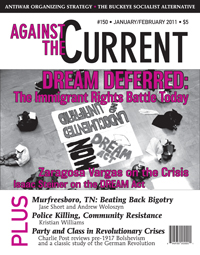 ON SEPTEMBER 5, 2010, Los Angeles police shot and killed a Guatemalan day laborer named Manuel Jamines.
The next day, a crowd gathered on the corner where Jamines died. They assembled a small memorial, then piled debris and set fires in the street, and hurled rocks and bottles at the cops, reportedly injuring several.
Police responded with rubber bullets and tear gas; they arrested more than two dozen people. Rioting continued for three nights running.
Police claimed that Jamines was threatening passers-by with a knife — a story widely disbelieved in the Latino community and contradicted by eyewitness accounts. "I did not see a knife in his hands," one witness told reporters.(1)
"He had nothing in his hands," another confirmed; "At the moment when the police were shooting, he had nothing."(2)
Mayor Antonio Villaraigosa promised an investigation, and simultaneously voiced his support for the police. "These guys are heroes," he said.(3)
Los Angeles is the most recent site of a multi-city policing crisis affecting the entire West Coast. What clearly sets a number of recent cases apart is not the fact of police violence, but the fact that that violence is being challenged. The controversy, in other words, is not only about violence, but about authority. It is a crisis of legitimacy.
In Oregon and Washington, as well as in California, an assortment of legal proceedings, peaceful marches, riots, and repeated attacks against police and their property all point to the contested nature of police violence and the slow normalization of violence in response.
Oakland: Exceptional Symbols
Oakland, California set the tone: On New Year's Day, 2009, transit police killed an unarmed Black man, Oscar Grant, in front of numerous witnesses. Video of the incident shows Grant lying facedown, his hands behind his back.
One cop, Tony Pirone, can be heard calling him a "bitch-ass nigger;"(4) another cop, Johannes Mehserle, draws his gun and shoots Grant in the back, point-blank.
Grant's killing sparked a series of protests and small riots. Largely in response to the rebellion, the authorities arrested Mehserle and charged him with murder.(5)
More than a year later, in July 2010, Mehserle was convicted — not of murder, but of involuntary manslaughter. The response of the community, once again, was outrage expressed in marches, barricaded streets, broken windows, dumpster fires, and looting; damages were estimated at $750,000.(6) Mehserle was sentenced in November to just two years in prison, provoking further unrest.
It was barely two months after Grant's shooting, in March 2009, that a Black ex-con named Lovelle Mixon killed two Oakland cops at a traffic stop, and then two more during the SWAT raid to bring him in. Mixon died in the shoot-out.
These two cases immediately came to symbolize the tense relationship between Blacks and the police — a relationship often defined by violence. Yet both cases are also exceptions to the usual pattern, though they are exceptions for very different reasons.
Grant's case is exceptional, practically unique, because police are so rarely punished for their violence; Mixon's because, in the conflict between African Americans and police, the casualties are usually all on one side.
Washington State: "We will fight!"
Further north, in Washington State, at least nine cops have been shot since Halloween, 2009; six of them died.(7)
In a way, the chain of events began on November 29, 2008, when King County Deputy Paul Schene beat a teenaged girl in a holding cell. The following February, the deputy was charged with assault and a videotape of the incident was released. He was fired that September, and later tried — but not convicted.
In October 2009, Schene was mentioned by name in a communiqué left at the site of an arson in which several unoccupied police vehicles were firebombed. A few days later, on October 31, two cops were shot in a drive-by attack; one died.
The suspect in both cases, Christopher Monfort, was later shot by police, paralyzing him from the waist down. He is presently awaiting trial in King County Jail. Prosecutors are seeking the death penalty.
The district attorney argues that Monfort was acting out of anger over the Schene incident. Monfort himself has repeatedly referred to the case in media interviews and in court. At one hearing, he lashed out against the cops: "We will fight! … We've had enough. The people will not take it any longer. . . . We'll fight and we're everywhere. You can't see us coming."(8)
Monfort acted alone, but shortly after the Halloween ambush, in November 2009, Maurice Clemmons killed four cops in a Lakewood, Washington coffee shop. Clemmons was later killed by Seattle police.
Then, in April 2010, Everett police arrested Michael McConnachie for plotting a similar attack targeting local sheriff's deputies. He is now awaiting trial.
"A Tipping Point"
This series of planned attacks generated quite a bit of sympathy for the police, and concern for the hazards they face. But almost at once, two videotaped beatings undercut the cops' collective credibility, and renewed public anger.
The first video, from April 17, 2010, shows two Seattle cops kicking and stomping a Latino man. Gang unit Detective Shandy Cobane can be heard threatening, "I'm going to beat the fucking Mexican piss out of you, homey. You feel me?"(9) The victim was later released without charges.
The second incident came two months later. In June a white Seattle cop, Ian Walsh, was filmed hitting a Black teenaged girl.
The incident began as Walsh tried to cite another girl, Marilyn Ellen Levias, for jaywalking. Walsh grabbed Levias' arm; her friend, Angel Rosenthal, pushed him away; and the cop punched her in the face. Levias was arrested for obstructing an officer, and Rosenthal for assault.
James Kelly, chief executive officer of the Urban League, told reporters, "The provocation by this 17-year-old kid may have presented a confrontation situation, but the use of violence in the form of a full punch in the face was just plain wrong. . . . This is another case where we are standing here, saying, 'shame on you' to the Seattle police."(10)
Then, at the very end of summer, on August 30, Seattle police shot and killed John T. Williams, a half-deaf Native American woodcarver. Police say Williams was whittling when Officer Ian Birk approached. He failed to drop the pocket knife he was working with, and Birk shot him.
On September 2, hundreds of people attended a candlelight vigil for Williams. The next day, Native leaders held a press conference in which they demanded community representation in the review of the shooting. Around 80 people participated in a "speak-out" against police violence a few days later. This was followed by a series of demonstrations, drawing hundreds of people, which continues to the present.
Meanwhile, the American Civil Liberties Union wrote an open letter to the mayor, police chief, and city council, calling for "basic changes — a new set of approaches, expectations, and daily practices in the Seattle Police Department."
The letter went on: "Too often, officers have overreacted or escalated incidents when the subject is an individual of color, disabled, homeless or, otherwise 'different.' We fear that the drive for so-called 'civility' laws has created a mindset that our streets need to be rid of 'undesirable' people."(11)
The next day, Tim Burgess, the head of the City Council's public safety committee expressed his worries over the effect of the controversy: "(T)he cumulation of incidents has the potential to reach a tipping point, where large segments of our community lose confidence in the police. . . ."(12)
Cops on a Killing Spree
Police violence in Washington state has not been isolated to the Seattle city limits: In the week following the death of John T. Williams, police in the greater Seattle area killed four other people, and shot one more (who survived).
The day after Williams' death, Federal Way police shot and killed David Charles Young as he fled in a stolen truck. That same day, Pierce County Sheriffs deputies tased a man who they say was resisting arrest; after receiving a 50,000-volt shock, the man stopped breathing, and later died.
On September 3, Tacoma cops shot and killed a man holding a knife at a bus stop. That night, Seattle police shot a reportedly suicidal man who pointed an AK-47 at them; he survived. The next morning, a deputy in the town of Gold Bar used a taser against an unarmed man yelling in the street; the 25-year-old man, Adam Colliers, died.
This cluster of fatalities was immediately followed by the death of an Iraq War vet at the hands of police in Vancouver, Washington; the cops say the victim was standing in the street with a handgun, and refused to put it down.
The week-long killing spree was, likewise, immediately preceded by an August 26 incident in which a Spokane County deputy killed a 74-year-old Southern Baptist preacher, Wayne Scott Creach, on his own land. Creach had gone out armed to investigate a strange car on his property; it turned out to be an unmarked police car.
According to police, Creach refused to put his gun down when ordered. "[My] father was murdered," Creach's son, Alan, says. "I don't believe it's written in the Constitution that when a deputy approaches you have to put your gun down."(13)
Meanwhile, in the nearby city of Everett an older drama drew to a close. In June 2009, Officer Troy Meade shot a DUI suspect seven times as the man attempted to drive away.
The suspect died at the scene, and Meade was charged with murder. Almost a year later, in April, a jury acquitted the cop of all charges, despite another officer's testimony that the shooting seemed unnecessary. And yet, in deciding a separate question, the same jury rejected Meade's claim that he acted in self-defense. Meade was satisfied with the verdict. "I'm going back to work," he said.(14)
Portland: Cops, Clergy and Anarchists
On January 29, 2010, Portland Police officer Ron Frashour shot and killed an unarmed Black man, Aaron Campbell. Campbell was not a criminal suspect, but was thought to be suicidal. Yet as Campbell was trying to surrender, Frashour shot him in the back.
Barely two months later, in March, another cop shot and killed a distraught homeless man, Jack Collins, as he approached carrying an X-acto knife.
Then, in May, the Portland police killed again. Keaton Otis, a young Black man, was stopped on a pretext because Officer Ryan Foote thought he "kind of looks like he could be a gangster."(15) Police say that, when Otis was pulled over, he became belligerent and started shouting obscenities. They tased him, and he pulled a gun. Otis fired twice, hitting Officer Christopher Burley in the groin. The police returned fire, striking Otis 23 times and killing him on the spot.
The death of Aaron Campbell set off a series of protests, and anger mounted with each subsequent shooting. A coalition of Black clergy, the Albina Ministerial Alliance, took the initial lead, and the Reverend Jesse Jackson has twice traveled to Portland to urge action. The day after his first visit, a crowd of 200 marched into City Hall to confront the mayor.
By the time Jack Collins was killed, tensions were so high that demonstrations began that same evening, including the blocking of streets and some minor property damage.
As the weeks went on, resistance took several forms: community forums, leafleting, street-corner demonstrations, copwatch patrols, and — with surprising regularity — militant anarchist "black bloc" demonstrations in which windows were broken, numerous people arrested, and reportedly several cops injured.
Nighttime sabotage has also occurred: police substations, a community corrections office, and the headquarters of the Portland Police Association have all had their windows broken — the police union, twice.(16)
In the meantime, the Police Association president was forced to step down following two road rage incidents. The police chief was fired, ostensibly for complaining about her budget. And the mayor took over the responsibilities of the police commissioner.
In late August, the Use of Force Review Board recommended that Officer Frashour be fired. In late August, the Use of Force Review Board recommended that Officer Frashour be fired, and in November he finally was.
Political Narratives and Displays
The political uses of these stories are familiar enough.
The left mobilizes around the murders of people like Manuel Jamines, Oscar Grant, Aaron Campbell and John Williams, advancing a civil rights or police accountability agenda.
Conservatives, often led by police unions, mobilize around the deaths of cops, pushing a law-and-order agenda — budget increases, demands for more firepower, longer prison sentences, and so on. After the Lakewood shootings, for example, Washington passed laws raising the payments to the families of slain cops, increasing the penalty for aiding a fugitive, and tightening restrictions on bail.
But the particular demands, while important, are often incidental.
Police shootings serve as an opportunity to discredit the cops, especially when the victims resemble a particular "ideal type" — socially disadvantaged (Black, Latino, Native American, homeless, mentally ill, or disabled) and innocent (unresisting, unarmed, and not credibly accused of a crime).
Police funerals, in contrast, are public pageants that the cops can use to silence their critics. They pull politicians into mandatory displays of support, and are dutifully portrayed by the media as memorials of heroism and sacrifice.
For instance, Sergeants Mark Dunakin, Ervin Romans and Daniel Sakai and Officer John Hege, the cops Lovelle Mixon killed, were honored as "fallen heroes" by the U.S. House of Representatives; California's two Senators, Barbara Boxer and Dianne Feinstein, and Governor Arnold Schwarzenegger all spoke at their funeral; 20,000 spectators attended.(17)
In either case, the victim is converted into a symbol. But there are important differences: Police shootings are relatively common, but only rarely create public controversy. The victim is usually forgotten, except by those who knew him personally. The cops involved are often treated as heroes and issued commendations.
But nobody gets a medal for shooting at cops. The best a cop killer can expect is a very long prison sentence; many die before they make it to trial. But even when the cops clearly go too far, they rarely face meaningful discipline, and murder charges — like those proffered in Oakland and Everett — are rare to the point of being anomalous. Surveying the entire country, the San Francisco Chronicle could find only six cases from the 15 years before the Grant shooting. None of the 13 officers involved were convicted.(18)
Behind these dissimilarities is a greater asymmetry in the way these stories are used. The left has generally gone out of its way to avoid seeming to condone violence.(19) The police, however, do defend their right to kill. And, in particular, they use those specific instances when they are attacked to justify their much more general reliance on force.
By this account, people who attack the police are criminals, and the police need to defend themselves. And the people the police attack are also criminals — and therefore, potential attackers. Thus, the cops represent their own violence as being always defensive. The facts, however, show that police use violence far more often than it is used against them, at higher levels, and with more fatal consequences.
Counting Casualties
There are several features that make the recent stories remarkable, but unfortunately police violence is not one of them. The police kill people fairly regularly, and use other violence as a matter of routine.
No one keeps very good track of the numbers, but the few existing studies establish something of a pattern: According to a 2005 Justice Department survey, 19% of the American public had direct contact with the police during the previous year. Most of these contacts took the form of traffic stops, and most were unremarkable.
Only 1.6% of the people interviewed reported the use of force or the threat of force. That means, out of every 100 people the police come into contact with, they will threaten or use force against one or two of them. This rate is much higher for Blacks (4.4%) and Hispanics (2.3%) than for whites (1.2%).(20)
That 1.6% adds up quickly. Almost a million people (991,930) were subject to the use or threat of force at the hands of police sometime in 2005. In 55% of these cases — approximately 546,000 incidents — force was actually used.(21) If we got all those people together, we'd have a group as large as the population of Portland (537,081).(22)
That same year — 2005 — 57,546 officers were assaulted in the line of duty, representing 11.9 assaults per 100 officers. Most of these reported "assaults" involved unarmed assailants and produced no injuries. The vast majority of attackers (80%) used only "personal weapons such as hands, fists, or feet"; only 3.7% used firearms. Only about a quarter of these assaults (27.4%) resulted in injury to the officer.(23)
Comparing the numbers we see that the police use violence (546,000 times in 2005) nine times as often as they face it (57,546 times that year).
An analysis of fatal incidents shows a similar imbalance: During the period 2003-2005, 380 police died on duty. Only 159 of these deaths were homicides, while 221 were the result of accidents.
During that same time, 1,095 people were killed by law enforcement officers in the process of arrest. That averages 365 per year, or one a day.(24)
Of the people the police killed, nearly all were men (96.8%). Disproportionately many were Black (30% or 32%, depending on the count, whereas Blacks are 12.8% of the nation's population).(25) Three-quarters (74.2%) were suspected of violent crimes (including 26.1% for crimes against the police); 8% of victims were accused of public order offenses; 3.9%, property offenses; 2.9%, drug offenses; and 2.5% — approximately 27 people — were not suspected of any crime at all, but were being taken into custody for medical or mental health reasons.
In 80.1% of the cases, the victim had a weapon, but only in 16.9% did they fight with officers; 3.6% — 38 people — were killed after they had been restrained.(26)
In Oregon, during the years in question, no cops were murdered, but 36 people were killed by the police. In Washington: 3 cops, 35 arrestees. In California: 17 cops, 162 arrestees.(27)
A Crisis of Legitimacy
The present crisis — stretching from L.A. to almost the Canadian border — is evidence that the police have lost credibility, first in the eyes of the public, and then in the eyes of the elites. As a result, the presumption of legitimacy is shifting, and the special protections the police enjoy are weakening.
One indicator of this shift is the leveling of murder charges against officers involved in on-duty shootings. Another is the slate of reforms being offered — in Portland, for example, the recent strengthening of the Police Review Board after years of delay; and in the Bay Area, the creation of an auditor's position to investigate complaints against transit cops.
A third development is the revision of judicial standards for justifying violence. In a ruling from December 2009, the Ninth U.S. Circuit Court of Appeals (which covers all three states under discussion) restricted police use of tasers; more surprising, that October, the Oregon Supreme Court ruled that a person has a right to defend himself if police use excessive force.
Paradoxically, even events that seem to point in the opposite direction — such as the extraordinary 62-year sentence leveled against two burglars who shot, but only slightly injured, a Vancouver Police sergeant in 2009 — nevertheless reflect elite anxieties about the public's unwillingness to cede to police authority. The "Extra-long sentence [was] proposed," The Columbian newspaper explained, "for [the] sake of deterring imitators."(28)
But the most important indicator may be the existence of the crisis itself. Under ordinary circumstances, the police kill with relative impunity. At present, however, the public's accumulated sense of outrage represents a challenge to the legitimacy of state violence. It is this challenge — not the violence itself — that has produced the existing crisis.
Radical Imperatives
The crisis shows that public trust in and political support for the police has been greatly eroded; the concessions are offered as a bid to win it back. The investigations, prosecutions, committee reports, and policy changes are real victories — mostly symbolic, a few substantive. They may, for a while, rein the police in and put a check on some of the worst abuses. But they will not, on their own, address the fundamental inequalities that the police act to preserve.
To address these inequalities, the left needs to be prepared to challenge police violence, not only in its most spectacular forms, but as it exists in the normal operations of the institution.
We need to challenge, not only a handful out of the hundreds of police shootings, but also the half-million times every year that the cops use lower levels of violence.
That means we need to learn to see police violence politically — that is, to recognize the politics inherent in it. Violence is a core function of policing. And the injustices of policing both reflect and reproduce the injustices of our society. The targets of police attention — and therefore also of police violence — reflect and reinforce existing inequalities of both race and class.
At the same time, the character of police violence, and the ideology supporting it — the view of violence as a contest between male antagonists, and the casting of police as chivalrous protectors — is itself deeply complicit in the subjugation of women, and historically linked to racial myths about the purity of white womanhood and Black sexual aggression.(29)
There's not a review board in the world that can touch these fundamental inequalities. To do so would require more than some simple revisions to police policy; it would require the restructuring of our entire society. To be ultimately effective, then, the fight against police brutality needs a police-abolitionist perspective beyond the more limited reform or accountability framework, and must necessarily be a part of a much broader social movement.
Defeating the cops politically, in the most general terms, means broadening, deepening, and extending the present crisis of police legitimacy. Such an effort requires that we add to public distrust of the police, and undercut public support.
We have to be radical in our approach to each side of this equation — going to the root of both the distrust and the support. Public suspicion of the police, already acute in many corners, can be deepened by exposing, not just individual abuses or even whole patterns of abuse, but the basic function of the institution and its use of violence to preserve social inequality.
Public support, meanwhile, can be undercut by providing alternative means to resolve disputes, address interpersonal conflict, and insure public safety. These are the functions that, however badly the cops perform them, the public presently feels itself dependent on the police to provide. Our strategy should be, simultaneously, to attack the core function of policing and to remove the basis of its legitimacy, thus shifting support away from the police and toward our social movements.
Furthermore, we have to learn to use the state's strength against it — and to use its weaknesses against it as well. We have to establish the political conditions such that the cops' tactical victories become political liabilities, and their tactical defeats are only signs of their weakness. In other words: we need to make sure that the cops' violence costs them in terms of legitimacy, while violence turned against police only shows that they are vulnerable to attack.
Re-Thinking Terms of Resistance
From the state's perspective police violence is presumed legitimate, and violence against police illegitimate. The left has had a tendency to challenge the first premise but endorse the second. This posture has made it hard to recognize attacks against the police as political resistance. In effect it cedes to the state the right to define not only legitimate force, but legitimate resistance as well. It allows the police to convert attacks against them into a source of legitimacy, and accommodates the narrative by which the state's violence is always defensive, and thus justified. By omission, this legalistic (or moralistic) approach seems to justify the police use of force so long as it is not, by the state's standards, "excessive."
But if we accept that police violence is political — and not merely a technical problem — then it follows that we need to understand the violence against police as political as well. We need a more nuanced view of its causes, of the forces that propel people toward it, of its consequences (both personally and socially), and of its meaning — its expressive content, intentionality, and implications. In short, we need to discuss the violence against police not simply in terms of crime, but in terms of resistance.
This is not to say that those who attack the police, or who simply defend themselves against a police attack, have a self-conscious ideological motivation or an explicit political agenda (although among those mentioned earlier, Christopher Monfort certainly did).
It is also not to say that the left necessarily needs to condone, endorse, advocate or use violence. Violence — whether in general, or in particular cases — must still be subject to criticism on ethical, political, strategic and tactical grounds. I think it's time for the left to change our understanding of anti-cop violence — not because I think we need to use violence against the police, but in order to stop the police from using the violence they face as a pretext to justify the violence they employ.
Fighting Politically
Violence against the police obviously challenges the state's effective monopoly on force, but does not on its own challenge the legitimacy of that monopoly. The social movements opposing police violence, on the other hand, need to challenge the legitimacy of the state's monopoly.
In Oakland, the International People's Democratic Uhuru Movement organized a vigil and march in memory of Lovelle Mixon, comparing him to "Nat Turner and Gabriel Prosser, enslaved Africans once vilified and today considered heroes."(30) Less organized but no less meaningful were the small crowds of people taunting cops at the scene of the shooting, and interrupting live newscasts to shout, "Fuck the police!"(31)
More interesting, however, is the fact that these sentiments received even a modest hearing in the mainstream. Jackson West, writing for NBC online, produced a thoughtful commentary titled, "Why would anyone cheer OPD killings?" In answering, he points to the "history of antipathy" between the local community and the police, and suggests that the conditions that led to the creation of the Black Panther Party in 1966 largely still exist today:
"Of the 45 officer-involved shootings from 2004 to 2008, 44 were African-American or Hispanic. However, African-Americans and Hispanics account for only 56 percent of the city's population according to the 2000 census. More troubling is that in only 60 percent of the police shootings was a weapon found on the suspect. And in none of those shootings were any officers reprimanded.(32)
There has been less vocal support for Christopher Monfort, in Seattle. But the Urban League's defense of a young woman who did, in fact, assault a policeman is a small step in the same direction.
Meanwhile, in Portland, the police have been so discredited that even while cops face criticism for shooting Keaton Otis, his counterattack has been reduced almost to a non-issue. The steadfastly non-violent Albina Ministerial Alliance, for example, put the blame squarely on the police: "Keaton Otis did not have to die and Officer Christopher Burley did not have to be shot," Reverend LeRoy Haynes said at the coalition's press conference. "Keaton Otis, a citizen of this community, was pursued on an erroneous assumption that he was a gang member on the basis of his racial identity and attire."(33)
A pacifist group, Portland Copwatch, went even further. In a letter to the District Attorney, the group cited court rulings limiting the cops' use of tasers and affirming an individual's right to defend himself against police brutality. Given the use of the taser in this incident, they were logically compelled to ask: "isn't it possible that . . . [Keaton Otis] had a right to self-defense?"(34)
Notes
ATC 150, January-February 2011